Macapuno Balls are Filipino candies made from coconut sport and condensed milk. It is super easy to make with just 5 ingredients!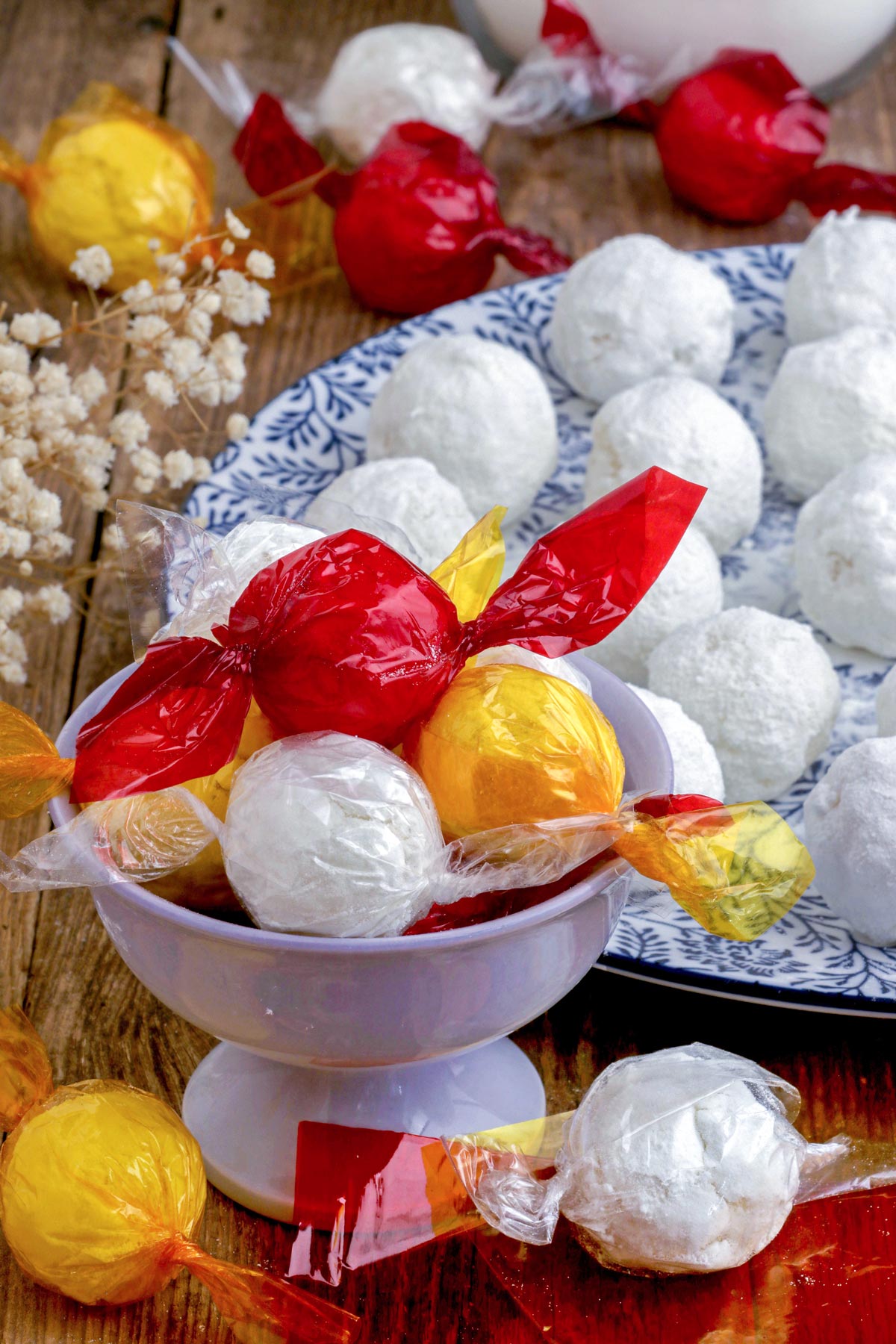 You may remember these Filipino candies as after-school snacks or treats we enjoyed during long bus trips. Sold alongside some of our favorite on-the-road goodies or pasalubongs like banana chips and Pastillas de Leche. Although store-bought macapuno balls are delicious, nothing beats homemade! And this easy-to-follow recipe will help you make the best macapuno balls you've ever tried!
What are Macapuno Balls?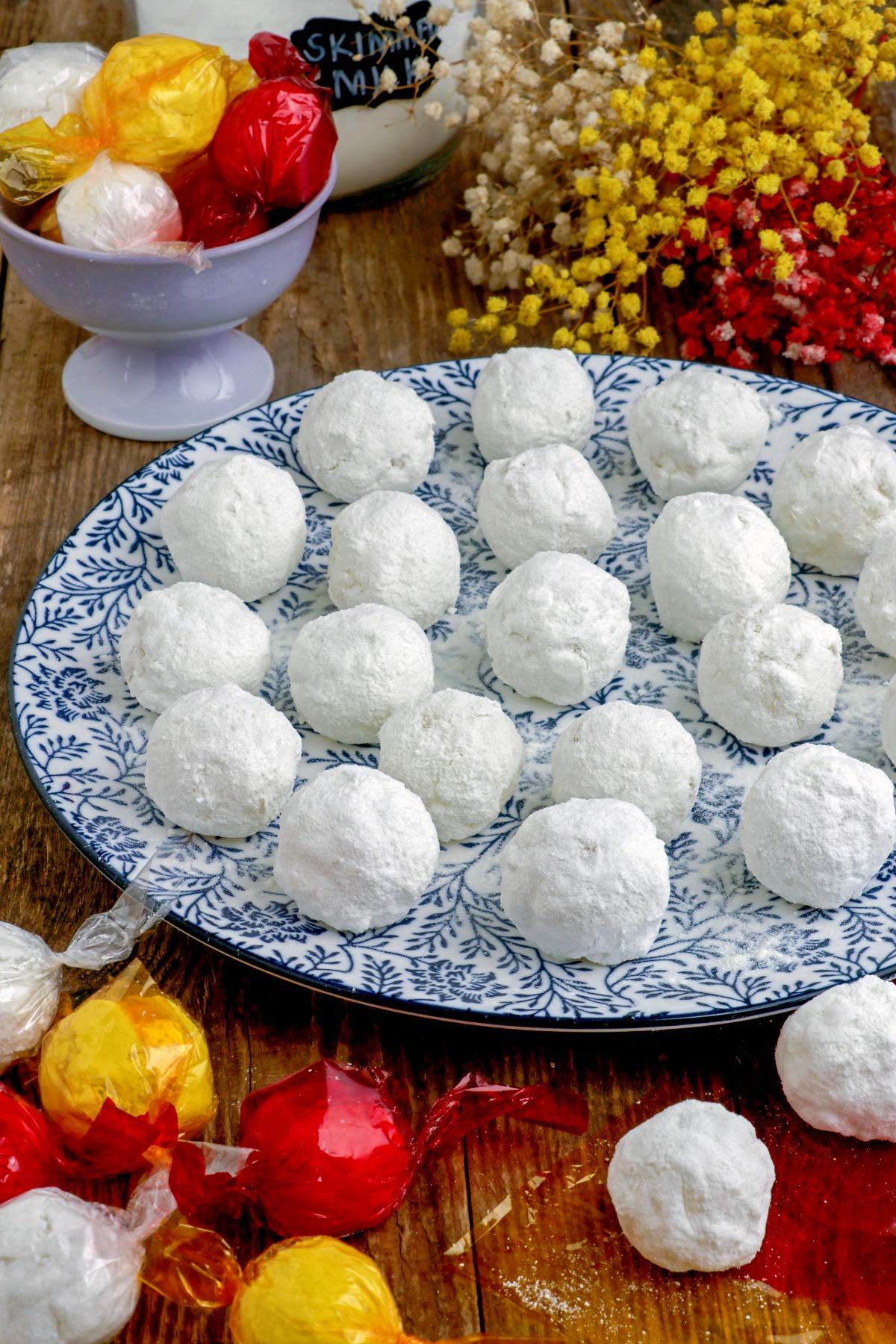 Macapuno Balls or Macapuno Candies are sweet, soft delectable treats with hints of chewiness that are just addicting! Made with macapuno (coconut sport) and condensed milk cooked together with a bit of cornstarch. Once cooked, they are rolled into balls and coated with skimmed milk. They are then individually wrapped in colorful cellophane or packed in small containers or plastic bags.
What is Macapuno?
Also known as coconut sport. Macapuno is a type of coconut that is cultivated differently. While regular coconuts are hollow with juice inside, macapunos have an entire cavity filled with jelly-like coconut meat with very little to no liquid inside. The name macapuno comes from the Tagalog word makapuno(root word: puno), which translates to "full." These days, macapuno is a popular flavor for all sorts of sweets. It is often used in Filipino desserts like Halo-halo, ice cream, and other types of kakanin, like Sapin-sapin and Royal Bibingka.
We used a jar of macapuno preserves in making this recipe because it is more accessible than fresh ones as they are widely available in groceries and supermarkets in the Philippines or in Filipino/Asian stores abroad.
Ingredient Notes
Macapuno preserves - This recipe uses the sweetened version. Drain and lightly rinse with water to remove some of the syrup as it can be overly sweet if not removed.
Condensed milk- This recipe calls for a small can, approximately 200 grams. You can use any brand that you like.
Cornstarch + water - These thicken the mixture into a dough-like consistency.
Skimmed milk- for coating. It also helps the candies not stick with each other when stored.
Foxy Tips When Making Macapuno Balls
Recipes with high sugar content tend to burn quickly if left unsupervised, so make sure to stir the mixture constantly. Stirring the mixture regularly also prevents unnecessary lumps from forming.
When the batter separates from the pan and resembles dough, it's done cooking.
Grease your hands lightly with oil when shaping the balls. This step will prevent them from sticking. You may also use plastic gloves when shaping the macapuno candies, especially if you plan to sell them.
You can add desiccated coconut to the powdered skim milk to give your Macapuno Balls another layer of texture and a richer coconut flavor.
How to Store
If properly stored, Macapuno Balls may last at room temperature for a long time, as most homemade candies last up to 2-3 weeks. Just make sure you store them in an airtight container in a cool, dry place.
Printable Recipe
Macapuno Balls Recipe
Macapuno Balls are Filipino candies made from coconut sport and condensed milk. It is super easy to make with just 5 ingredients!
Ingredients
1 ½

cup

macapuno preserves

1

cup

cornstarch

1

cup

water

1

small can

condense milk

168 ml

Skimmed milk for coating
Instructions
1 ½ cup macapuno preserves

Using a fine-mesh sieve or colander, drain the macapuno preserve. Pour about 2 cups of water over it to remove some of the heavy syrup.

1 cup cornstarch,

1 cup water,

1 small can condense milk,

1 ½ cup macapuno preserves

In a saucepan, combine the cornstarch and water. Make sure to dissolve the cornstarch by whisking and mixing well. Add the condensed milk and macapuno to the slurry.

Cook over medium-low heat and stir until the mixture thickens. Cook, stirring regularly, until the mixture separates from the pan and forms a sticky dough. Remove from heat and let it cool down.

Once fully cooled down, put some oil on your hands to prevent the dough from sticking. Scoop about a tablespoon from the dough and roll them into balls.

On another plate, place powdered skim milk. Roll the balls in the powdered milk until fully coated.

Wrap individually in colored cellophane or pack in small containers or bags.
Nutrition
Calories:
64
kcal
Carbohydrates:
10
g
Protein:
1
g
Fat:
2
g
Saturated Fat:
2
g
Polyunsaturated Fat:
1
g
Monounsaturated Fat:
1
g
Cholesterol:
4
mg
Sodium:
16
mg
Potassium:
55
mg
Fiber:
1
g
Sugar:
6
g
Vitamin A:
30
IU
Vitamin C:
1
mg
Calcium:
33
mg
Iron:
1
mg