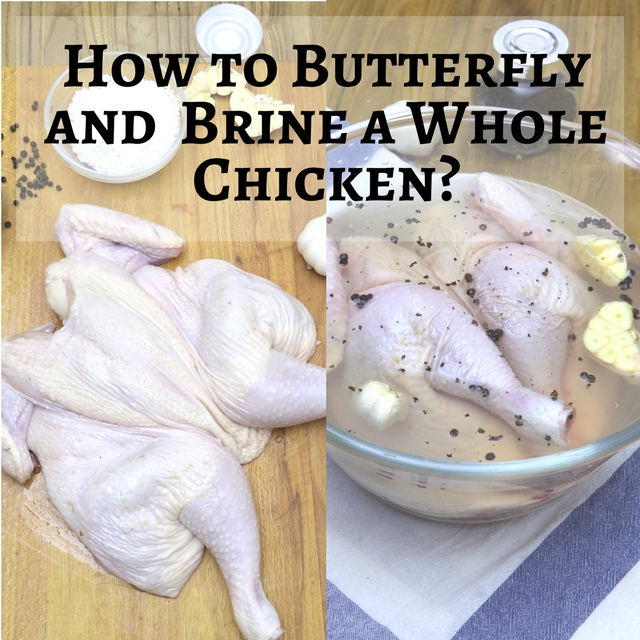 In this post, I will show you two important things. That is, how to butterfly (spatchcock) and brine a whole chicken. Why is it important? Well, if you are tired of having an unevenly roasted whole chicken, butterflying or spatchcocking is the answer as it gives the chicken a more even thickness while cooking. It will also give you a crispier skin since all skin will be on one side. Now, if you also want a chicken that is not only crisp outside but also with moist meat, that is where brining comes in. Brining your chicken also ensures that you will have a whole chicken full of flavors that are not only skin deep but seeps in into the meat.      
I actually learned both techniques from my sister-in-law, ate Mia, on our last visit to Paris in August. But I was only able to put it to the test last Christmas on our traditional Christmas chicken recipe, broiled whole chicken, that I've got from my Mama. The recipe is actually amazingly simple but surprisingly so delicious. The problem is that every time we make it, liquids or juices usually collect at the chicken's cavity. And then there is also the problem of making the skin crispy because once we turn the chicken to cook the other side, the skin at the bottom loses its crispiness. Another problem we had when we roast a whole chicken before is that since we just rub the chicken with the seasoning (salt and pepper), some of the (meaty) parts tend to be left behind...well nobody wants a dry, bland-tasting chicken breast meat. But all these are a thing of the past! 
In the illustrations below, you will see how I butterfly a whole chicken: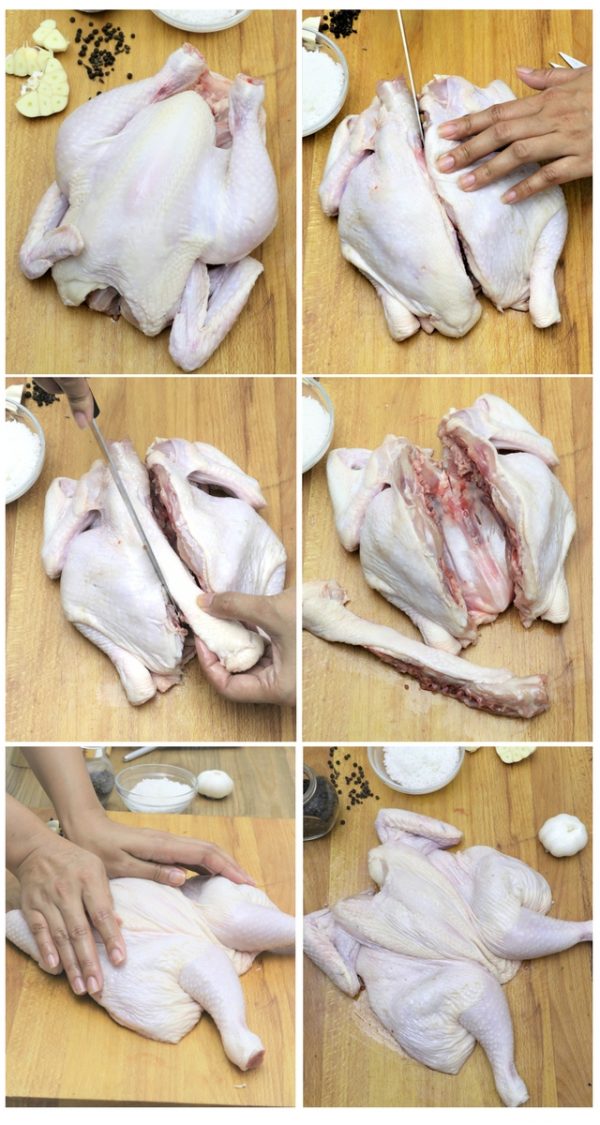 How to butterfly (spatchcock) a whole chicken?
First, wash the whole chicken thoroughly then pat dry using a paper towel.

Turn it upside-down with the spine facing up.

Using a sharp knife or kitchen shears, remove the spine. Turn it again with breast now facing up.

Flatten the chicken by pressing the breastbone down using a firm pressure. That's it!   
How to brine a whole chicken?
Now about brining. It is simply soaking the chicken in a brine solution for a period of time.
For a whole chicken, it is recommended to do this overnight.

The amount of salt, of course, will vary depending on how big your chicken (and container) is and how much water it needs to submerge the chicken completely.

The ratio I used is ¼  cup + 1 Tablespoon of salt for every 4 cups of water. 
Printable Recipe
How to butterfly and brine a whole chicken
If you are tired of having a bland and unevenly roasted whole chicken, then it is time to learn these very useful techniques of butterflying or spatchcocking and how to brine a whole chicken for a bone-deep flavorful and evenly roasted chicken.Learn the basic of brining a whole chicken to get a moist roasted chicken that packs so much flavor in every bite!
Ingredients
5

tablespoons

kosher/table salt

4

cups

water

1

head

garlic

- cut across into half

1

tablespoon

peppercorn

3 ½

pounds

chicken
Instructions
In a bowl, add salt (soy sauce and sugar) to the water and mix until completely dissolved.

Place the chicken in a large bowl or container. Add the garlic and peppercorns.

Pour in the brine solution until the chicken is completely submerged.

Cover bowl or container with a plastic cling wrap and refrigerate overnight.

Once ready to roast/broil, remove the chicken from the bowl and discard the brine. Pat the chicken dry.
Nutrition
Calories:
3611
kcal
Carbohydrates:
43
g
Protein:
304
g
Fat:
239
g
Saturated Fat:
68
g
Cholesterol:
1190
mg
Sodium:
39290
mg
Potassium:
3368
mg
Fiber:
3
g
Sugar:
26
g
Vitamin A:
2275
IU
Vitamin C:
34.2
mg
Calcium:
333
mg
Iron:
17.4
mg
On my next post, I will share the super easy broiled chicken recipe using the above technique.