Smooth or chunky? Whichever you prefer, making your own peanut butter is so easy! Try this creamy, tasty, and budget-friendly recipe that will show you how simple it is to make. Once you've tried this homemade Peanut Butter recipe, you won't buy it commercially again.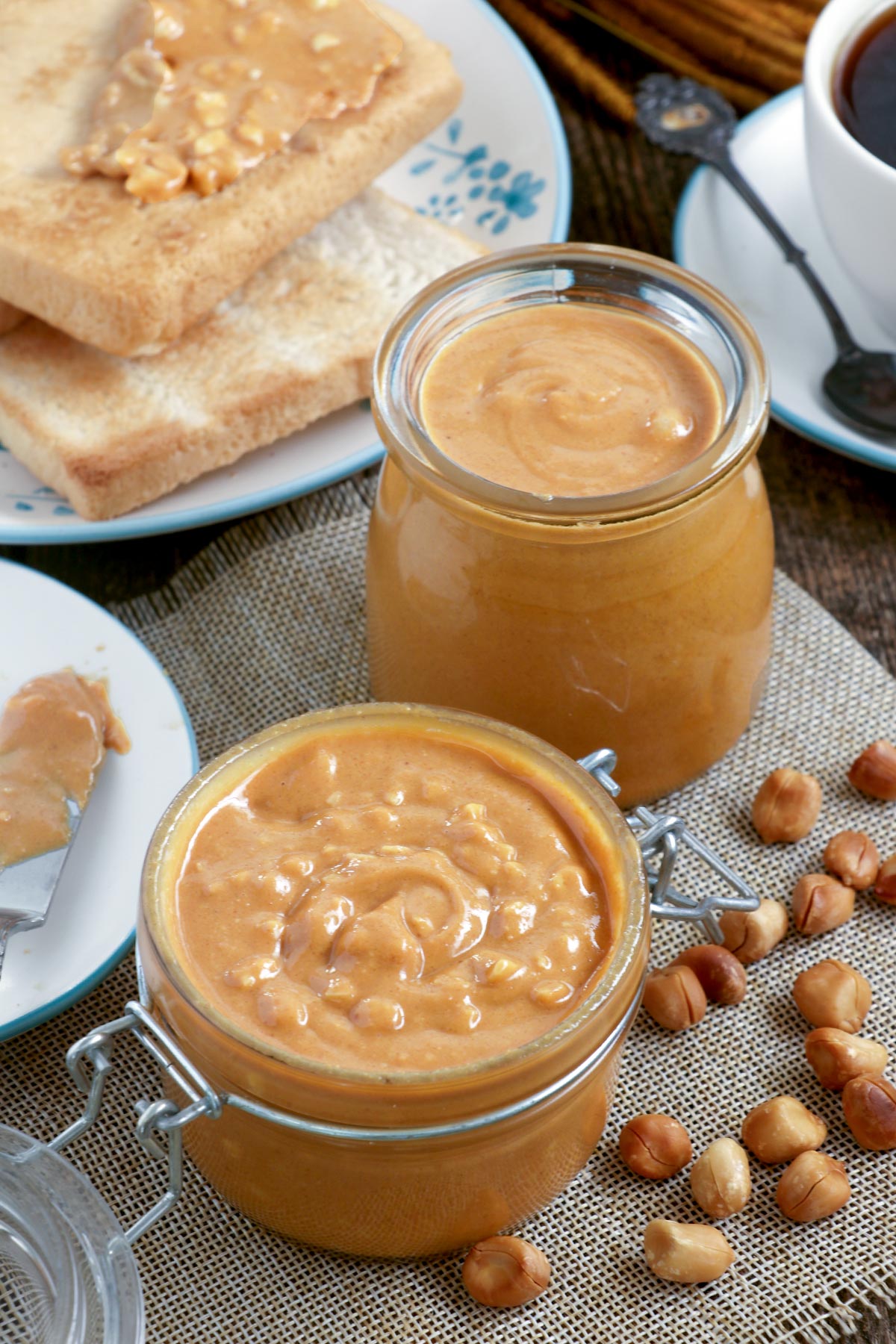 I am fussy about peanut butter, especially if I have to use one to make Kare-kare where I usually use the ones that are thick and not sweet at all. But I like using the local ones for my bread, they are lighter and much sweeter. Armin loves the chunky ones so we keep different kinds at home. And since we love it so much, I decided to make our own to add to our collection of Filipino spreads and fillings like Coconut Jam, Yema Spread, Dulce de Leche, and Guava Jam. You will be pleasantly surprised by how simple and easy it is to make and way healthier as you have control over the amounts of ingredients and cheaper too!
Why Make Homemade Peanut Butter?
Making your own Peanut butter is more economical. You don't need to buy much; maybe just the peanuts and the rest of the ingredients are mere pantry staples. The total cost will just be a fraction of the price of one commercial bottle or jar.
You can be tailor-fit it to your preference. You get to decide if you want it sweeter or saltier, smooth or on the chunky side.
It is super easy to make and will not take you more than 20 minutes to make one full jar. The most work you'll do is roasting the peanuts. The rest will be handled by your blender or food processor.
Since we are using all-natural ingredients, this homemade version is so much healthier and kid-friendly too! No preservatives and additives, just pure deliciousness!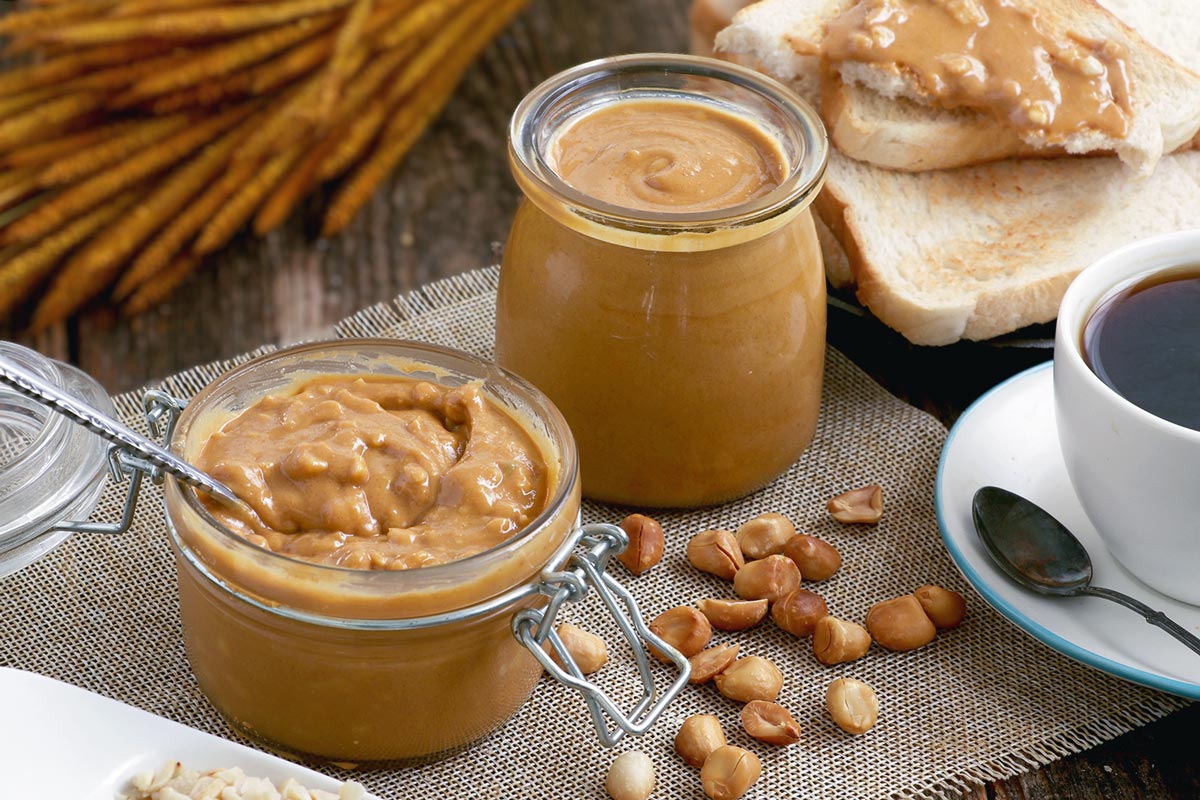 Printable Recipe
Homemade Peanut Butter Recipe
Creamy, tasty, and budget-friendly than the store-bought Peanut Butter! This recipe will show you how easy it is to make with 2 variations: smooth or chunky. Once you've tried this homemade Peanut Butter recipe, you won't buy it commercially again.
Ingredients
3

cups

raw peanuts

shelled

3

tablespoon

vegetable oil

or peanut oil

¼

cup

sugar

you can also use honey or other sweetener

½

teaspoon

salt
Instructions
Use a pan or wok and turn the heat on to medium. Roast the peanuts, stirring from time to time, until they become light golden brown.

3 tablespoon vegetable oil

Add the oil and keep on roasting for a minute or until golden brown. Remove skillet from heat. Transfer the peanuts into a blender or food processor while still warm. Pulse the blender several times to chop the peanuts into smaller bits.

***If you want chunky peanut butter take about ½ cup of the chopped peanuts.

Now, let the blender run for a minute then open and scrape the sides and bottom of the bowl using a spatula. It will look coarse and dry at this point but that is ok.

Run again for another minute and scrape again afterwards. Do this repeatedly and several times it will start to get smoother. Continue until you get almost to the texture you like.

¼ cup sugar,

½ teaspoon salt

Lastly, add the sugar/honey and salt and pulse again until desired texture is achieved. Do not forget to pause and scrape to avoid the blender from overheating too.

***Now add the chunky bits and give it another 1 or two quick pulses just to blend.

Transfer to a sterilized jar and enjoy with toast.
Notes
SERVINGS: This recipe yields about 2 cups of peanut butter, which is equivalent to 32 tablespoons. Each serving is equivalent to 2 tablespoons of peanut butter. 
Nutrition
Serving:
2
tablespoons
Calories:
155
kcal
Carbohydrates:
7
g
Protein:
7
g
Fat:
12
g
Saturated Fat:
2
g
Polyunsaturated Fat:
4
g
Monounsaturated Fat:
6
g
Sodium:
79
mg
Potassium:
186
mg
Fiber:
2
g
Sugar:
3
g
Calcium:
27
mg
Iron:
1
mg
Notes about the Ingredients
Peanuts – You need to use raw peanuts and you can usually buy them in the market or in groceries already shelled. If you can only find roasted peanuts, it is not that ideal but it will do, just make sure it is not salted. We use raw peanuts and roast them to release the flavor and infuse it into the oil.
Vegetable oil – You can use other neutral-tasting oil like canola but if using roasted peanuts I suggest using peanut oil.
Sugar – Honey or other sweeteners will do. If you want to make it vegan, you may opt for agave nectar or maple syrup. You can adjust the amount to your preference.
Salt – This is to enhance the flavor but is optional.
Cooking Tips
Pulse the peanuts while still warm because they will be easier to grind right after roasting. This is because their natural oils have just been released.
The more you pulse and blend the peanuts the smoother it will become. If you see that your mixture is still too dry after several pulses, you may add a bit of oil to help make it creamier.
The process does require you to stop your blender or food processor from time to time to prevent it from overheating. This will also give you time to scrape the insides of the blender or food processor to check on the consistency and texture.
If you will be using honey or other syrups, you may need to add more oil as these are thick and sticky and may cause the peanut butter to stiffen and clump up.
How to Use and Store
Enjoy it as a spread with a piece of toast, or make a peanut butter and jelly sandwich! You can also use it as a filling when making Macarons and Peanut Tikoy Rolls. Use it as frosting for your cakes or cupcakes; try this delectable Banana Cake with Peanut Butter Frosting!
To store the peanut butter, pour it into a sterilized jar with a lid or an airtight container. It will last for about one (1) month at room temperature and three (3) months in the refrigerator.
More Recipes for Jams and Spreads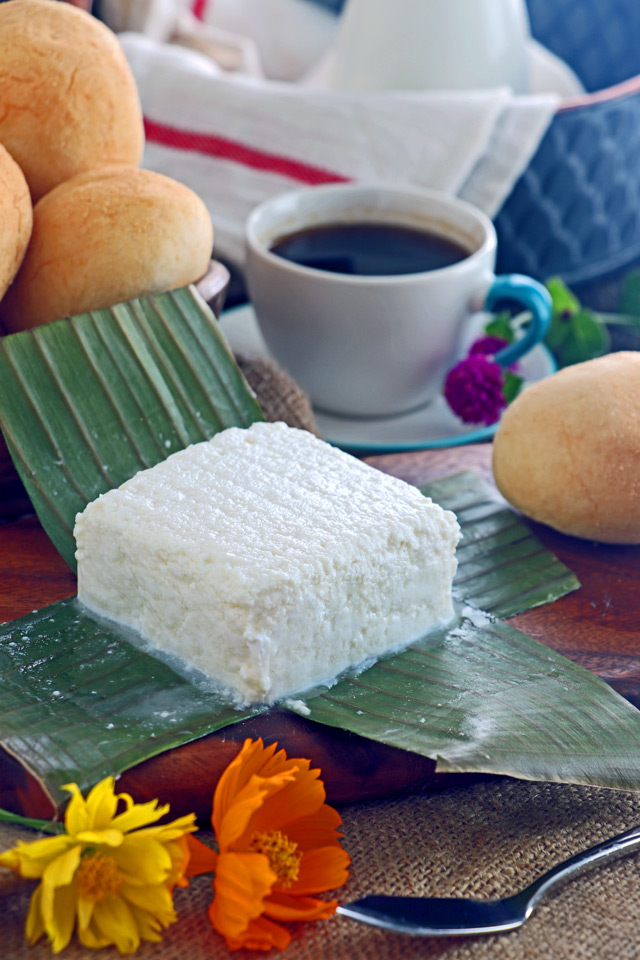 FAQs in making Homemade Peanut Butter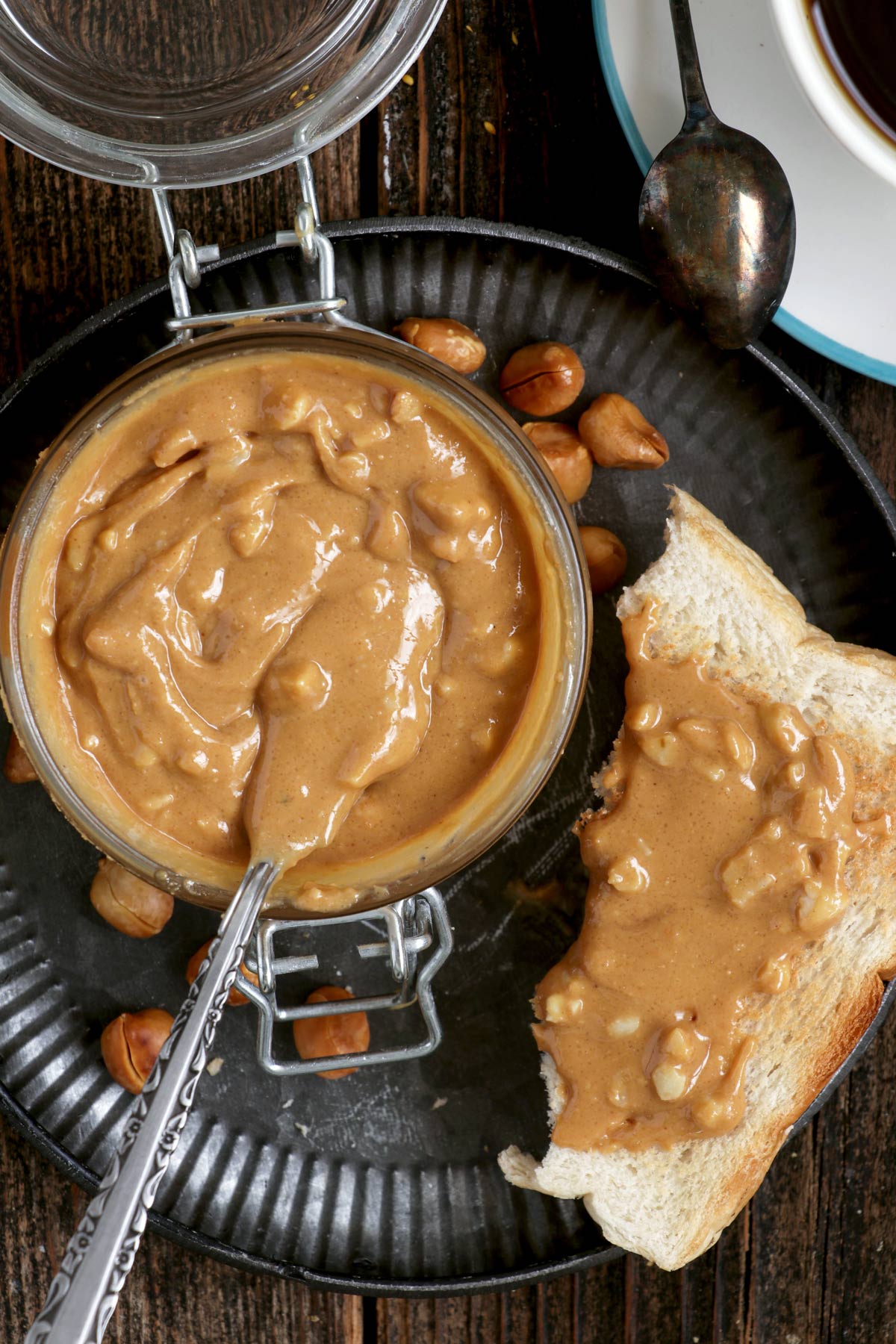 Can I use other nuts?
Sure, the process to make other types of nut butter are basically the same. You can use cashew, almond, walnuts, or any nut you prefer. You can also add cashew to the peanuts for added yum!
Why is my peanut butter not creamy?
It can be because you used too little oil. You can add more oil but in small amounts only until you reach your preferred texture. Also, take note that high-powered blenders or food processors will make creamier peanut butter faster.
Why does the oil separates from the peanut butter?
Worry not, this is normal. If this happens, just give it a stir or store it upside down for a few minutes before using.
Can I add chocolate?
Sure you can! Once you are satisfied with the texture of your peanut butter, swirl in some chocolate syrup. Your kids will surely love it more!