Learn how to make Gnocchi the fast and easy way. No need to buy pre-made gnocchi when you can make them anytime real quick.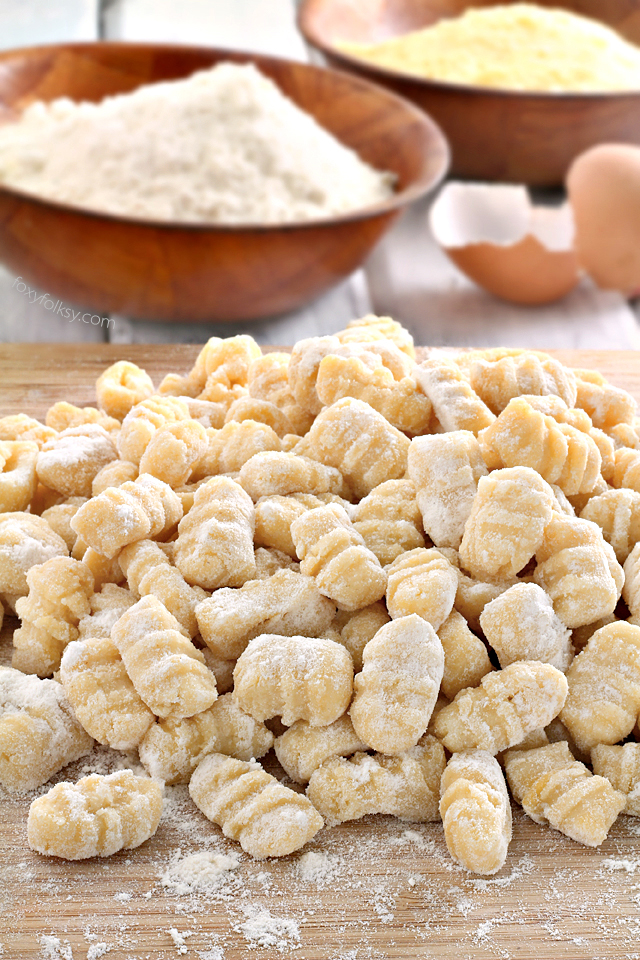 Now that I quit my job to focus on Foxy Folksy, I am also able to spend more time with Armin which was a bit difficult before because of his shift work. Even our day offs then were not always the same so it is nice that we can now do a lot of things together again, like, spontaneously going to our new favorite local Restaurant, Pizzeria D'ouro, last Monday for lunch. I learned about this place from my previous work because my boss and sometimes colleagues would order pizzas from them for their office birthday treat and I could easily say their pizza is the best in our area. But last time we were there, we were in the mood to try out their other dishes and I am so happy we did. Armin ordered their Gnocchi de la Casa and it was amazingly good so it inspired me to remake it at home.
Gnocchi, pronounced 'noh-kee' or 'nyo-kee', is an Italian soft dough dumpling that can be made from potatoes, polenta, ricotta and so on. I have tried gnocchi in other restaurants before, but none of them made me curious enough to know how it is done...until now. Sure, ready to cook gnocchi are available at our local grocery stores, but I wanted to give try it homemade. You know just in case they ran out of stock, which is unlikely, or when a sudden craving strikes, which is much more likely to happen.
So I would be making two posts for this, first is how to make homemade potato gnocchi the easy way and then next, I would share my very own version of D'ouro's Gnocchi Della Casa that is gnocchi in creamy Gorgonzola sauce with ham and mushrooms.
Most of the recipes I found online use freshly made mashed potatoes, but I was curious if it would also be ok to use an instant one and so I did and what do you know!? It worked and it cut the work and time in half. I also find it practical because instant mashed potato can be stored for a long time and I always have it on stock, so when the cravings strike I will be always ready.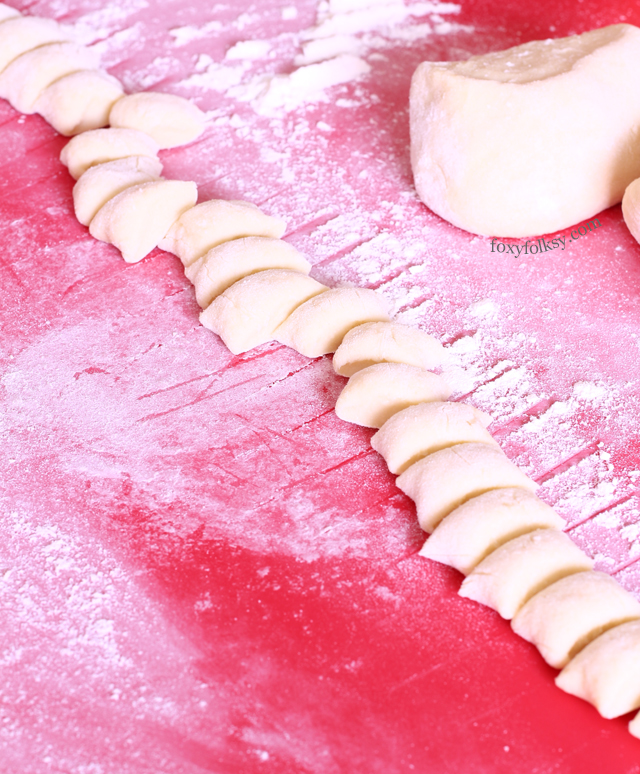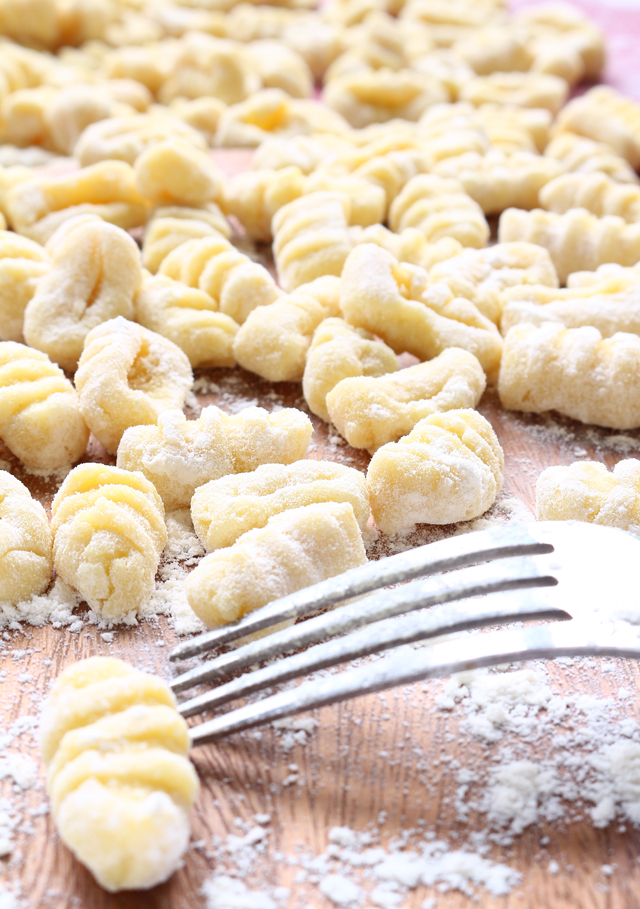 Printable Recipe
Homemade Gnocchi made Easy
Get this homemade Gnocchi recipe and learn how to make them, fast and easy. No need to buy pre-made gnocchi when you can make then any time real quick.
Ingredients
1

cup

mashed potato flakes

(instant)

1

cup

hot water

(or half cup water, half cup milk)

1

cup

flour

1

egg

½

teaspoon

salt

flour

- for dusting
Instructions
In a large bowl, combine flour, mashed potato flakes and salt. Make a well in the middle and add the hot water and mix well using a fork. Add the egg and slowly mix them all together using your hands until a dough forms. Do not knead the dough to avoid gluten from forming or your gnocchi will be chewy.

Turn the dough into a generously floured surface and cut into 3-4 parts. Roll each to make long thin logs/ropes as thick as your thumb or about half inch in diameter.

Cut each rope in about half inch pieces. Sprinkle the pieces with more flour to avoid them from sticking together. You can stop from here and cook the gnocchi as it is or you can form them.

To form the gnocchi, roll each piece down the tines of a fork to create grooves. This will help them absorb more flavor as the sauce clings on the grooves.

To cook, bring a large pot of water with salt to a boil. Add the gnocchi and let them cook. They are done once they start to float on the surface. Remove the cooked gnocchi using a strainer and remove excess water. Serve immediately with your fave sauce.
Nutrition
Calories:
243
kcal
Carbohydrates:
48
g
Protein:
7
g
Fat:
1
g
Saturated Fat:
0
g
Cholesterol:
54
mg
Sodium:
434
mg
Potassium:
284
mg
Fiber:
2
g
Sugar:
0
g
Vitamin A:
80
IU
Vitamin C:
16.2
mg
Calcium:
20
mg
Iron:
2.4
mg
Here is to show how I formed my gnocchi using a fork and a teaspoon:
Gnocchi are best served as soon as they're cooked, so be sure to have your favorite sauce ready. 
Watch out for the next post to share my very own version of D'ouro's Gnocchi Della Casa,  gnocchi in creamy Gorgonzola sauce with ham and mushrooms.