Enjoy grilled corn anytime you want with this spicy cheesy grilled corn on the cob recipe. Perfect for your barbecue parties this summer!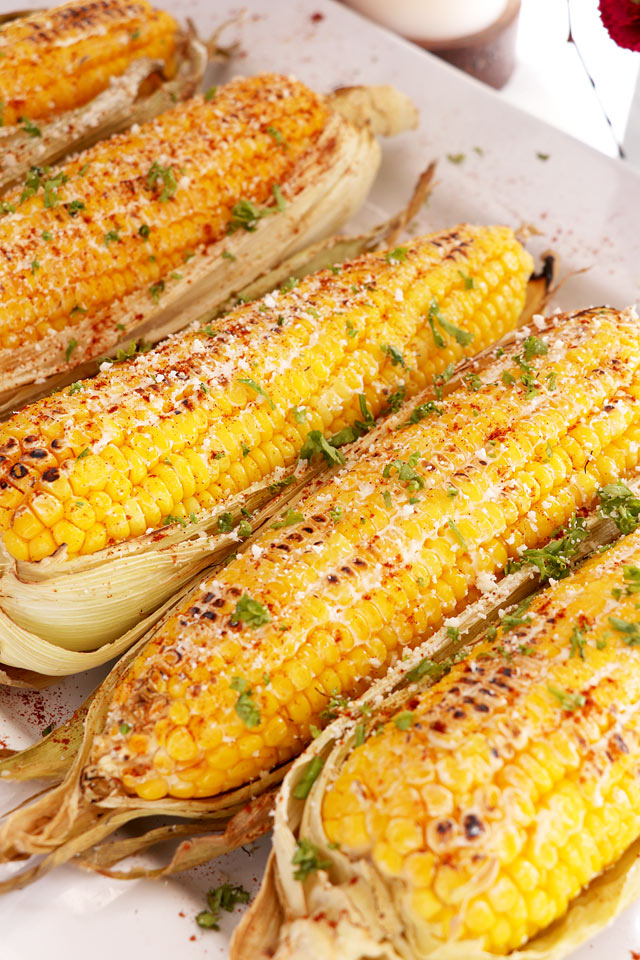 Summertime to me means beach, pool, and barbecue parties! And although it may be too early in other parts of the world, wherein it is high summer now where we live, I am pretty sure everyone can't wait for this time of the year.
When we were still in Germany, I remember looking forward to summer because Armin and I love having barbecues, even just for the two of us. But I have to admit it was always nicer to have barbecue parties with our friends. It also makes all the time spent on starting the fire and grilling the meat for some time worth all the effort. And of course, sharing the fruits of the labor with our lovely friends made it much more enjoyable.
I only wish I had this grilled corn recipe on my archive back then. Thinking how much time it could have saved me and not to mention how grandiose my plain corn on the cob would have been. No matter, I have now my family and friends of old to impress with it, if we can share some at all with them that is. Believe me, one cob of corn will never be enough when you try this.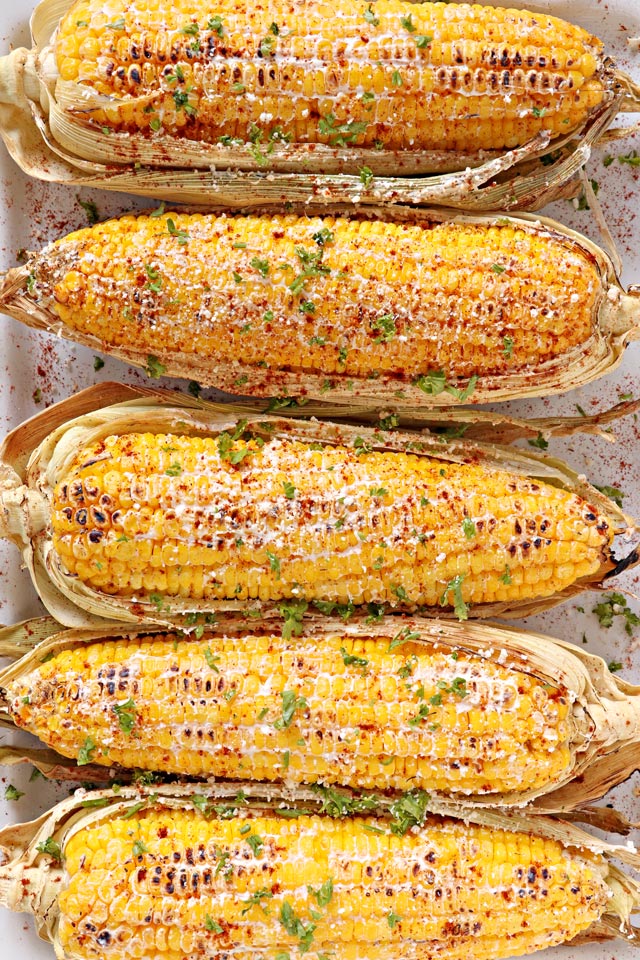 I had to ask our local fruit and vegetable vendor to get me the perfect cobs of corn and, boy, did she delivered! Just look at these beauties. So plump and fleshy. They are sweet too!
For those who do not know how to choose a good cob of corn, here are some useful tips, especially if they are still inside the husk and you do not want to annoy your vendor by peeling each one off.
How to choose good corn on the cob without peeking?
Freshly harvested corn tends to be the sweeter that some days-old ones. Because once it is harvested, the sugar in it starts to turn to starch. So choose the ones with the husk tightly hugging the cob and have nice green color.
Feel the kernel through the husk. What you are looking for are swollen and full kernels, not hollow.
Inspect the tassels (hairs), they should be brown and sticky to the touch.  Old corn will have black or dry tassel.
Take a small peek at the inside of the tip of the husk and make sure they are almost filled out. Three-quarter of an inch of undeveloped kernel at the tip usually means softer kernel. Too-developed corn might have a harder skin.
Now if you are not able to cook your fresh corns ASAP, it will be ok to store them in the fridge for up to 4-6 days. Keep the husk intact as this will keep the corn moist but don't store them packed in a bag. Use a paper bag or newspaper to wrap them with.  The cool temperature will slow than the starch production and will keep them sweet longer.
Grilling corn on the cob in an oven is one of the easiest ways to cook corn. No need to remove the husk at all. Just place them on a baking pan and start roasting.
Another good thing about this recipe is that if you prefer boiled corn instead of the charred version or you plan to serve both to your guests, you do not have to prepare them separately. Just stop after the first step and it is the same as having them boiled.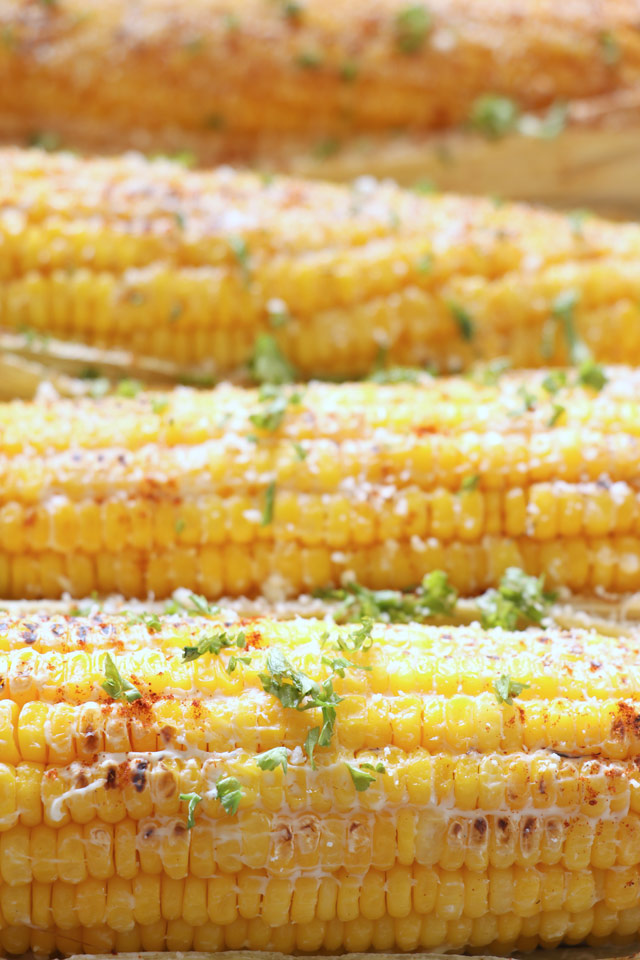 Printable Recipe
Grilled Corn on The Cob Using Oven
Get the perfect grilled corn on the cob anytime you want with this really simple recipe.

Ingredients
6

pieces

cobs of corn

- husk attach
FOR BRUSHING
1

salt

3

tablespoons

cream cheese

2

tablespoons

Parmesan cheese

dash

red chili powder
Instructions
Lay the cobs of corn with husk and silk still attached, directly to the oven pan. Roast at 200°C/400°F for 15-20 minutes and turn the cobs over then roast for another 15-20 minutes.


Take the whole pan with corn from the oven and remove the husk from the top side. Remove the silk as well.

Slather butter on the exposed corn and sprinkle with salt. Place the corn back to the oven at a rack higher and roast for another 5-10 minutes or until slightly charred.

Once the cobs of corn are done, slather each one with cream cheese. Then sprinkle them with Parmesan cheese and some red chili pepper powder. You may also add some chopped cilantro or parsley if desired

Nutrition
Calories:
108
kcal
Carbohydrates:
17
g
Protein:
3
g
Fat:
4
g
Saturated Fat:
1
g
Cholesterol:
9
mg
Sodium:
63
mg
Potassium:
253
mg
Fiber:
1
g
Sugar:
5
g
Vitamin A:
280
IU
Vitamin C:
6.1
mg
Calcium:
29
mg
Iron:
0.5
mg