Try this Gourmet Tuyo Recipe and bring your plain tuyo (dried herring) to a whole new level. Cravings solved because you can keep them longer!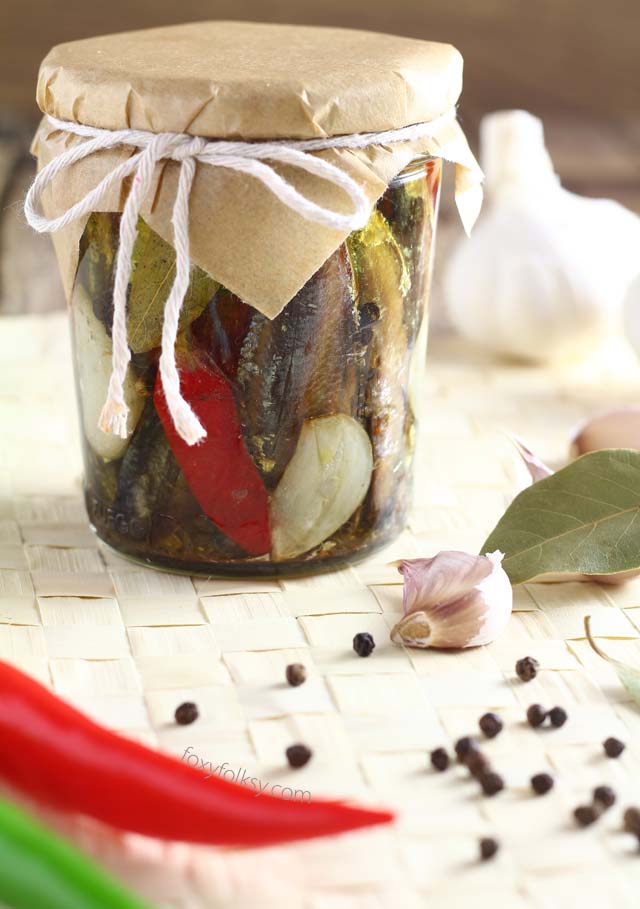 Gourmet Tuyo is a current food trend in the Philippines. It is like giving our beloved dried fish a makeover and it is now more popular than ever! Whoever started this idea is simply a genius. It is funny how 'tuyo', which is originally considered, in the Philippines, as food of the poor (because it is cheap) became suddenly so glamorous! Although, through the passing of time, the love of Filipinos for 'tuyo' spread to encompass any social standing but this is now again a whole new level! AND I LOVE IT!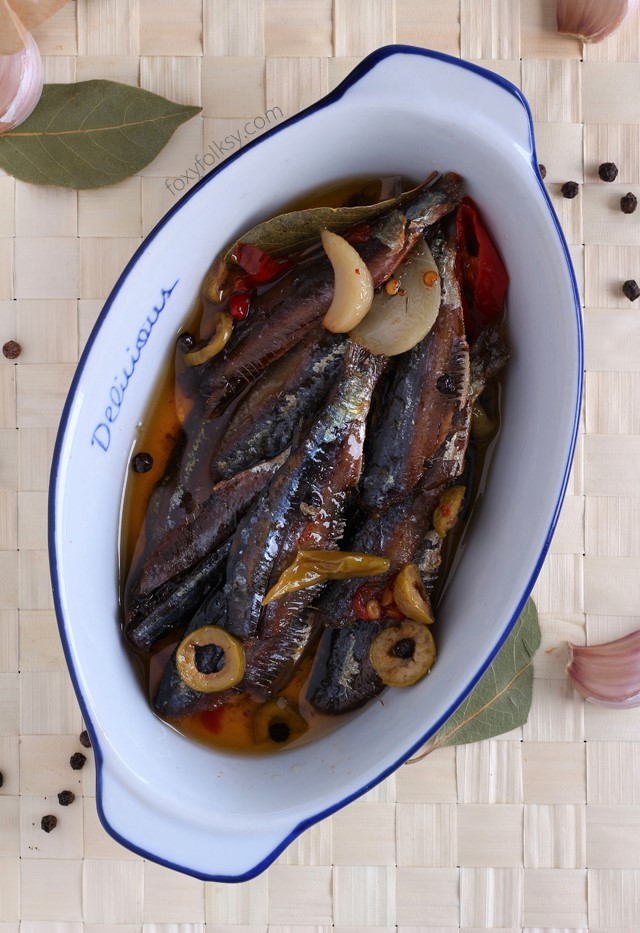 A bit of an info for my non-Filipino readers. 'Tuyo', meaning 'dry', is a kind of salted dried fish, usually herring. It has a pungent smell especially while being cooked, which is normally fried in oil. Here in Germany, they are also called 'stinky fish'.  Outside the Philippines, they could be available in Asian stores but I also saw them sold in Amazon in US.
I brought back a pack of 'tuyo' with me from the Philippines just so I could experiment with making gourmet tuyo. The thing is, it is not easy to cook 'tuyo' here because of the smell. Armin hates it (smell), of course, although he is always being nice and does not complain (so much). But I always try to keep the frequency to the minimum as I do not want our neighbors complaining:-). This gourmet tuyo is actually a solution. I only have to cook all of it once and store the rest for future consumption! And I found out, based on my personal experience, that the gourmet tuyo gets better as the days past by. My bottle of gourmet tuyo has been sitting in the fridge for 10 days as of writing this post and the flavors are becoming more well blended and enhanced.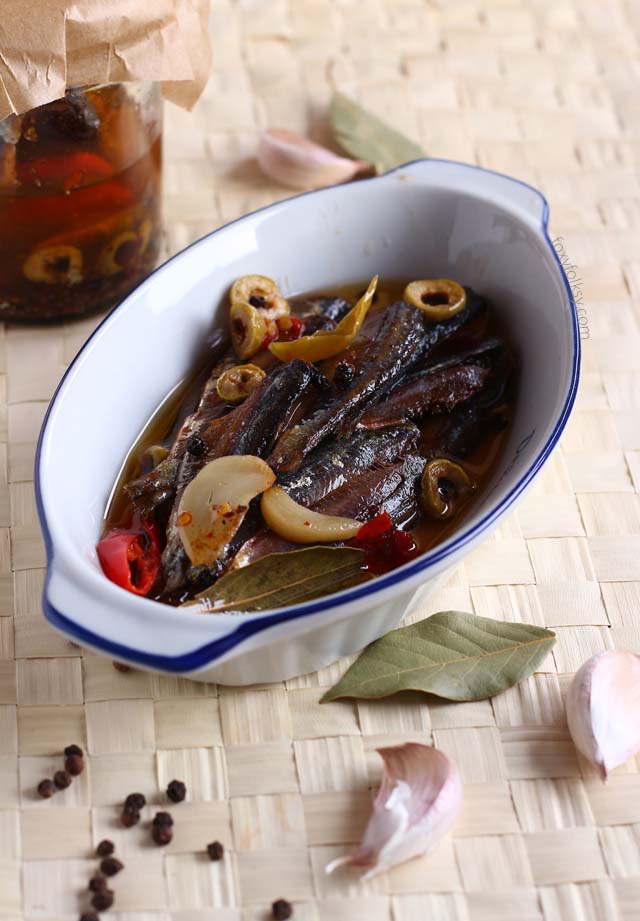 Printable Recipe
Gourmet Tuyo (dried Herring) in Spicy oil
Try this Gourmet Tuyo Recipe and bring your plain tuyo (dried herring) to a whole new level. Cravings solved because you can keep them longer!
Ingredients
15-20

pieces

Tuyo

(dried herring)

vegetable oil

- for frying

1

cup

olive oil

or sunflower/corn oil

3

cloves

garlic

- cut into thin slices

1

red hot chilli pepper

(labuyo) - cut into slants or 1 teaspoon chili flakes

3

pieces

bay leaves

5-10

pieces

peppercorns

- slightly crushed

10-20

pieces

pickled olives

- cut into circles (optional)

1

teaspoon

paprika powder
Instructions
Cut off the heads and fry the tuyo in hot oil over high heat until the scales start to come off a bit. Place fried tuyo on a plate with a paper towel.

Remove the scales and soft parts. Can also be flaked and de-boned. Arrange the fried tuyo in a glass jar.

In a saucepan under medium-high heat, combine the olive/sunflower/corn oil, garlic and red chili pepper, bay leaves, peppercorns and olives. Bring to a boil and add paprika powder. Cook just until the garlic becomes tender and slightly browned.

Pour the oil mixture into the jar of tuyo, let it cool down before storing in the refrigerator. Store for at least 3 days before serving to allow flavors to blend.

Serve with steaming hot rice.
Notes
If you like olives, I highly recommend adding them. It adds a distinct, slightly tangy flavor that goes really well into the blend.
This recipe is only slightly hot and spicy, you can add more chili if you prefer it really spicy.
I also added some mild red chili and crushed them a bit while cooking to add more color in oil.
You can also add some pickled green chili peppers that are not so spicy for munching on.
Nutrition
Calories:
59
kcal
Carbohydrates:
2
g
Protein:
1
g
Fat:
5
g
Saturated Fat:
0
g
Cholesterol:
2
mg
Sodium:
60
mg
Potassium:
72
mg
Fiber:
0
g
Sugar:
0
g
Vitamin A:
320
IU
Vitamin C:
13.8
mg
Calcium:
15
mg
Iron:
0.6
mg