Goto is a hearty and flavorful porridge made with sticky rice and cooked with beef tripe meat and broth infused with ginger and other simple spices.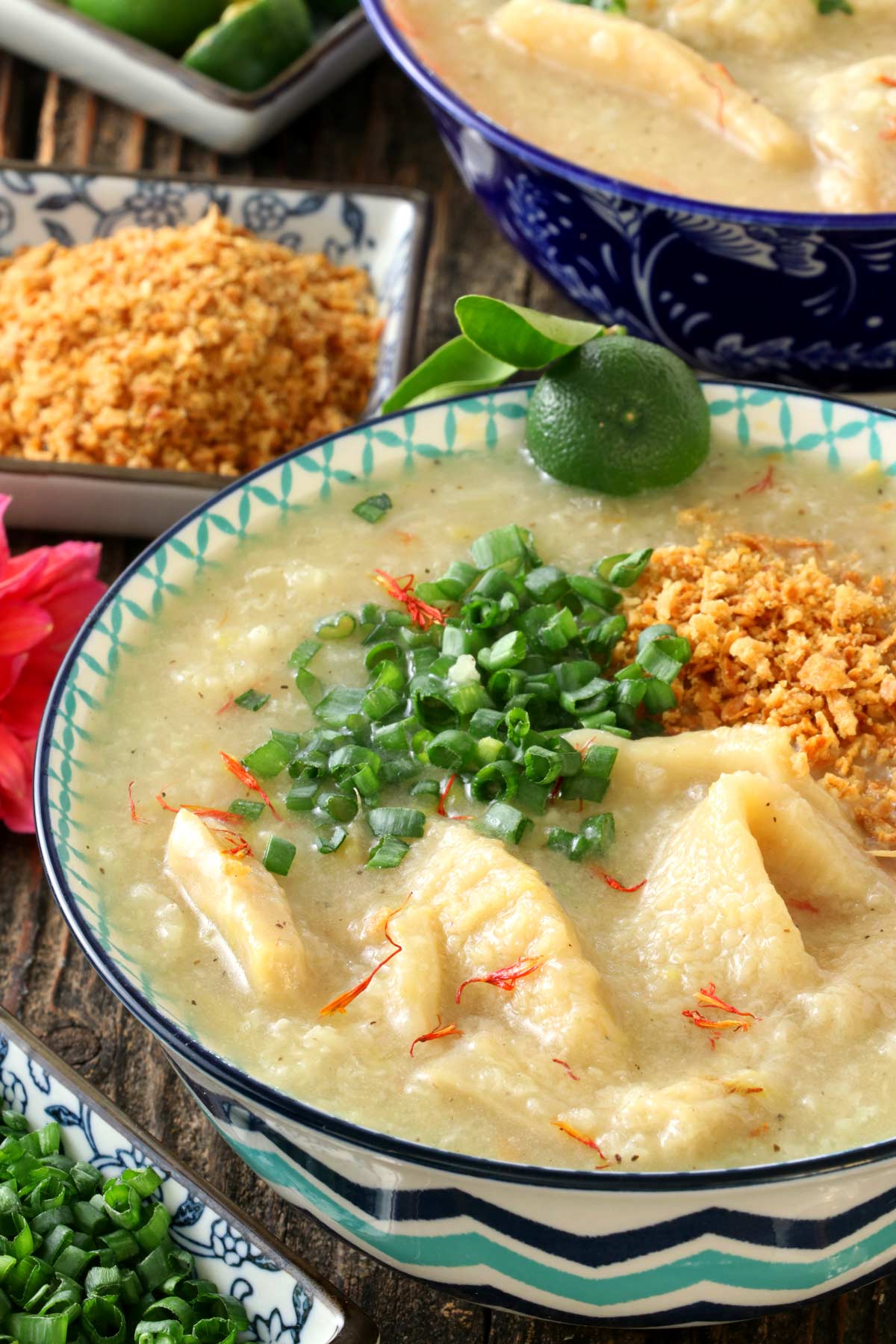 Jump to:
It is probably one of the most popular comfort food around. It's our go-to (pun intended) recovery food when we feel under the weather or have a long tiring day. The perfect breakfast treat especially when it is rainy or gloomy outside! It is also a sought-after dish when one is crimping a bit on their budget, for it is inexpensive but totally filling, an all-in-one dish that can get you through the day!
Goto vs Arroz Caldo
While both are types of Lugaw, or Filipino rice porridge, the difference between the two lies in the protein used. Goto is also called Arroz Caldo con Goto meaning rice (arroz) cooked in broth/soup (caldo) with ox tripe (goto). So while the term Arroz Caldo simply translates as rice soup, it is known to be served with various chicken cuts and hard-boiled eggs.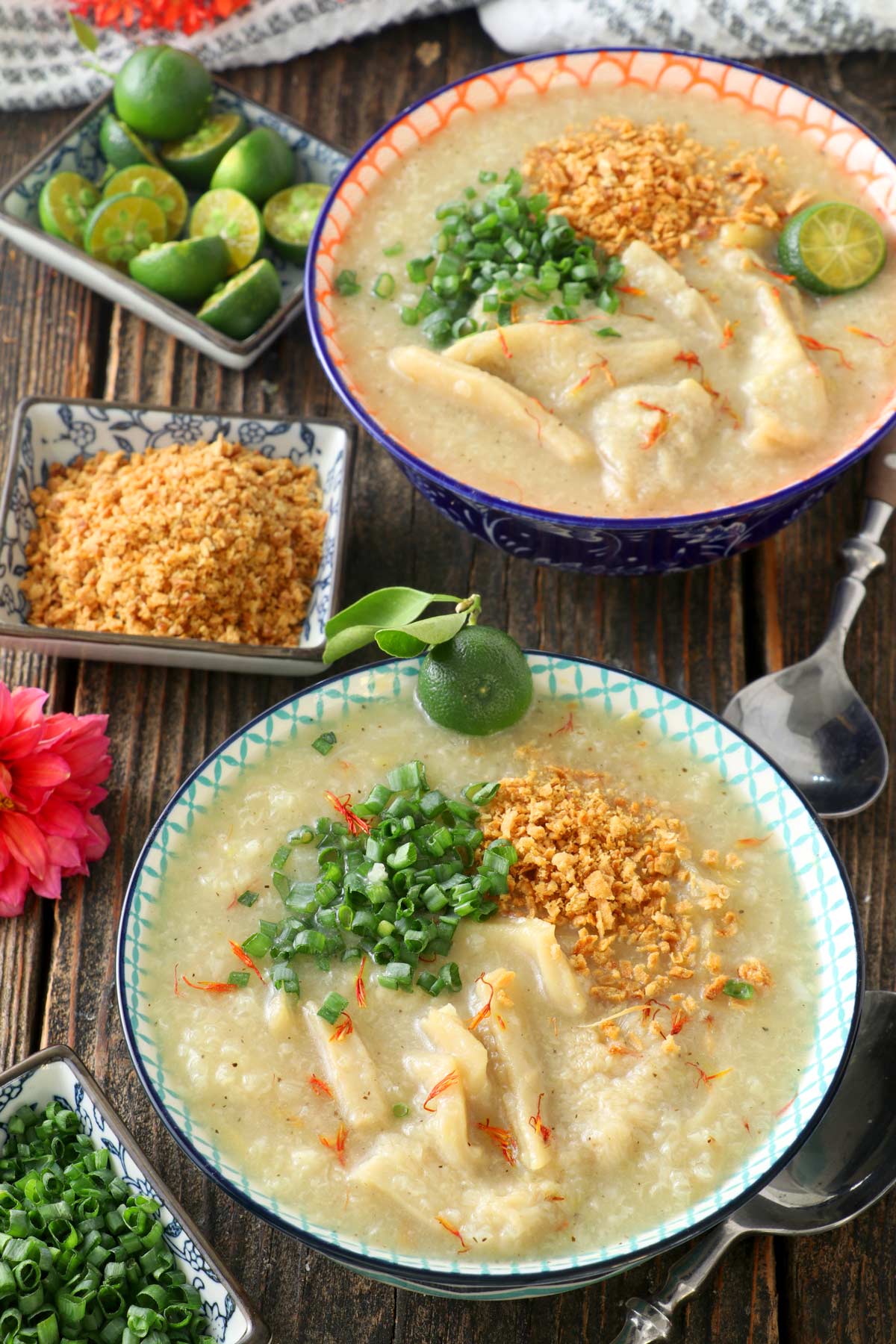 Making it more flavorful!
Just like how I make my Arroz Caldo, this recipe for Goto also includes Safflower or "Kasubha" and Lemongrass. I love how these two ingredients add depth of flavors and tantalizing aroma to the dish. If you have not tried making it with these, I highly recommend it! You will never go back to the way you have been making it before once you have tried it.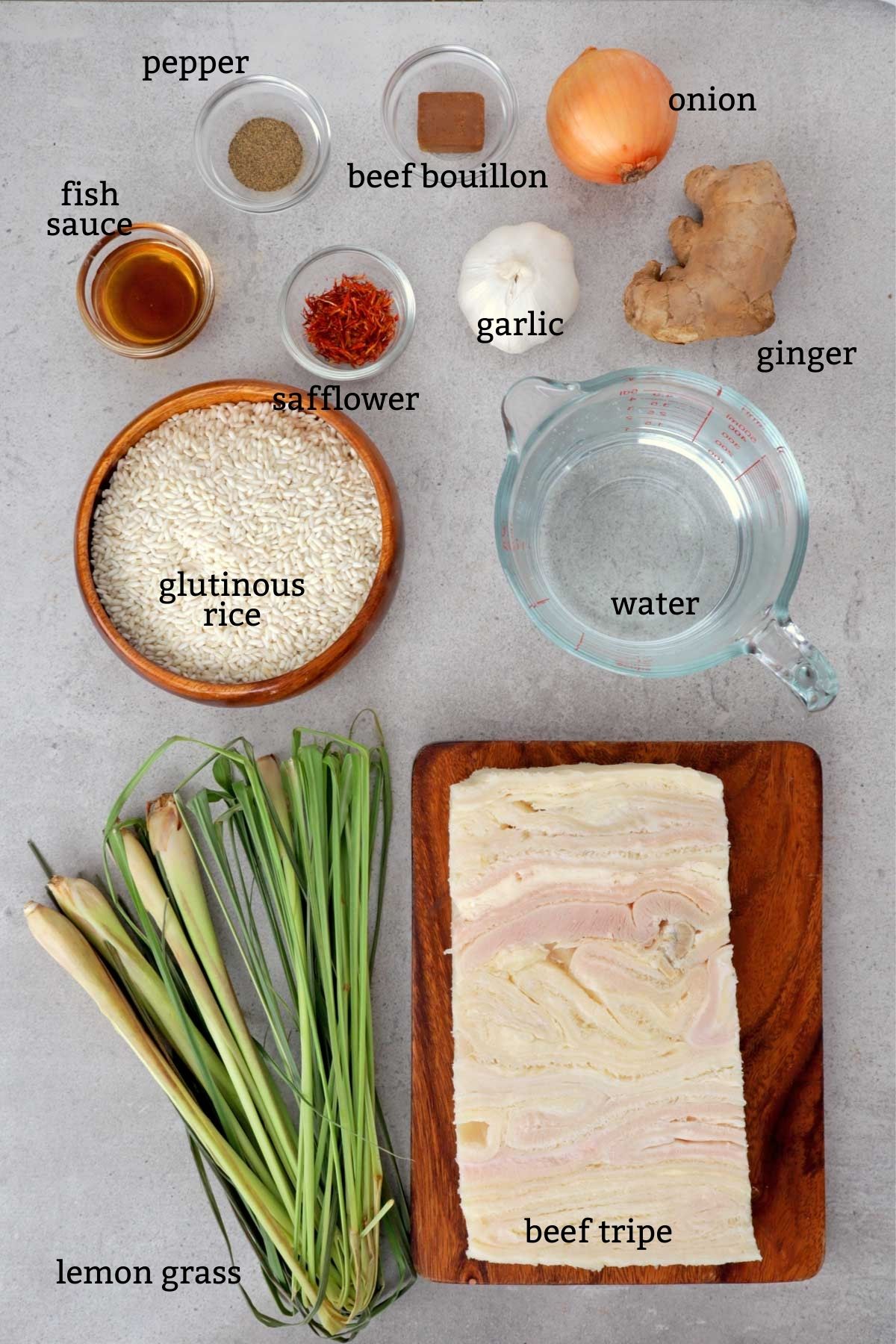 Foxy Tips when Making Goto
Save yourself the time and effort of cleaning and preparing the tripe by having the meat butcher do it for you.
The usual type of tripe used for goto is the "blanket tripe". In Tagalog, we call it "tuwalya". There are other types like honeycomb and book tripe that you can also use. They are from different parts of the cow's stomach. Others also add other beef innards such as intestines, tendons, and heart.
I used a pressure cooker to quickly tenderize the tripe. However, if you do not have one, you can go conventional! Slow cook it in a pot of hot water for several hours.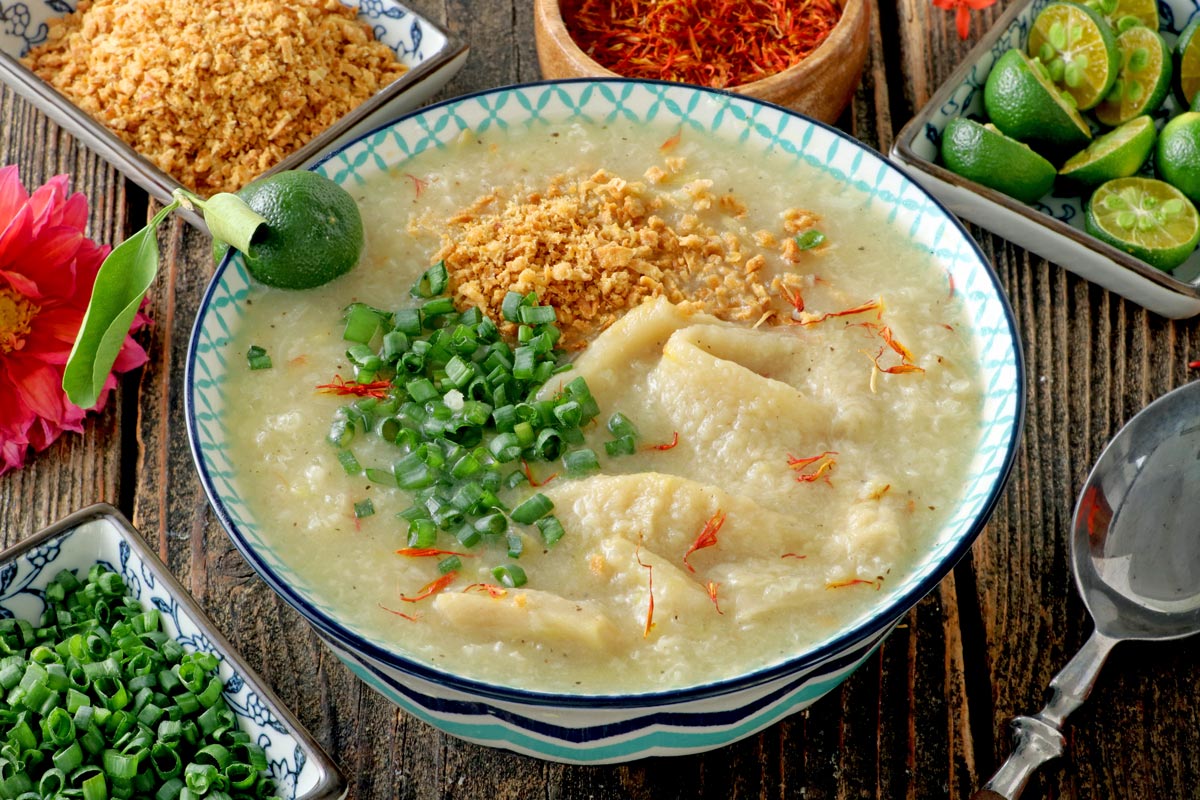 Printable Recipe
Goto Recipe
Try this Goto recipe for a hearty and flavorful porridge made with sticky rice and beef tripe cuts simmered in a safflower and lemongrass-infused beef broth. It is served topped with fried garlic bits and sliced green onions and a drizzling of calamansi juice.
Ingredients
1

kilo

beef tripe

1

cup

sticky rice

½

tablespoon

safflower

2

thumbs

ginger

1

medium

onion

2

tablespoon

fish sauce

½

teaspoon

ground pepper

1

piece

beef bouillon cube

1.5

liter

water

1-2

stalks

lemongrass

3

tablespoon

oil
Instructions
Place the beef tripe in the pressure cooker with water over high heat for 30 minutes.

Turn off heat and open the valve to allow steam to eacape. Scoop the fork-tender tripes and cut them into 1-inch thick pieces, then set aside. Set the broth aside for later.

In a big bowl, rinse the sticky rice and drain.

In a pot, saute the garlic, onion and ginger. Cook until onion is limp and aromatic.

Add the cooked beef tripe cuts and fish sauce. Mix all together.

Add the beed tripe broth and the bouillon cube. Stir until well incorporated.

Add the lemongrass and bring it to a boil. Once boiling, add the washed sticky rice and let is simmer until rice is cooked. Stir occasionally.

Add water, ground pepper, and safflower. Let it boil for a few more minutes and turn off the heat.
Nutrition
Calories:
1245
kcal
Carbohydrates:
177
g
Protein:
17
g
Fat:
51
g
Saturated Fat:
4
g
Trans Fat:
1
g
Cholesterol:
1
mg
Sodium:
3922
mg
Potassium:
563
mg
Fiber:
8
g
Sugar:
7
g
Vitamin A:
13
IU
Vitamin C:
9
mg
Calcium:
124
mg
Iron:
5
mg