Ginataang Munggo is a creamy Filipino rice pudding flecked with roasted mung beans giving the dish a sweet and nutty flavor. It is a popular comfort dish usually for breakfast or afternoon snacks or as an after-meal sweet treat.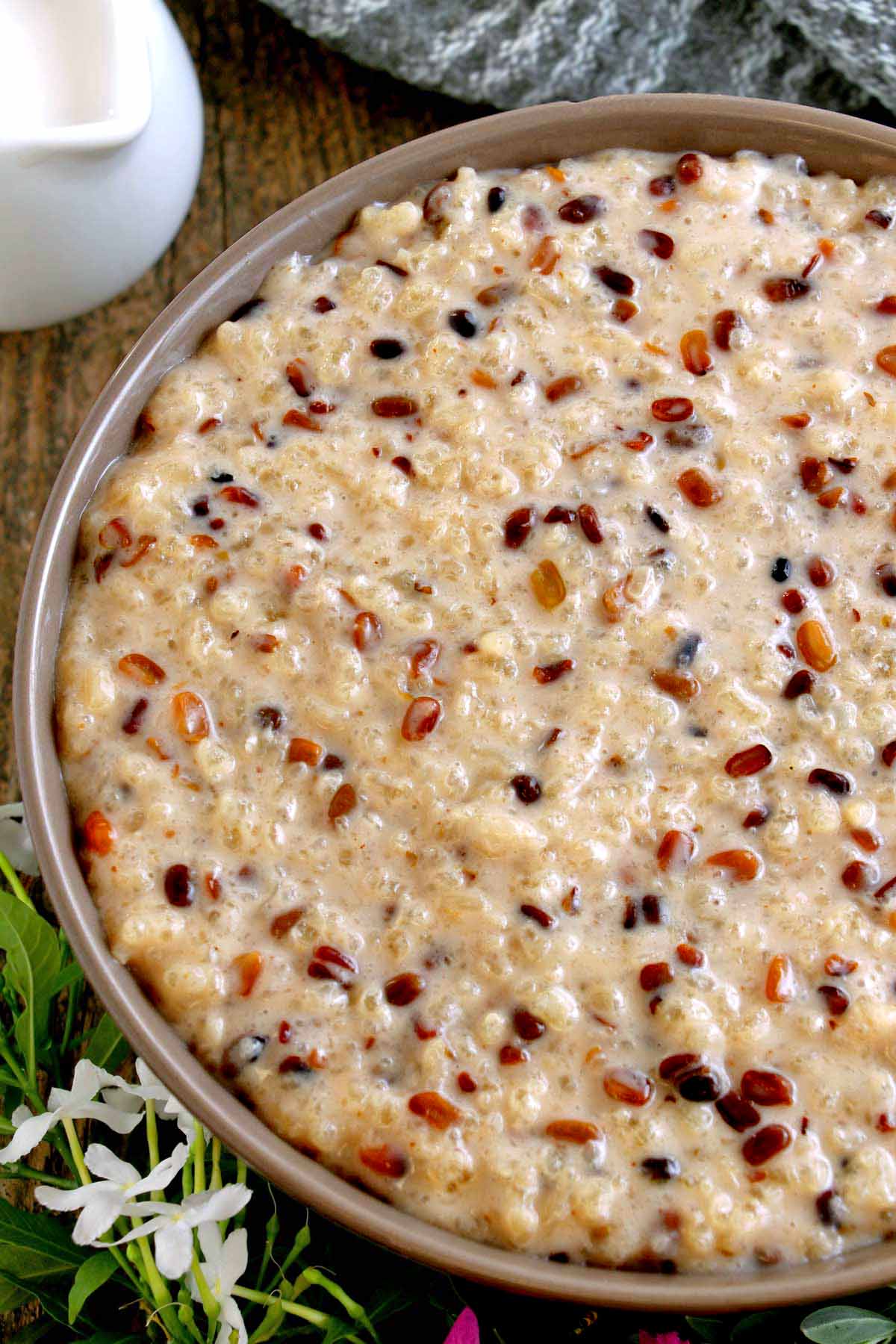 Jump to:
This is one of those dishes that gives me a trip down memory lane! I remember having a warm bowl of this yummy treat regularly growing up.
FUN FACT: This delicacy is actually involved in one of the many Kapampangan traditions. It is said that once a baby starts to walk, one should cook it. This is the Pampango way of celebrating the baby's milestone and wishing him/her luck in achieving greater things in life. Don't ask me why though! I've no idea how this tradition came about. Maybe it's because of the many nutritional benefits that one can gain from eating mung beans? Can be, right?
What is Ginataang Munggo?
Lelut balatung, Ginataang totong, Tinutungang, this dish is called many things depending on which part of the country you are from. It is a sweet and creamy Filipino delicacy made of roasted mung beans and glutinous rice simmered in coconut milk and cream.
As Filipinos are fond of "Ginataan" or anything cooked with coconut milk (gata) this sweet treat has other versions using a different ingredient than mung beans. Like Ginataang Mais, using corn and Ginataang Bilo-bilo using riceballs. This version of Ginataang Munggo uses the basic ingredients to easily make a bowl of this hearty comfort food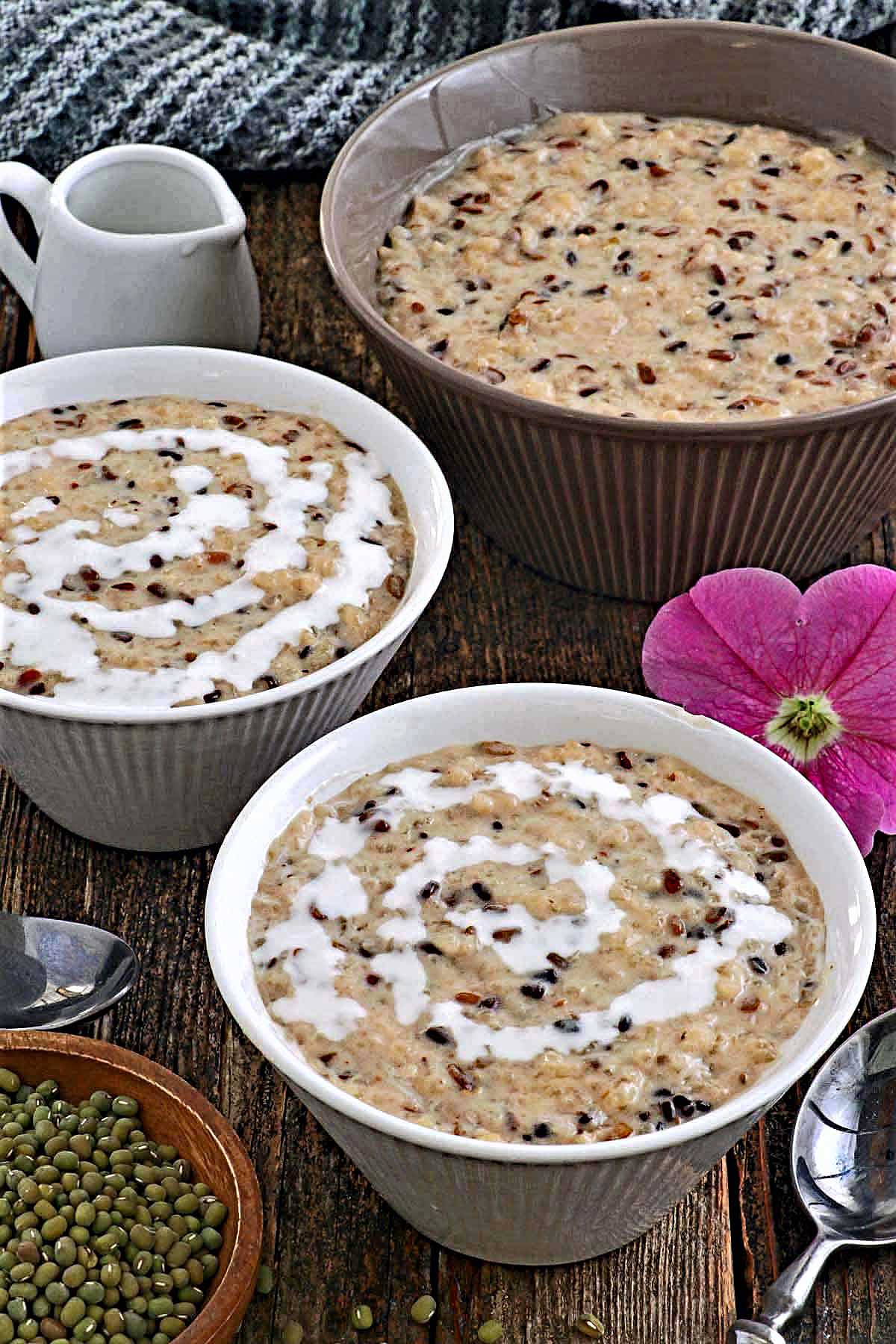 Foxy Tips for you!
After roasting the mung beans, use a rolling pin, mortar and pestle, or any hard heavy object to crack them open. Use just enough force to split the beans but not crush them. Alternatively, you may use a food processor, pulse to crack but do not pulverize.
Make sure to stir the mixture occasionally while it is simmering. Use a wooden spatula to scrape the bottom to keep from it from burning and sticking to the pot.
If the mixture becomes too thick, you can add water to thin it out. However, add it gradually to make sure you still end up with a dense yet creamy consistency.
Ensure that the glutinous rice and mung beans have expanded and softened before adding the sugar. Adding the sugar too soon will result to the rice to cooking unevenly.
It is enjoyed best enjoyed while still hot, but it is also equally delicious warm or cold!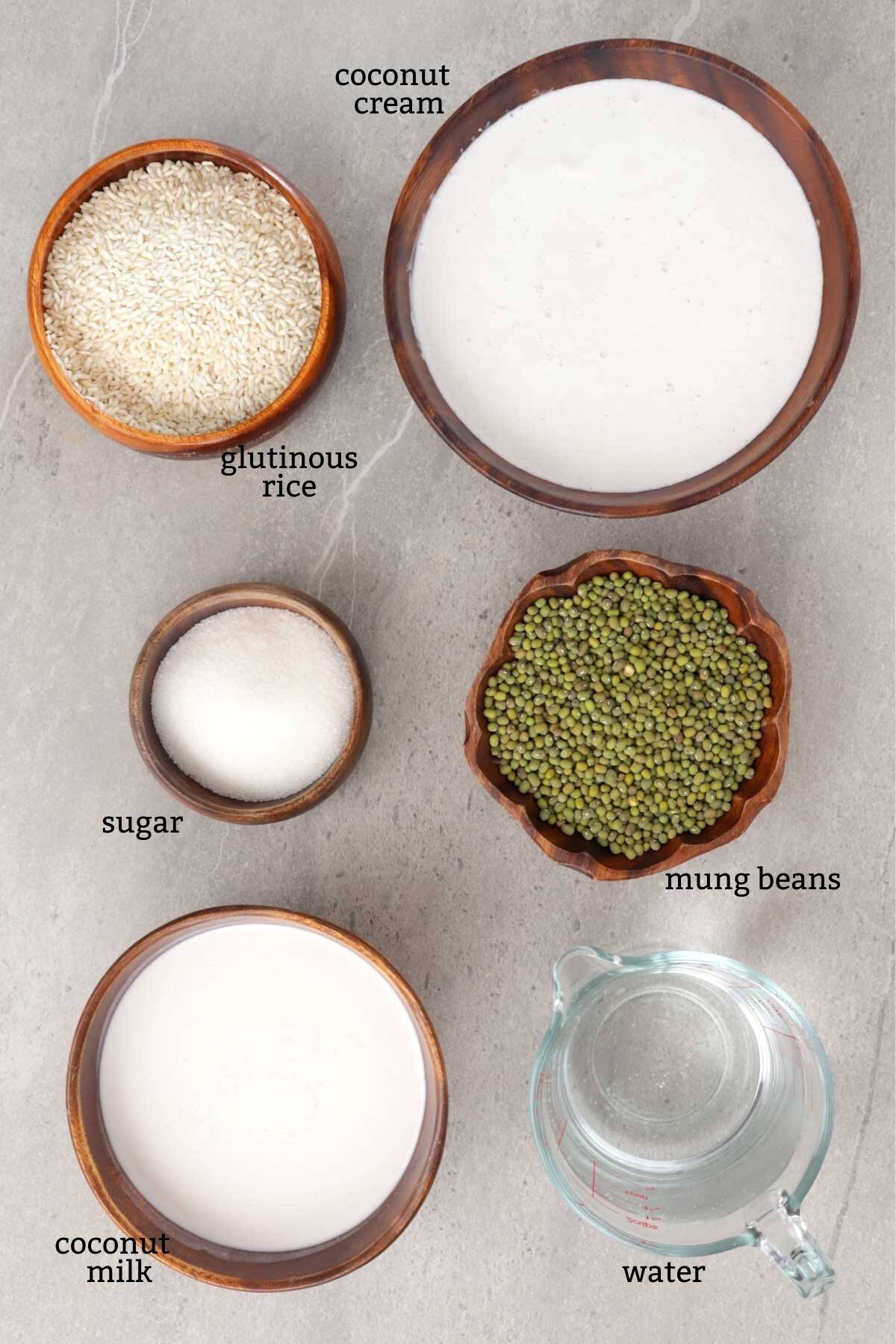 How to Store?
Allow any leftovers to completely cool down before placing them in a container with a fitted lid. It can last up to 3 days in the refrigerator. Since it is made of sticky rice and milk, it will thicken when cold. I got a comment on the video I posted about this that she actually prefers it very cold and ice-cream-like! However, if you want to warm it up, just add some water or coconut milk and mix to loosen it up.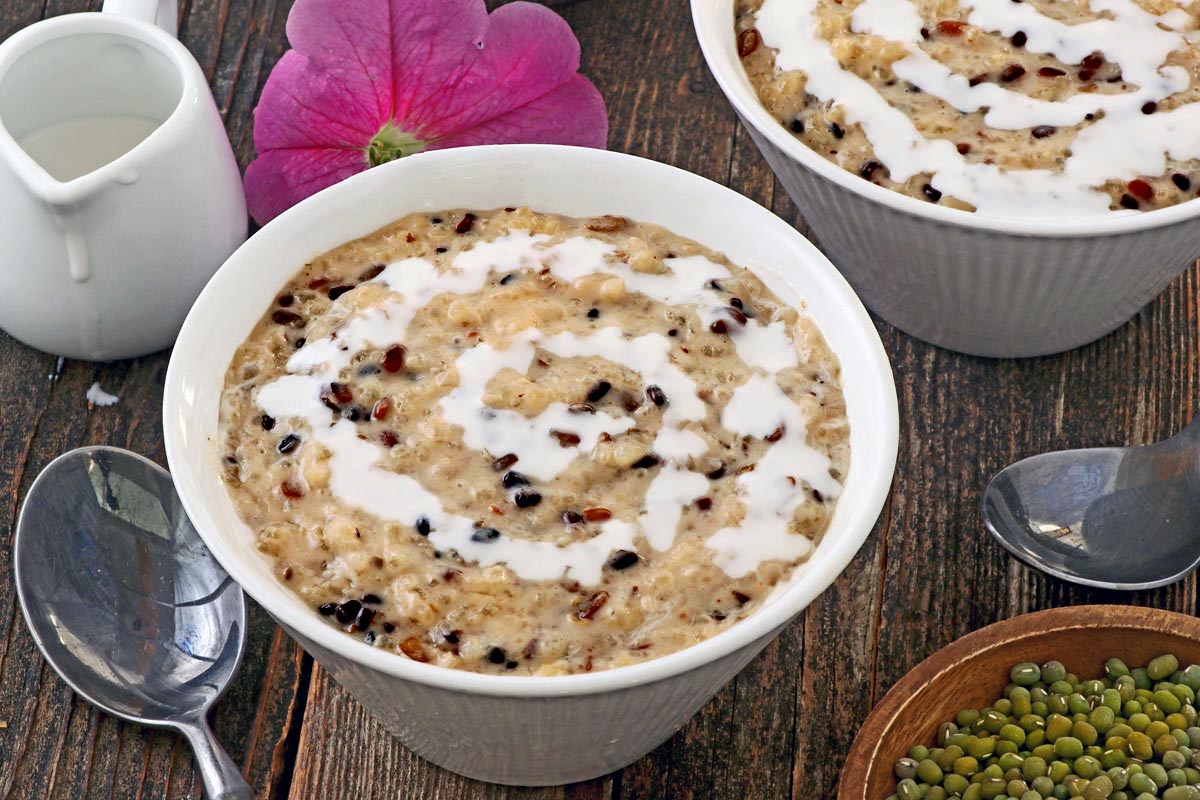 Printable Recipe
GINATAANG MUNGGO (LELUT BALATUNG)
Ginataang Munggo is a creamy Filipino rice pudding flecked with roasted mung beans giving the dish a sweet and nutty flavor.
Instructions
Wash and rinse glutinous rice. Set aside.

In a skillet over medium heat, toast the mung beans until it turns brown and produces a nutty roasted aroma.

Transfer the roasted mung beans on a tray or any flat surface and roll a rolling pin through the beans to crack them open. You can also use a food processor to pulse them just several times to crack but not to pulverize. Run the cracked mung beans through a coarse sieve to remove some of the pulverized skins.

In a pot over medium heat, bring coconut milk and 1 cup of water to a simmer. Add the glutinous rice and roasted mung beans. Cover pot and lower the heat to low once it starts to simmer again. Cook for about 20 minutes, stirring occasionally, or until rice and mung beans have expanded and softened. You may need to add more water until this is achieved but not so much as we want all liquids to be almost absorbed once it is cooked.

Add the sugar and half of the coconut cream and stir and cook for another 5 minutes.

Turn off the heat and transfer to individual bowls and top with some coconut cream. Can be served warm or cold.
Nutrition
Calories:
820
kcal
Carbohydrates:
84
g
Protein:
16
g
Fat:
51
g
Saturated Fat:
45
g
Polyunsaturated Fat:
1
g
Monounsaturated Fat:
2
g
Sodium:
31
mg
Potassium:
977
mg
Fiber:
8
g
Sugar:
29
g
Vitamin A:
42
IU
Vitamin C:
5
mg
Calcium:
85
mg
Iron:
9
mg
More coconut milk recipes to try