Try this super quick and easy Filipino snack, Ginataang Mais. A rice pudding that incorporates whole sweet corn kernel to glutinous rice cooked in coconut milk and sugar.
It is not hard to imagine how Filipinos came up with many kinds of desserts, delicacies, and even savory dishes using rice (or sticky rice) as the main ingredient. Rice, after all, is the main staple food in the country just like in most of Asia.
Ginataang Mais is one of such food. Although the name suggests that corn ('Mais' in Tagalog) plays the main character, sticky rice has an equally important role in this dish.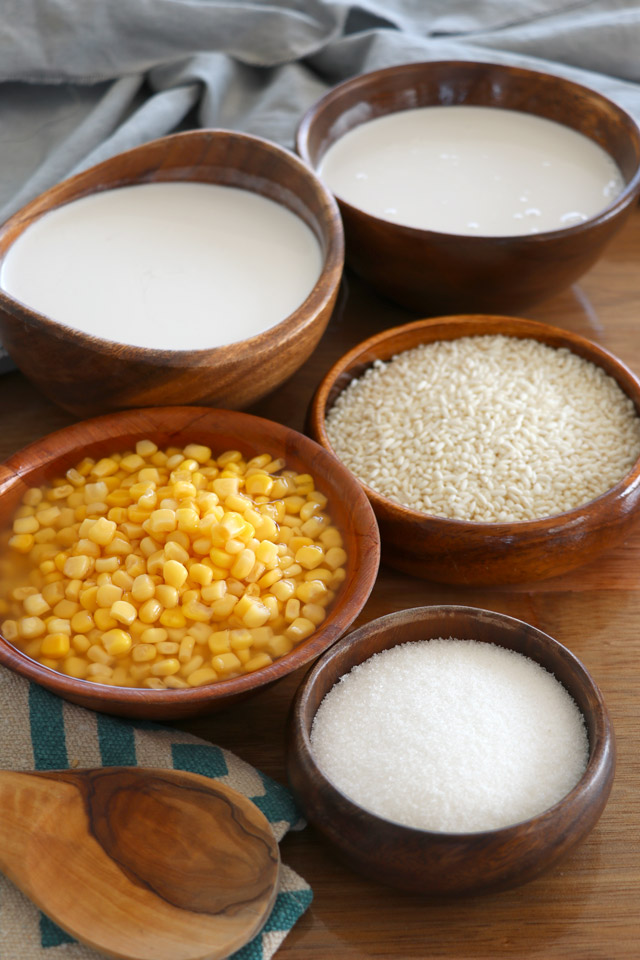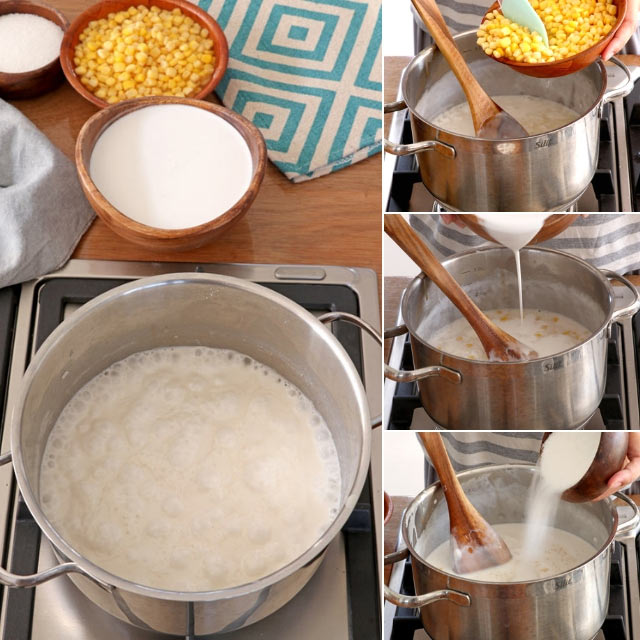 One of the many kinds of rice pudding loved by Filipinos, where other popular examples would be Champorado (chocolate rice pudding) and Ginataang Munggo/Tutong (with Mung bean).
I remember that we used to have Ginataang Mais often as merienda or afternoon snack whenever our regular peddler comes by our house bearing various offers. I like how she would pour fresh coconut cream on top of a warm bowl of Ginataang Mais.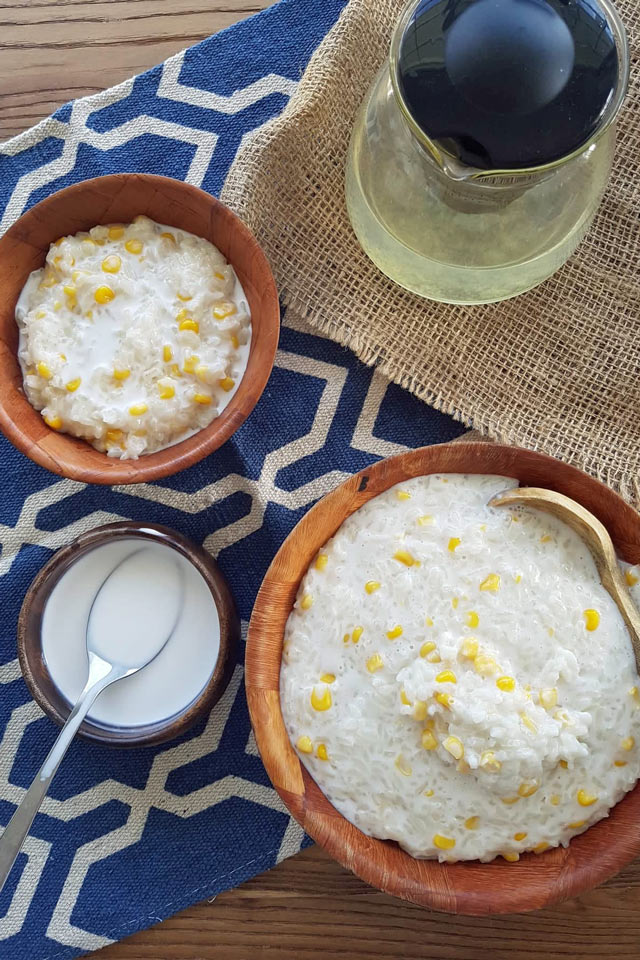 It has been quite a while since I've had a taste of this very simple but delicious dish, so I thought it is time to change that.
When I gave Armin a bowl of Ginataang Mais, he fell for it instantly and became nostalgic, as it reminds him of Milchreis which is German rice pudding.
I've tried a lot of Milchreis with different flavors or toppings while I stayed in Germany, I never saw one with corn though. As the name implies, Milch = milk, and like other rice pudding, it is usually cooked using milk instead of coconut milk.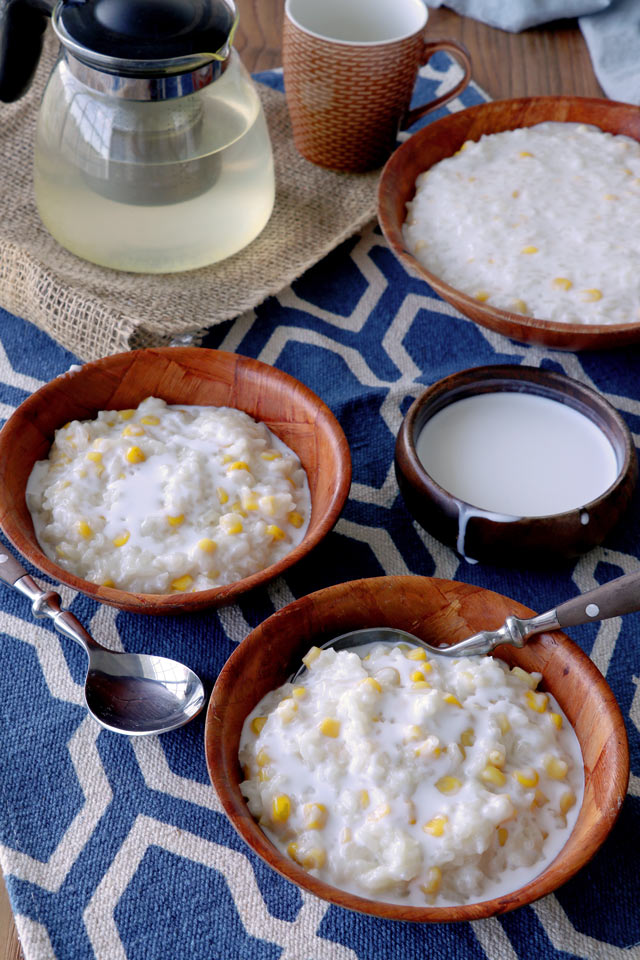 Maybe another reason he loves the Ginataang Mais so much, he loves everything with coconut! Coconut juice, buko shake, buko pie and (mostly) anything cooked in coconut milk.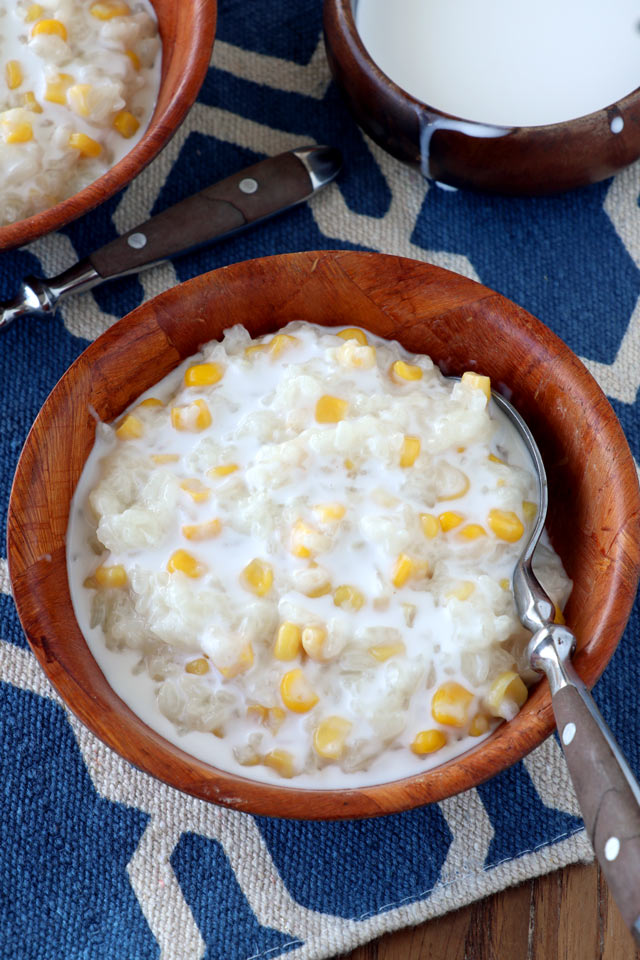 Printable Recipe
Ginataang Mais (Coconut Milk Rice Pudding with Corn)
Super quick and easy Filipino snack, Ginataang Mais. Sticky rice pudding with whole sweet corn kernel cooked in coconut milk and sugar.
Ingredients
1

cup

glutinous rice

-washed and drained

1

cup

water

1

can

coconut milk

- 400ml

1

can

whole corn kernel

- 425g (do not drain)

¼

cup

white granulated sugar

1

can

coconut cream

- 400ml

1

teaspoon

vanilla essence

- optional
Instructions
Put ½ cup of coconut cream aside to be used for later.

In a pot, combine the glutinous rice, coconut milk, and water and bring to boil over high heat.

Once it boils, lower heat to low and let it simmer covered with a lid for about 10-12 minutes or until the rice has expanded and is almost cooked. Remember to stir from time to time to prevent the rice from sticking to the pot.

Add the whole corn kernel including the liquids from the can and the coconut cream left in the can. Stir well. Add the sugar (See Note 1).

Continue to cook for another 3-5 minutes or until the glutinous rice is soft and cooked through.

Add vanilla essence if desired and give it a good last mix before turning off the heat.

Transfer to serving bowls while still warm and spoon some of the coconut cream, that was set aside earlier, on top.
Notes
Note 1 - I used only ¼ cup of sugar which is less than most other recipes since I personally do not like it too sweet. You may add more according to your preference and also keep in mind that as it cools down, it gets lesser sweet too. 
Nutrition
Calories:
512
kcal
Carbohydrates:
45
g
Protein:
6
g
Fat:
36
g
Saturated Fat:
31
g
Cholesterol:
0
mg
Sodium:
87
mg
Potassium:
417
mg
Fiber:
2
g
Sugar:
8
g
Vitamin C:
3.1
mg
Calcium:
22
mg
Iron:
4.1
mg