A simple Kale pasta recipe that is deliciously healthy and a breeze to make. Made flavorful with loads of garlic, grated Parmesan, and slices of Hungarian sausages. A complete meal in one easy dish!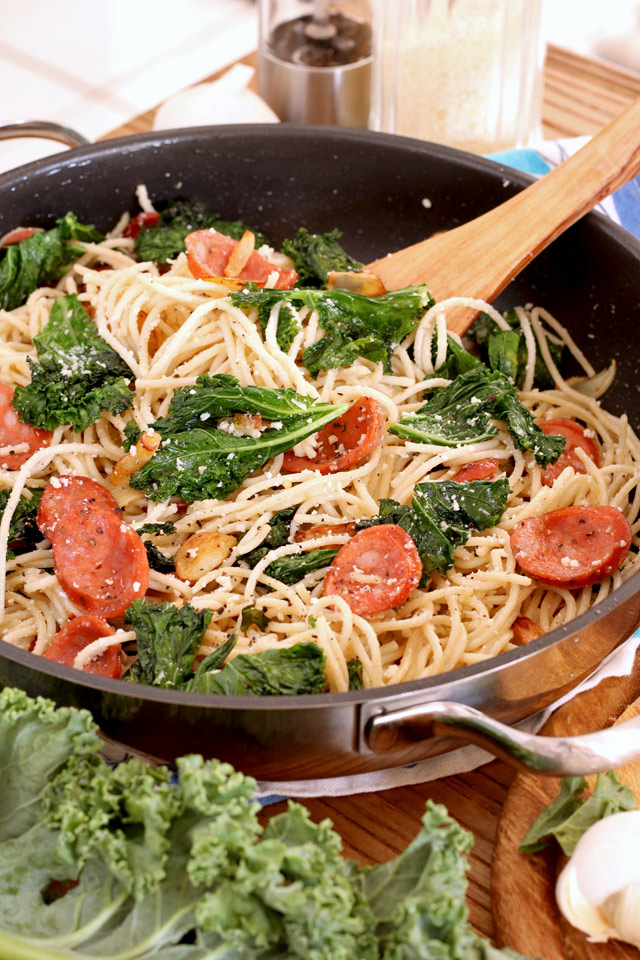 We went out of town last weekend and up to the mountains to the coldest place in the country to cool off in this excruciating summer heat. Our destination...Baguio!
What I like about this place, second to the cooler climate, are the fresh produce. Baguio is where most of our vegetables come from. They are also able to grow strawberries there among other things. But my target was the rhubarb!
I was adamant to go the public market to get me some rhubarb to bring home and stock as this could only be the chance for me to get them. This is the only place (that I know of) in the Philippines where rhubarb actually exist and it is not that popular so one has to really search the market thoroughly to find them.
Sadly, we never made it to the market. On our last day before going back home, Armin and I went there but because we were unable to find a parking lot and also because it started to rain hard we decided to just turn around and head back before it gets too dark and too difficult. It was a three and a half drive from Baguio to our place, not counting traffic, with some curves before we reach the expressway.
As a consolation, Armin stopped by at some of the stalls along the road outside the main city that sells vegetables, fruits, and other pasalubong (bring home sweets or goodies). I asked every one of them if they have some rhubarb available by chance.  Unfortunately, none of them have, others do not even know what rhubarb is.
But what I found out is that they also have other stuff that I never thought would exist in a tropical country like the Philippines.  Like this kale for example. Boy, was I so excited to see them! Not because I miss them living in Germany before but because I actually haven't tried them before!
They also have beetroots and the red radishes. I was also able to buy me some herb plants like parsley, rosemary, thyme, chives, spearmint, and lavender. Hopefully, they would all survive in our warmer climate. I also heard that some blueberry and mulberries are also locally grown but you can only get them in the main market if you are lucky. I just think this is a good reason to come back to Baguio again.
What is Kale good for?
Kale is known to be a superfood packed with all the nutrients that are good for you. An excellent source of vitamins K and C and minerals, like calcium and manganese and a lot more. It is very high in beta-carotene, an antioxidant that the body can turn into vitamin A.  Kale also contains carotenoids and sulforaphane, which are known for their cancer-fighting properties. It can also help in lowering cholesterol, which in turn reduce the risk of heart disease. It is also said that Kale is high in lutein and zeaxanthin, which reduced the risk of cataracts and other eye diseases.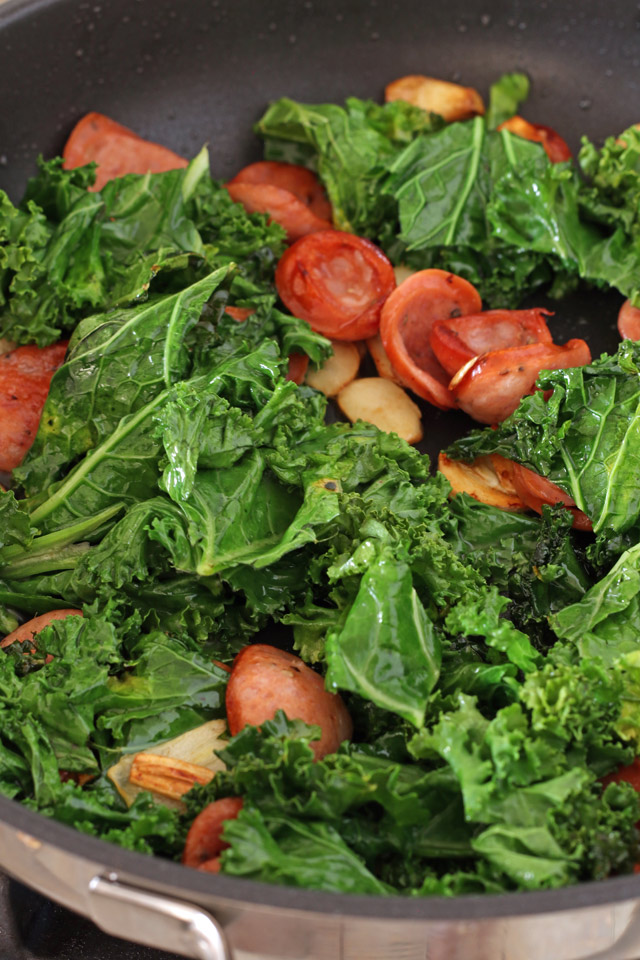 How to cook Kale?
Unlike other leafy greens that can be readily eaten, kale needs a bit more prepping or it will be too chewy. Here are some tips on how to prepare and cook kale to make this delicious Kale Pasta.
Wash the leaves thoroughly and shake or pat dry to remove excess water.
Remove all discolored leaves and tough stems.
Remove the thick middle stem. You may do this by folding the leaves lengthwise and slicing off the spine at the side with a knife.
Chop or break apart the leaves into smaller bite-size pieces.
When cooking, either by sauteing or boiling, make sure you cook them long enough until they become limp and tender.
Look who is also looking interested? Sietema, our picky-eater of a furball seems to be curious about our Kale Pasta, she must be wondering what is up there that is smelling so delicious.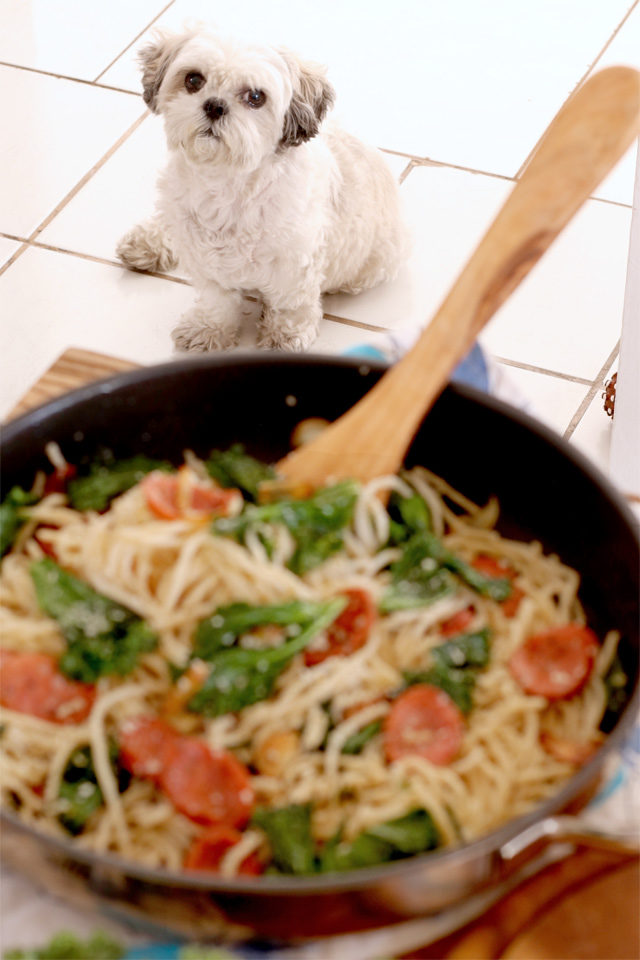 You should really try this Garlic Parmesan Kale Pasta with sausage. It is healthy, easy, satisfying and tasty! What else can you ask for a relatively simple meal.?
Printable Recipe
Garlic Parmesan Kale Pasta with Sausage
A simple Kale pasta recipe that is deliciously healthy and a breeze to make. Made flavorful with loads of garlic, grated Parmesan, and slices of Hungarian sausages. A complete meal in one easy dish!
Ingredients
14

oz

spaghetti noodles

½

cup

olive oil

5

cloves

garlic

- sliced thinly

2

pieces

Hungarian sausage

- cut into slices

4

cups

kale

4

tablespoons

grated Parmesan cheese

salt

ground pepper
Instructions
Cook spaghetti as per package directions. Drain the water and set aside

Heat olive oil in a large skillet over medium heat. Saute the garlic just for half a minute and add the slices of sausages. Cook until both are slightly browned.

Add the pieces of kale and cook until the kale has wilted and has turned a deep green color, about 3-5 minutes.

Add the cooked pasta and turn off the heat. Season with salt and freshly ground pepper according to your taste. Toss together until all noodles are coated in olive oil.

Lastly, add the grated Parmesan cheese and toss again several times before serving. Make sure it is no longer too hot to melt the cheese away.
Nutrition
Calories:
445
kcal
Carbohydrates:
54
g
Protein:
12
g
Fat:
20
g
Saturated Fat:
3
g
Cholesterol:
3
mg
Sodium:
75
mg
Potassium:
376
mg
Fiber:
2
g
Sugar:
1
g
Vitamin A:
4490
IU
Vitamin C:
54.4
mg
Calcium:
122
mg
Iron:
1.7
mg