This is the Filipino version of Tamales which is very different from the Mexican one. Made of ground rice, coconut milk, and various toppings like chicken, ham, nuts, and egg. Try this Kapampangan delicacy that is perfect breakfast or snack.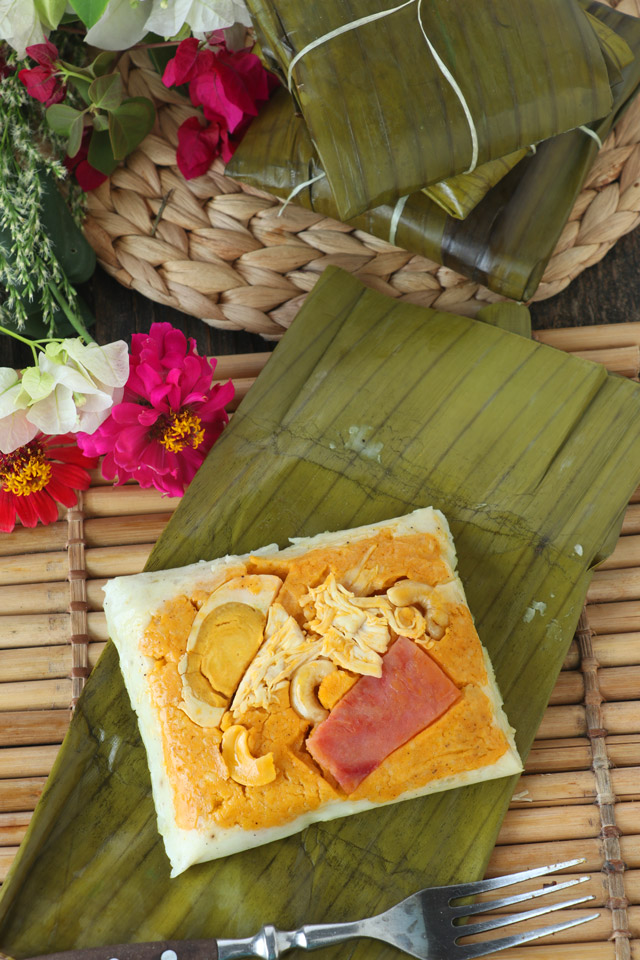 Tamales is one of my favorite Kapampangan delicacies. I remembered looking forward to weekends when my parents will go to the local market early in the morning and come home bringing some hot Tamales for breakfast along with other rice delicacies like 'Sumang bulagta'.
My aunts from Manila would also request us to bring them some Tamales as 'pasalubong' whenever we are going to meet. Although I am pretty sure they are able to find some Tamales in Manila but it is because the ones from Pampanga are simply the best.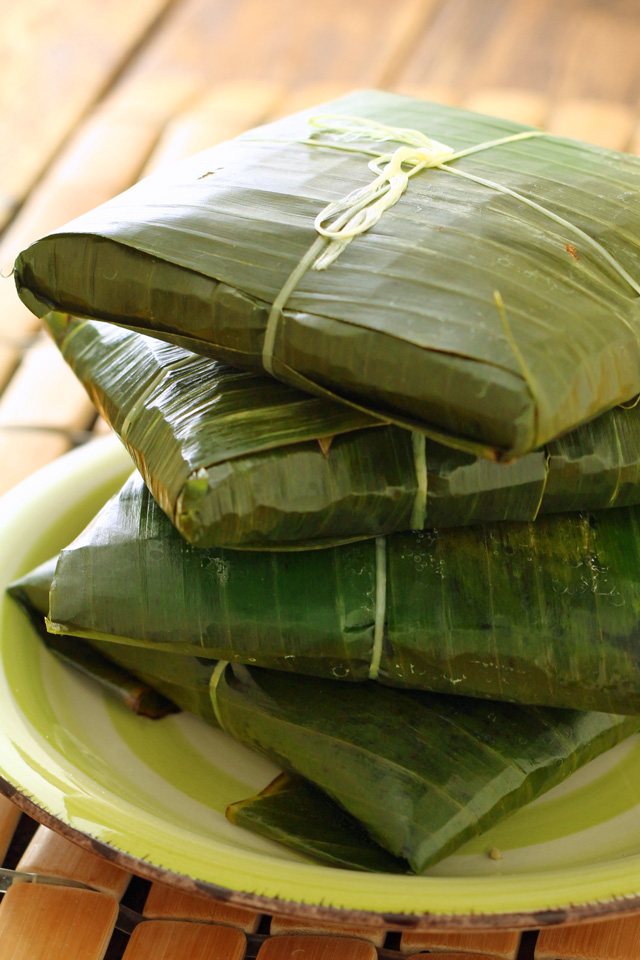 What is tamales?
Unknown to many Filipinos, we have also our own version of the Mexican Tamales that hails from the province of Pampanga. It is believed to have been taught by Mexicans to the Kapampangans during the Spanish colonization. One of the many results of the Manila-Acapulco galleon trade.
They may be sharing the same name, although it is also known as "bobotu" in Kapampangan, they taste nothing alike. Instead of using masa de maiz (corn dough), galapong or rice dough was used. Banana leaves which we hade ample supply of, replaced the corn husk as wrappers.
Unlike other rice delicacy or kakanin, bobotu or Filipino tamales is a savory treat. It is like a complete meal in one small package, with rice and viand, put together.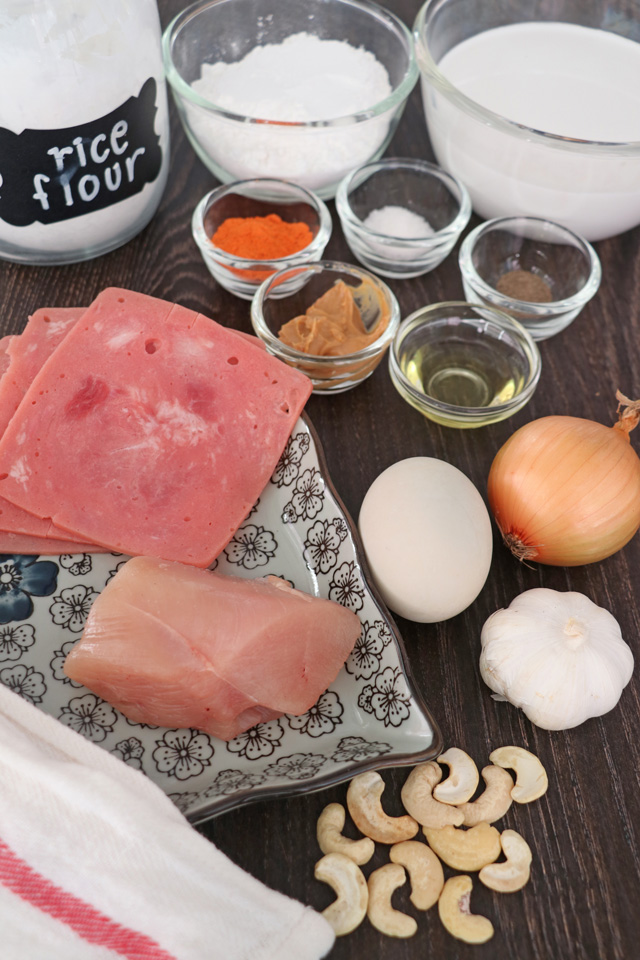 What is it made of?
Kapampangan tamales have two parts, the white at the bottom and the yellow-orange top.  Both are made mainly of rice dough (galapong), sauteed with garlic, and onion then simmered with coconut milk until it forms a thick paste. They are prepared separately first with different ingredients.
The yellow-orange color for the top part is from the added achuete oil. Ground peanut is also added for more flavor. They are then combined in a layer and toppings like boiled shreds of chicken, salted egg, ham, and nuts are added. Lastly, they will be wrapped in several sheets of banana leaves and then steamed or boiled.
I tried to simplify the whole process to save time and used easily available ingredients for convenience. But believe me, you will not know the difference.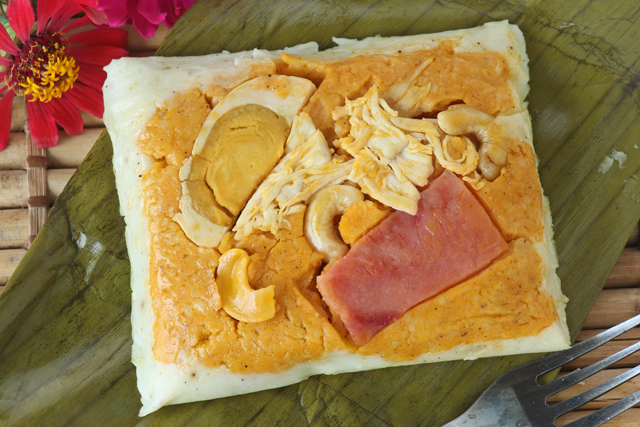 Printable Recipe
Special Filipino Tamales
Filipino Tamales is made of ground rice, coconut milk and various toppings like chicken, ham, nuts and egg. Try this Kapampangan rice dish delicacy recipe now.
Ingredients
1

tablespoon

oil

1

medium

onion

- finely chopped

2

cloves

garlic

- finely minced

1

can (13.5 fl. oz)

coconut milk

1

teaspoon

salt

⅛

teaspoon

ground pepper

¾

cup

rice flour

1

tablespoon

Achuete/Annatto powder

- dissolved in 1 tablespoon water

¼

cup

chicken breast

- boiled and shredded

1

hard boiled egg

or salted egg - divided into 4

12

pieces

cashew nuts

-optional

½

cup

ham

- cut into squares

1

tablespoon

peanut butter

- unsweetened

banana leaves

water

- if needed
Instructions
Wash and dry the banana leaves. Cut them into squares about 20 cm wide. If using fresh banana leaves you may have to heat them first (direct heat) to become pliable. Set aside.

Saute onion and garlic just until tender. Pour in coconut milk and season with salt and pepper then let it cook until it starts to boil.

Add the rice flour and mix continuously until it thickens into a thick paste-like consistency. You may need some water if the mixture is too dry as some rice flour absorbs more liquid.

Divide the mixture into two. Set aside the other half for now and add the peanut butter and achuete powder to the other half and mix well.

Scoop some of the white mixture and place it in the middle of a leaf. Spread it to form a square about 10 cm wide. Now scoop some of the orange mixture and spread it on top of the white one. Top it with chicken flakes, ham, cashew and egg.

Fold the sides of the leaf inwards to wrap the tamales in. Wrap this again in another banana leaf placing the top side down to seal it properly. Repeat it at least 2 times more, using at least 4 leaves in the process. Tie with a string to secure it.

Boil or steam for 20-30 minutes.

Serve while hot but can also be eaten cold
Nutrition
Calories:
466
kcal
Carbohydrates:
30
g
Protein:
13
g
Fat:
33
g
Saturated Fat:
21
g
Cholesterol:
68
mg
Sodium:
847
mg
Potassium:
400
mg
Fiber:
1
g
Sugar:
1
g
Vitamin A:
85
IU
Vitamin C:
3.7
mg
Calcium:
36
mg
Iron:
4
mg