Spanish Bread is a favorite 'merienda' or afternoon snack in the Philippines that can be found in many local bakeries. You can also make your own and it is easy. We also found a way to keep that sweet buttery filling from oozing out. So you enjoy the full deliciousness of it without wasting any.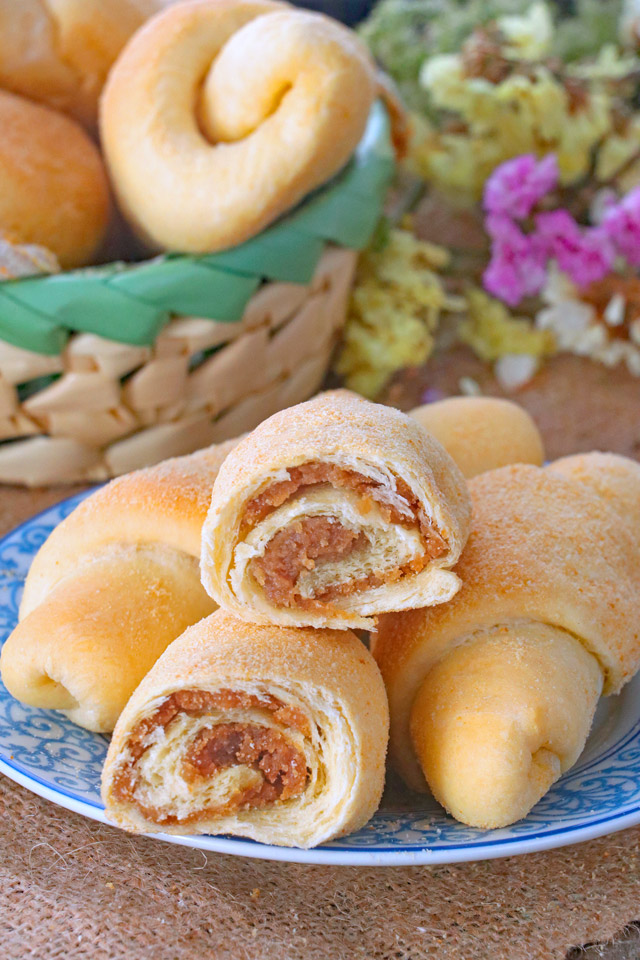 What is Filipino Spanish Bread?
Firstly, it has nothing to do with the Spanish bread of Spain (Pan de Horno). Except maybe that they share the same form (rolled) but the Filipino version of Spanish bread has something special. It has a sweet buttery filling.
It is a yeasted bread that is rolled into a log enclosing within a sugary and buttery filling. They are then rolled in breadcrumbs before baking.  It is very common to find them in 'panaderia' or local bakeries. Normally enjoyed as an afternoon snack.
Making the bread itself was no biggie. I read a lot of different recipes for Spanish bread and they all have the same ingredient for the bread, which is similar to Pandesal, so I just used my own recipe for that.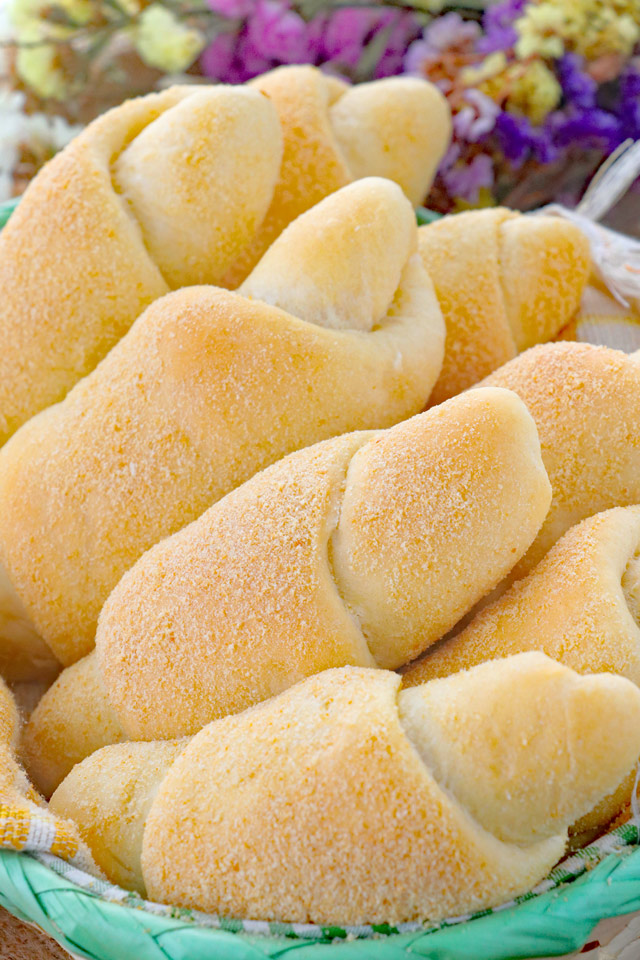 Trying several recipes
The challenge for me was making the perfect filling. It took me four batches to finally get the filling right. That is, at least, my idea of what a Spanish bread filling should be. Sweet— but not overly sweet; buttery with a bit of a texture to it, and it should be moist.
The first batch, I followed what most recipe online uses for a filling: simply mixing butter, sugar, and bread crumbs together and spreading it to the dough before baking. I am not sure if it is the kind of breadcrumbs I used, because they turned out having a dry filling. The other problem is that most of the butter oozed out into the pan while baking. This seems to be a common problem with all the online recipes I found after I read the comments.
The second batch was almost the same, only with different measurements plus it adds powdered milk to it. The taste was good though.
With my third batch, I only used butter and brown sugar. I also smeared some butter on the center of the dough before adding the filling mixture. The outcome...slightly moist filling but there was no texture at all. Just a sticky syrup that also dries out once the Spanish bread gets cold. I recommend this recipe if you are eating them immediately after baking.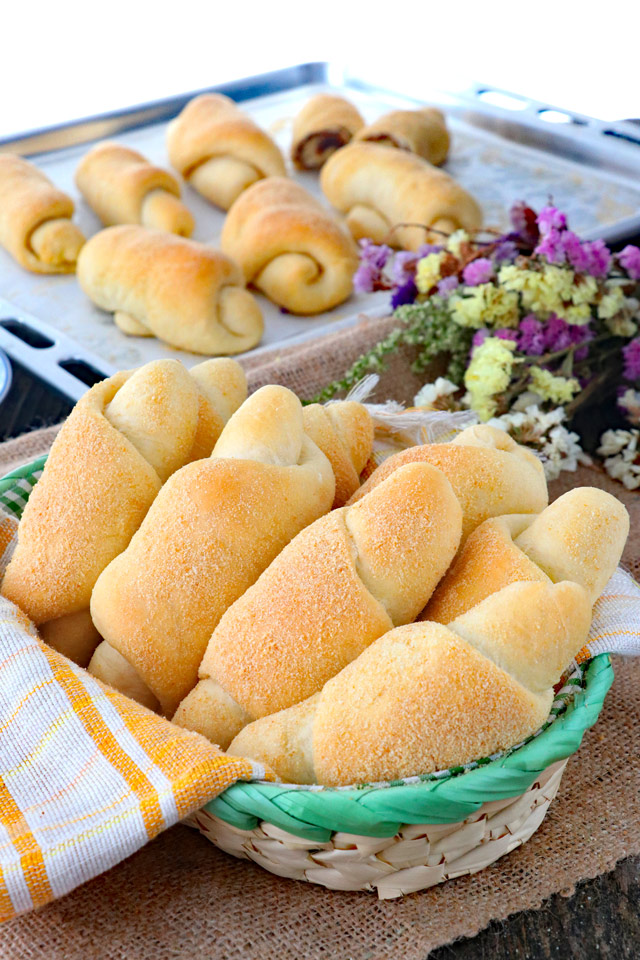 The perfect filling that stays inside
So after squeezing my brains out for some ideas, I decided to make an experiment. I cooked the filling!!!
Yup, I cooked the filling before spreading it to the dough of my Spanish bread! It is an additional step you will not find in any of the other recipes online. Believe me I read them all or at least those that are available at the time when I originally made this post in 2017. But, it was a necessary step to have a moist, textured, no-oozing-while-baking filling! I can see some have read my post and copied this step, which only means it really works.
The filling was brownish, not yellowish like ones I see on bakeries back home. I reckon that it is from using brown sugar and butter instead of white sugar and margarine that is normally used in bakeries. But I like the warm taste with a hint of caramel from brown sugar.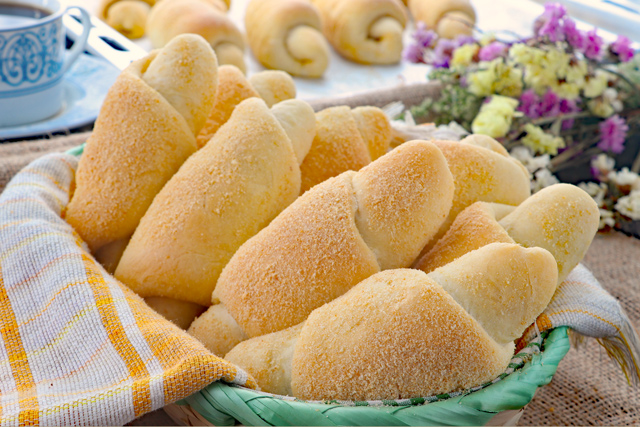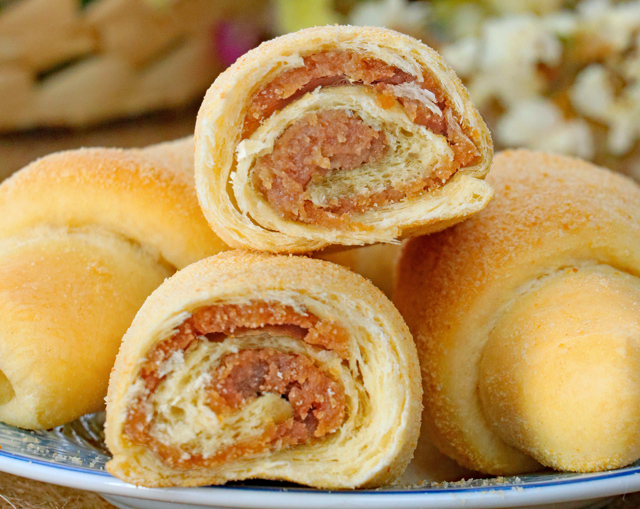 Printable Recipe
Filipino Spanish Bread Recipe
Spanish bread is a popular 'merienda' in the Philippines with a sweet buttery filling! Try this delicious Filipino Spanish bread for your afternoon snack.
Ingredients
FOR DOUGH
3

cups

all-purpose flour

1 ½

teaspoons

instant yeast

- see NOTE 1

¼

cup

white sugar

1

teaspoon

salt

¾ - 1

cup

lukewarm milk

- see NOTE 2

3

tablespoons

butter

- or margarine, melted

1

egg
FOR FILLING
¼

cup

butter

½

cup

bread crumbs

2

teaspoons

flour

⅛

cup

water or milk

- or more see NOTE 3

½

cup

brown sugar /white sugar

⅛

teaspoon

salt

butter

- for brushing
Instructions
In a big bowl, mix together flour, sugar, and salt. Pour in lukewarm milk, melted butter, and beaten egg. Mix until well blended. Add the instant yeast and mix well to form a slighly sticky dough.

Tip the dough on a surface greased with oil. Knead the dough with lightly oiled hands until it becomes smooth and elastic, about 10-12 minutes.

Form the dough into a ball and place the dough in a greased bowl. Cover with a kitchen towel or plastic wrap and place it in a warm area and let it rise until it doubled in size. Depending on how warm it is, could take 30 minutes to an hour or even longer.

Meanwhile, prepare the filling. In a saucepan over medium-low heat, melt butter until bubbly. Add the ¼ cup bread crumbs and mix well. Add flour, water or milk, sugar, salt and rest of breadcrumbs. Cook until it gets thick. Remove from heat and continue stirring until it forms a thick paste-like texture.

Punch down the dough and divide into 16 equal parts using a knife of dough slicer. Roll each piece into a long triangle (like a pizza slice). Brush the middle part with butter or margarine then spread filling on the surface leaving about a centimeter around the edges unfilled. Roll the dough starting from the wider end towards the smaller end enclosing the filling.

Brush each rolled dough with milk or water then roll it on a plate of breadcrumbs and place on baking sheet lined with parchment paper: make sure that the end part sits at the bottom so it won't open up while baking. Cover with cloth or kitchen towel or cling wrap and let them rise for another 20-30 minutes or until they doubled in size. Remove cover before baking.

Place the baking sheet on the middle rack and bake at 150°C (300°F) for 20 minutes.

Remove the Spanish bread from the oven and transfer to a bread basket. Enjoy while still warm.
Notes
NOTE 1: You may also use active dry yeast but it needs to be proofed first by dissolving it in ½ cup lukewarm water or, in this case, in the milk with a tablespoon sugar (taken from the ingredients for dough).
NOTE 2: Some flour, though the same type, may absorb water more than others. Start with ¾ cup water and add more up to 1 cup if the dough is too dry. The dough should be a little sticky that will result in moist and soft bread.
NOTE 3: Some breadcrumbs absorb more liquid than others. In this case, you may need to add more liquid if you notice that the filling is getting too crumbly while cooking.
Nutrition
Calories:
211
kcal
Carbohydrates:
33
g
Protein:
4
g
Fat:
6
g
Saturated Fat:
3
g
Cholesterol:
24
mg
Sodium:
269
mg
Potassium:
79
mg
Fiber:
1
g
Sugar:
10
g
Vitamin A:
190
IU
Calcium:
40
mg
Iron:
1.5
mg
This recipe for Spanish Bread was originally posted in February 2017. Updated in April 2020 to include new photos and a recipe video. The recipe remains the same.