Egg Pie is a classic Filipino dessert or snack. Try this easy Filipino Egg Pie recipe and enjoy the creamy, delicate yet firm egg custard in buttery, flaky crust that is perfect afternoon snack.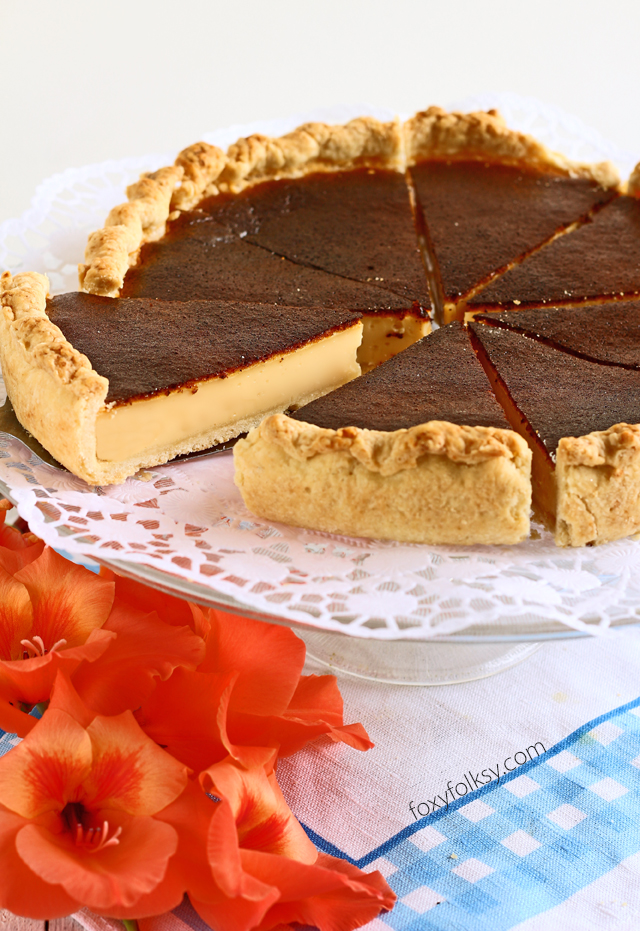 I remember back in the days when we used to live next to a bakery, I would wake up to the wonderful smell of Pandesal baking in the oven!
It would be really nice if it was not at 3 o'clock in the morning though and there were times it was difficult to get back to sleep when you feel your stomach growling thinking of those hot pandesals with melting butter on them...hhhaaayy!
Even writing about it now makes me crave for those hot pandesals. Good thing I have a similar recipe, so maybe it's time to make some.
Another thing I miss from our next-door bakery is their Egg Pie! It is also one of their bestsellers, sometimes you have to order in advance if you want to have a slice because once it hit their stands then it is good as gone. So this means we usually get them fresh out of the oven and for me that is the best time to eat egg pie, while it is hot!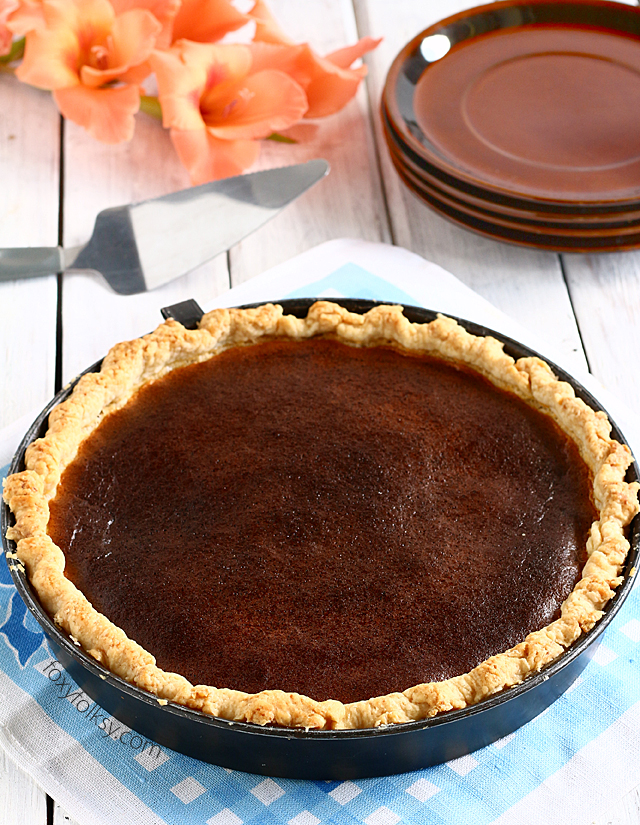 I tried a recipe I found online because the picture in it looks so similar to the Egg pie from our neighbor's bakery. The result was ok and it gave me the dark brown top I was looking for but I find it a tad too sweet for my taste and the custard was a bit too dense and firm, which is not bad if that is your thing, one good thing was it was really easy to cut.
But I want the custard to be a bit delicate or slightly wiggly like gelatin. Here is where my experience from making the Portuguese Egg tarts came to the rescue. 
So in the end, I used the same technique but changed the ingredients to make my own Egg Pie and it was perfect (in my humble opinion, backed-up by Armin's, of course!).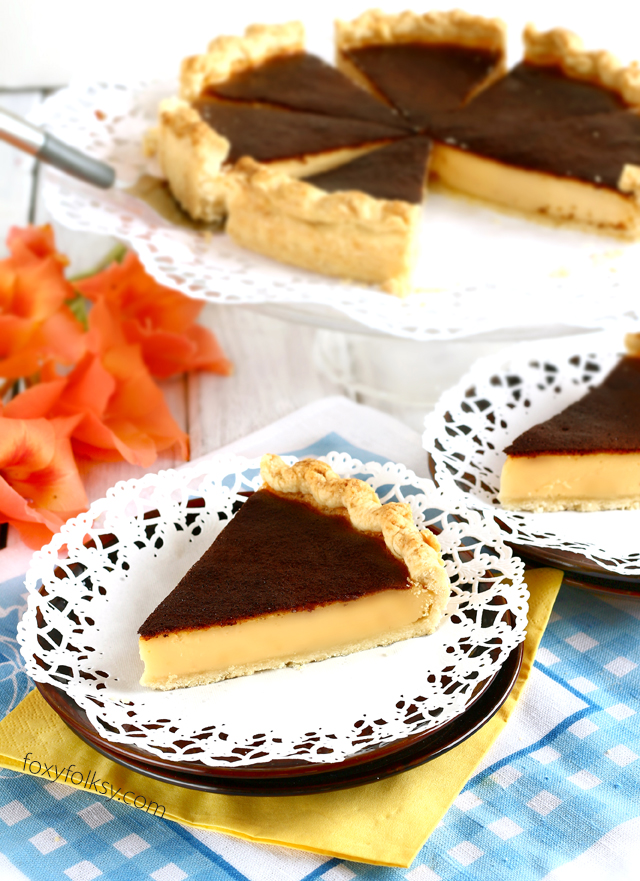 Printable Recipe
Filipino Egg Pie Recipe
Try this easy Filipino Egg Pie recipe and enjoy the creamy, delicate yet firm egg custard in buttery, flaky crust that is a perfect afternoon snack.
Ingredients
PIE CRUST
1 ¼

cups

flour

¼

block (½ stick/ 2oz./ 57g.)

butter

- cut into small cubes

1

teaspoon

sugar

1

teaspoon

salt

2-4

tablespoons

ice water
Instructions
In a mixing bowl mix together the flour, sugar, and salt. Cut in butter using the mixer by pulsing until mixture resembles coarse meal, with a few pea-size pieces of butter remaining. Add water a tablespoon at a time, pulsing until dough is crumbly but holds together when pressed. Press the dough together to form a ball.

Place the pie dough on a floured surface or on a rolling mat and roll it out thinly to a 14-inch round sheet. Gently fold the round dough sheet in half and then in a quarter. Place the dough on a 9-inch pie form with the pointed part exactly at the middle. Unfold the pie dough and gently fit dough into bottom and sides of the plate without tearing it. Using kitchen shears, trim dough to a 1-inch overhang; fold under, and press gently to seal. Crimp edges if desired. Refrigerate 30 minutes to an hour.

Preheat oven to 350°F/170°C.

In a large mixing bowl, combine and whisk the 3 eggs and the separated egg yolk. Gradually add the condensed milk while whisking. Add the vanilla extract and continue whisking until all ingredients are well combined. Add the evaporated milk and all-purpose cream and mix well with other ingredients.

In a separate bowl, beat the egg white using an electric mixer until it forms soft peaks. Fold the beaten egg white into the mixture. (The beaten egg white will give the top of the egg pie a brown color after baking.)

Pour the filling on the refrigerated pie crust and bake on the lowest rack for 15 minutes at 350°F/170°C then lower the heat to 325°F/160°C and continue baking for 30-40 minutes or until the toothpick inserted in the filling comes out clean.
Notes
NOTE 1: You can skip the addition of cream and just add the same amount of evaporated milk.
NOTE 2: This recipe makes a light, delicate, jiggly egg custard. If you prefer a firmer custard, skip the cream and just use a total of 250ml of evaporated milk.
Nutrition
Calories:
396
kcal
Carbohydrates:
48
g
Protein:
10
g
Fat:
17
g
Saturated Fat:
10
g
Cholesterol:
139
mg
Sodium:
416
mg
Potassium:
317
mg
Fiber:
0
g
Sugar:
33
g
Vitamin A:
695
IU
Vitamin C:
1.7
mg
Calcium:
224
mg
Iron:
1.4
mg