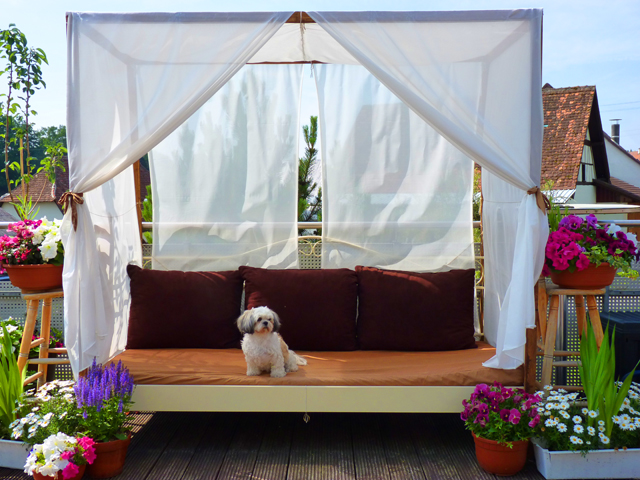 What we liked best when we decided to move to our new apartment was the really wide terrace, although I would prefer to have a garden where I can plant directly on the ground, having our wide terrace is the next best thing. We just got ourselves some  big pots that are now planted with fruit bearing trees such as cherries, apple, pear and peaches. I also made some planter boxes from palettes to plant some vegetables like spinach, radish, lettuce garlic and tomatoes. Outdoor tables and chairs are on their way too but it will not be complete if you do not have  somewhere to  lay down and really relax maybe while reading a book or just enjoy the scenery like a daybed or better yet, a canopy bed!
I finally finished our outdoor canopy bed and we are now ready for summer.
What we really did was convert a metal sofa daybed into a canopy day bed using only timber posts and thin fabric that dries really fast (we used flag fabric). As for the mattress/foam, we used water resistant taffeta fabric as cover and we also bought waterproof mattress protector
 just to make sure that the foam inside is kept dry when it rains.
Here are the materials I used:
Sofa daybed Size : 200x90 cm
7 Pcs. of square timber posts size: 2oox5x2 cm (or 200x5x5)
Wood Screw : 4 pcs size: 3 ½ inches long (at least) and
4 pcs 2 inches long (at least)
Wood Stain
7 Pcs. of white flag fabric size: 200x100 cm
8 Pcs. cable ties/binders
Sandpapers
Cotton rope
Tools:
(Electric) Screwdriver, saw, sewing machine, driller
Instructions
Step 1: Cut 1 of the square timber post into 2 (100 cm each). Now you should have 6 pieces of wood with  length of   200 cm and 2 pieces 100 cm.
Step 2: If needed, sand your wood for smoother surface. Apply wood stain then let it dry. Sand again if needed.
Step 3: Drill holes where the screw will be for easier screwing, but use the one
smaller (in diameter) than your screws.
Step 4: Screw together the wood frames. It would be easier and a lot faster if 2 persons can do this. As I was alone (and too impatient to wait for my husband to get home) when I assembled this, I had to screw the last 2 top posts (long ones) to the rest of the frame after step 5.
Step 5: Bind the wood posts to the metal posts of the daybed using cable binder.
Now your frame for the canopy bed is done. Next is the fabric.
Step 6:  Lay down one of the cut fabric, this will be your top cover, then pin the short sides of the other cut fabrics to the sides of this one. Sew them together.  See below.
Step 7: Cut 6 pieces of the cotton rope or string  about 40 cm long. Fold one into half and sew one on every corner and also in the middle opposite edges of the top cover.
Step 8: Now place the fabric over the frame and tie each string around the wood frames.
You're done!!!