Ginataang Alimango is a simple crab recipe cooked in coconut milk that has a deliciously creamy and spicy take.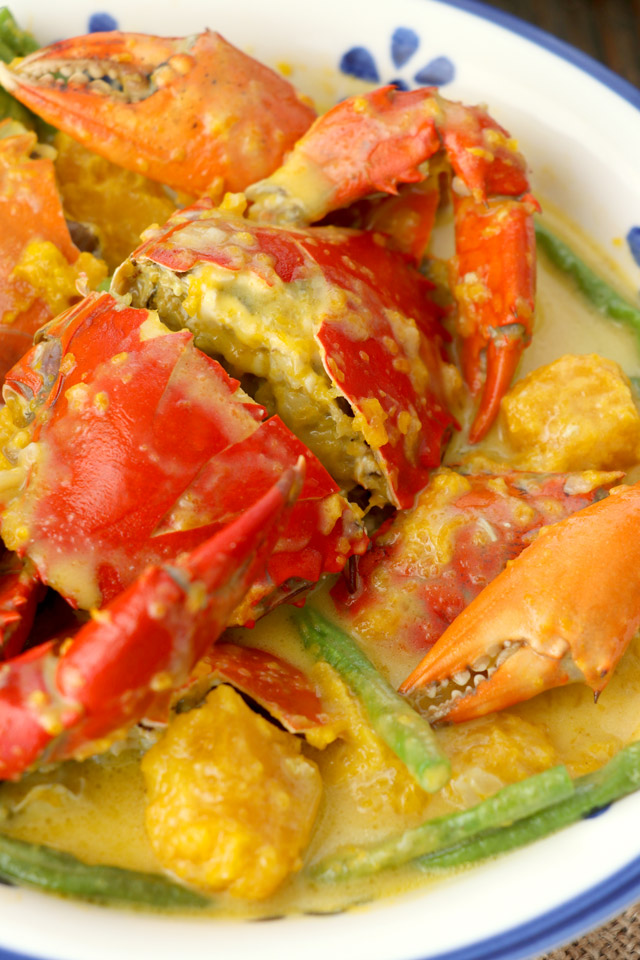 Mud crabs or Alimango are abundant in our area. Good thing because I looove crabs! I like them simply steamed and enjoy its sweet meat dunked on a spiced vinegar. Simple joys!
But my Mama's ginataang alimango recipe is a treat. It is also simple with very accessible local ingredients like coconut milk, squash, yardlong beans, and chili labuyo.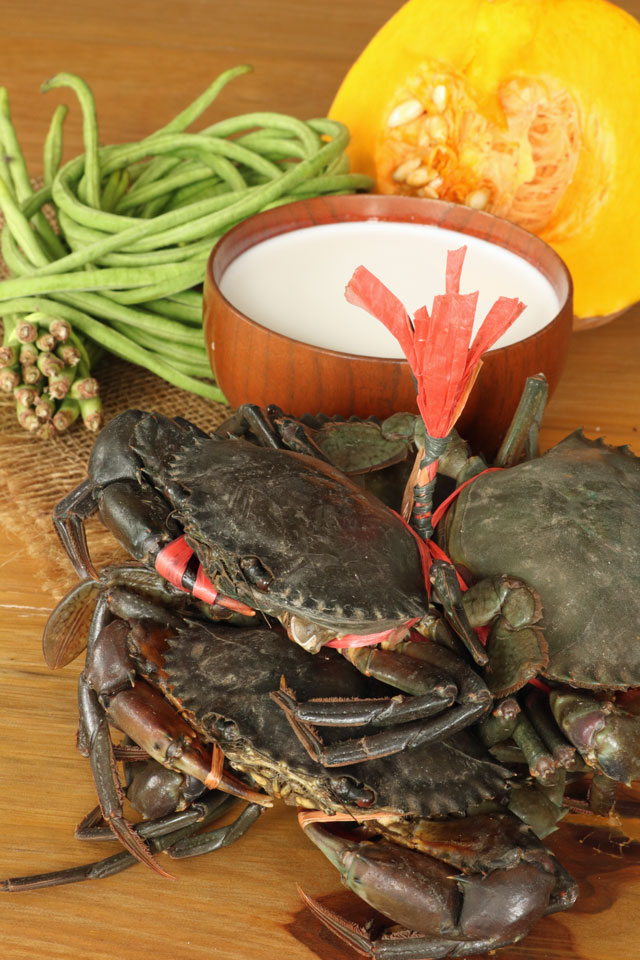 How to choose crabs?
First thing is to buy fresh crabs and that means they should still be alive. If you are not going to eat them on the same day, you can steam/boil them and then refrigerate or freeze them.
Mud crab season is usually June to September and they are normally less expensive then.
Both male and female crabs have tomalley or crab fat, that soft yellow-orange thing found inside the crab. But only females or she-crabs may have roe, the bright orange paste that hardens when cooked. In some countries, only immature she-crabs with immature roe can be harvested as mature ones may have eggs attached, some bans it completely to harvest she-crabs.
Mature she-crabs are characterized by their wide apron while the males have pointy ones. The apron is the triangular-shaped flap at the underside of a crab. Virgin immature she-crabs will have both wide and slightly pointy apron and typically have chock-full of immature roes.
Mature crabs are normally meatier and chunkier than young ones.
A trick I learned from a friend, in choosing meaty crabs is to pinch and feel the underside of the tip of their shell. If it is hard and won't budge, then it is mature and full of meat. If it feels soft and hollow then it is not as meaty.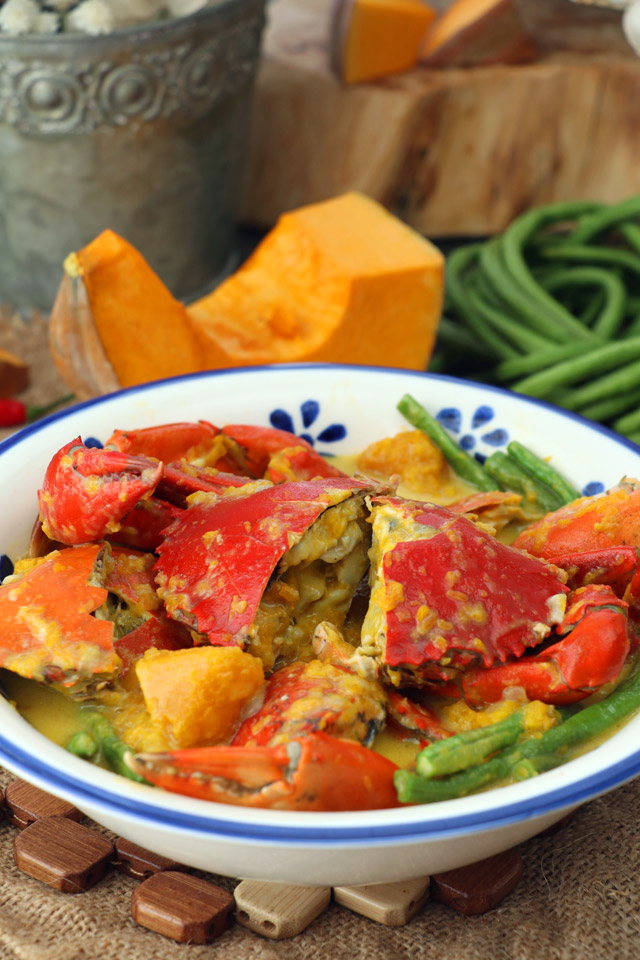 How to cook crabs?
If you are scared that your crabs will fight back, you can place them in the freezer (alive) for 10-15 minutes to numb them. Some say this is a more humane way of cooking them.
In a large pot, bring enough water to boil. One by one, grab each crab in the middle from behind and plunge it headfirst into the boiling water.
Cover the pot with a lid and cook for 10-20 minutes depending on how big and heavy the crabs are.
Drain crabs and quickly rinse with water. Clean crab as needed.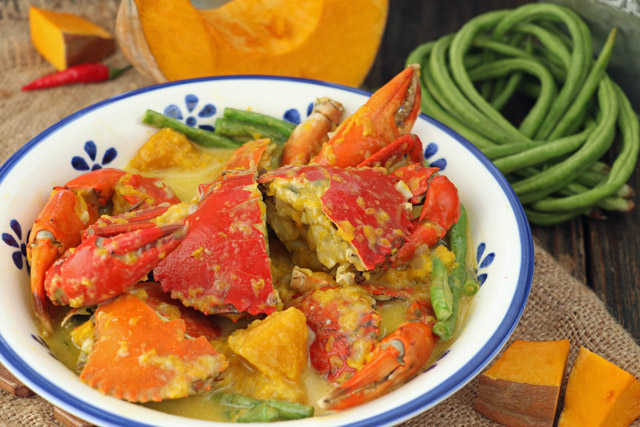 In the mood for more seafood? Try these...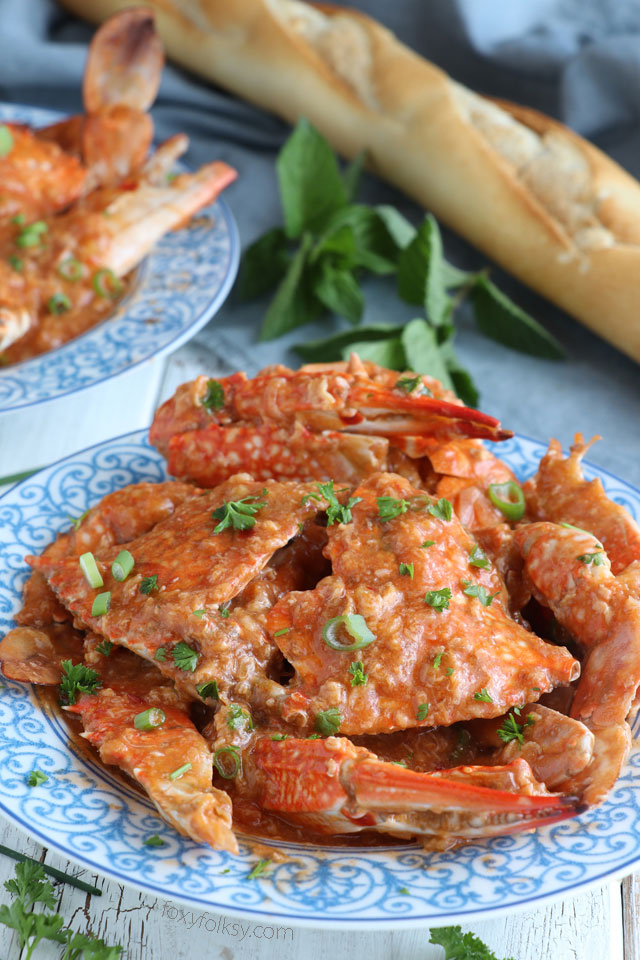 Printable Recipe
Crabs in Coconut Milk (Ginataan Alimango)
Crabs cooked in coconut milk made thick and creamy by adding squash and a bit spicy from red chili peppers.
Ingredients
4

large

mud crabs

½

teaspoon

salt

2

tablespoons

vegetable oil

1-2

clove

garlic

- minced

1

medium

onion

- chopped

1 ½

cups

squash

- cut into cubes

½

cup

water or crab stock

1

can

coconut milk

- (13.5 fl. oz.)

1

cup

yardlong beans

- cut into 2-inch long pieces

1-2

pieces

red or green chili peppers

fish sauce

- for seasoning
Instructions
In a large pot, bring enough water to boil. Plunge the crabs head-first one by one. Add salt and let simmer for 10 minutes. Remove from water and cut the crabs into half. Reserve ½ cup of the crab stock.

In a large pan, saute garlic and onion in oil until tender and aromatic over medium heat. Add squash and the water or reserved stock. Let it simmer until the squash becomes tender.

Add coconut milk and continue to simmer until squash is really soft and mushy like a puree. Add the cooked crabs, yardlong beans, and chili peppers and season with fish sauce. Let it cook for another 10-15 minutes or until the sauce has thickened.

Transfer to a serving dish and serve with hot steamed rice.
Nutrition
Calories:
297
kcal
Carbohydrates:
14
g
Protein:
4
g
Fat:
28
g
Saturated Fat:
24
g
Cholesterol:
1
mg
Sodium:
316
mg
Potassium:
491
mg
Fiber:
2
g
Sugar:
2
g
Vitamin A:
5778
IU
Vitamin C:
19
mg
Calcium:
60
mg
Iron:
4
mg
This recipe of Ginataang Alimango was originally published in January 2015. Updated in October 2020 to include new photos, more tips, and a recipe video.