This is the Filipino version of coconut macaroons. I, of course, knew only of this version. But while surfing the net I realized that there are other kinds out there..hehe! They are supposed to be denser while the Filipino coconut macaroons have a lighter or airy texture and are softer.  We usually also bake them in these cute little cupcake liners.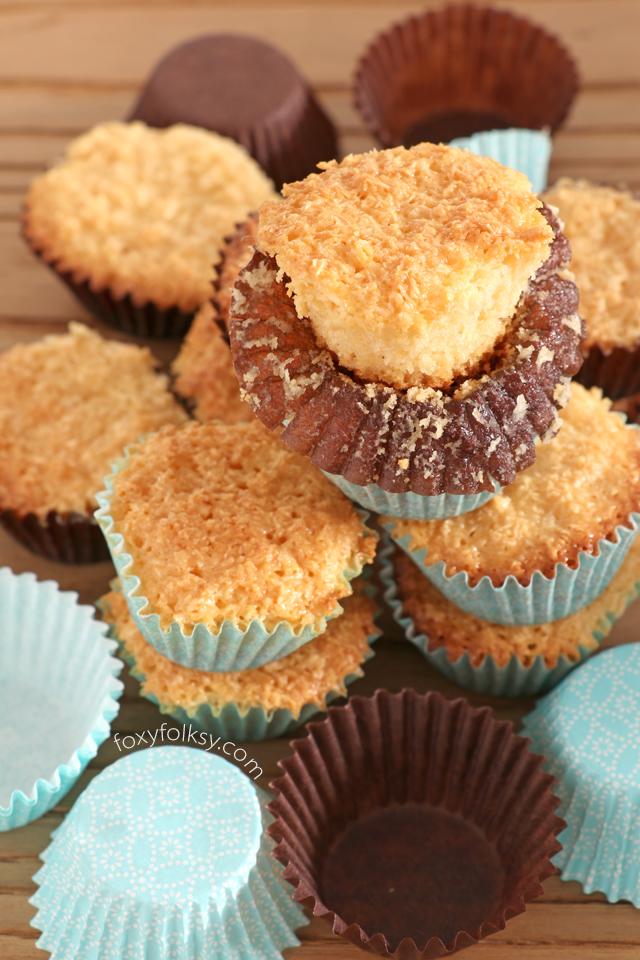 The first time I made them was back in high school. We had a subject called T.H.E. or Technology and Home Economics (I am not sure if it still exists today) where we learn how to cook, bake, sew clothes, planting and grafting, use tools and a bit of carpentry, make basic electrical circuits  and a lot of other stuff that I now think is more useful in our daily lives than say... Geometry or Physics.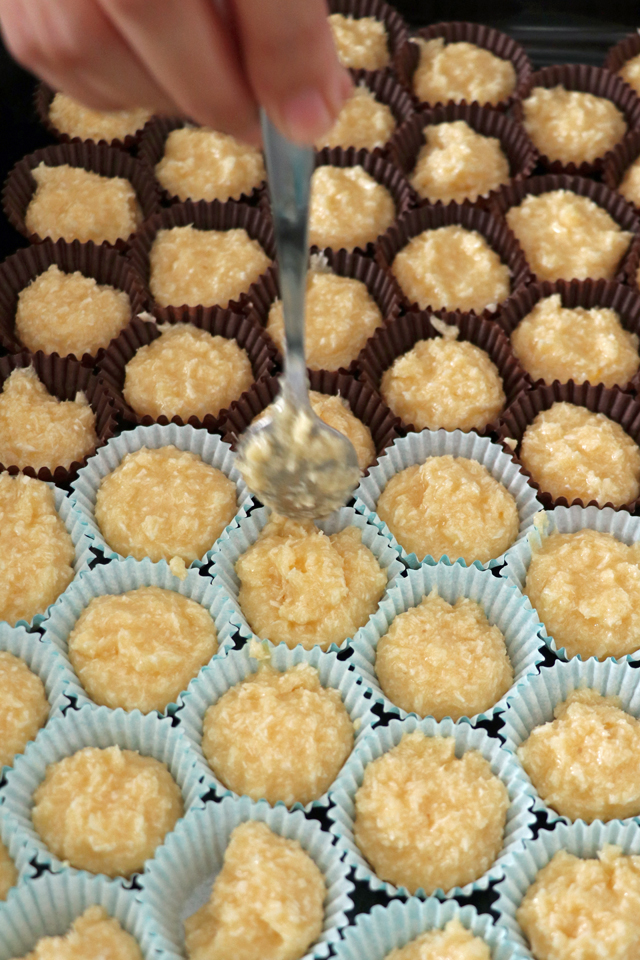 Anyways... back to the subject of coconut macaroons, I think they taught us this particular recipe because it is easy to make and with only a few ingredients that are also easily available here in the Philipines. What makes the Filipino coconut macaroons different is that it includes flour and baking powder.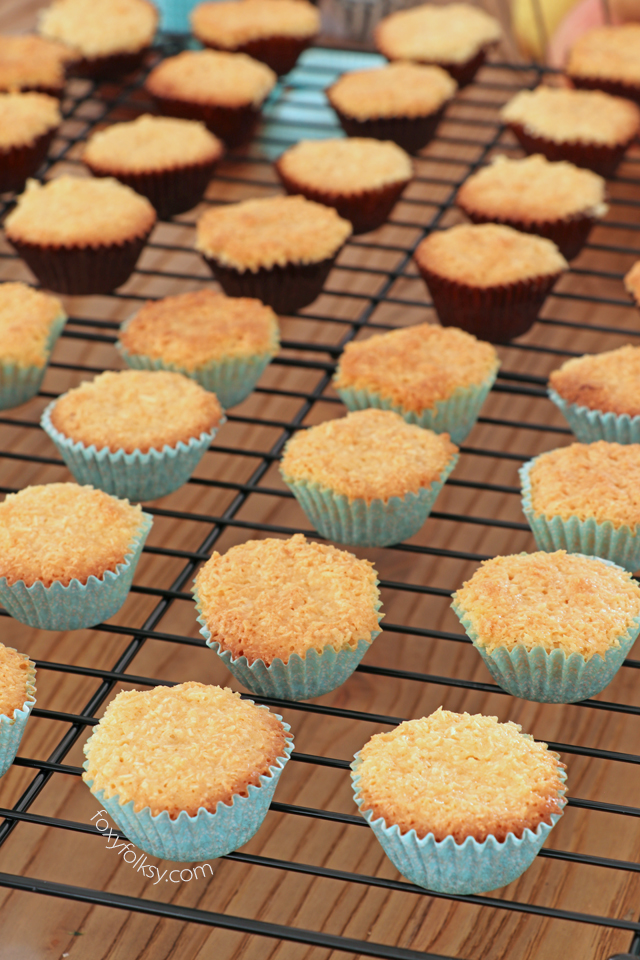 As you can see, I do not have the special molds for macaroons. I saw one in a bakery supply shop recently but I didn't get me one. It should be fine if you do not use molds as long as you arrange the liners close to each other to provide support as they bake. But if you want perfectly round shaped macaroons then might as well get the molds. (I will!)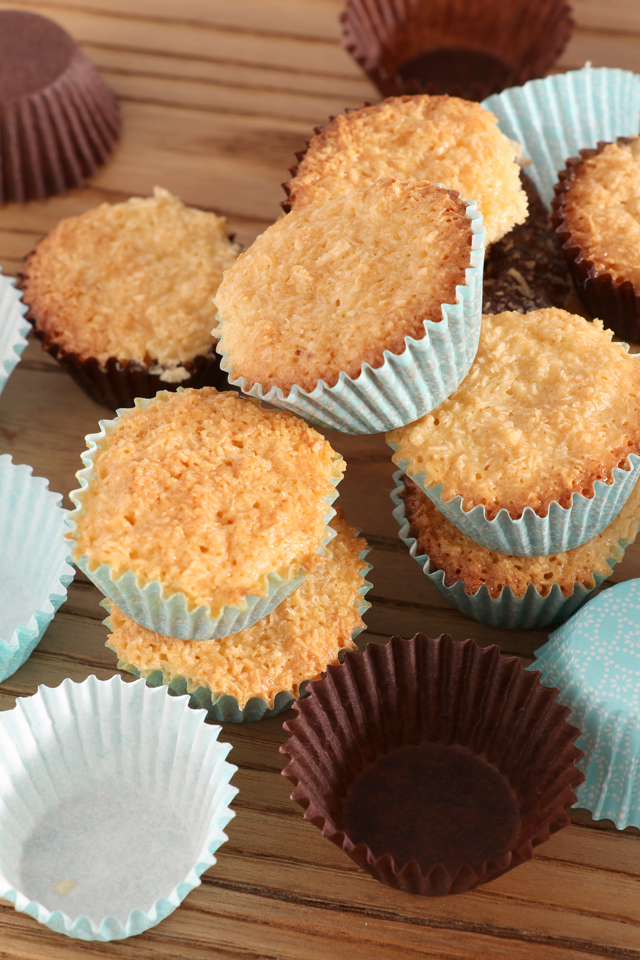 Printable Recipe
Filipino Coconut Macaroons
Try this Filipino version of coconut macaroons. Filipino coconut macaroons have a lighter or airy texture and are softer. Easy to make with simple ingredients.
Instructions
In a bowl, combine desiccated coconut, flour, and baking powder.

Cream butter and sugar in a mixing bowl using a hand mixer or by hand using a whisk.

Add the eggs one at a time and mix well. Make sure that you use low speed or just do it manually with a whisk from this point onwards. Pour in the condensed milk and mix again.

Fold in the desiccated coconut mix into the wet mixture. Mix until well combined.

Arrange the macaroon liners on a baking sheet and fill each liner to half.

Bake in a preheated oven at 180°C for 20-30 minutes or until golden.
Notes
When adding the eggs and other ingredients after that, it is important to use low speed (or just to it manually) to avoid the macaroons from sinking at the center after they are baked.
Nutrition
Calories:
82
kcal
Carbohydrates:
7
g
Protein:
1
g
Fat:
5
g
Saturated Fat:
4
g
Cholesterol:
13
mg
Sodium:
13
mg
Potassium:
59
mg
Fiber:
0
g
Sugar:
6
g
Vitamin A:
80
IU
Vitamin C:
0.2
mg
Calcium:
25
mg
Iron:
0.3
mg