What's better than having a slice of a classic moist banana bread loaded with sweet ripe bananas??? Moist banana bread loaded with sweet bananas, chocolate chips, and walnuts.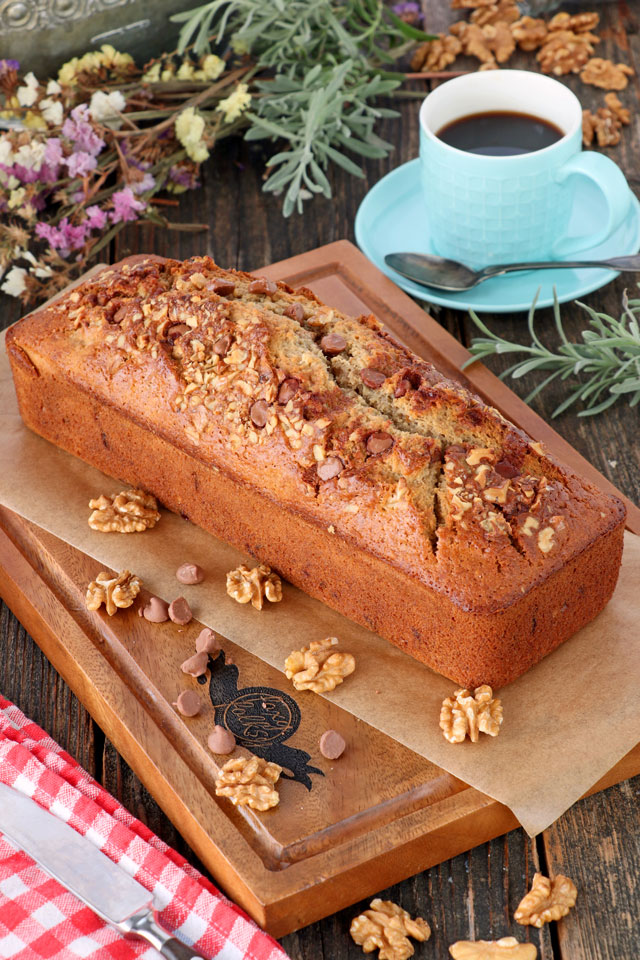 Banana bread is one of the most well-loved breads in the whole world. Ok, I am not entirely sure of that, but in my world, it is a favorite. It is easy to make and very practical as it gives those forgotten bananas that turned overly ripe and spotty a second chance.
Yes, I am a very huge fan of moist banana bread with soft cake-like crumbs and I've baked countless of them throughout the years. But I just recently discovered a secret that brought my banana bread game to a whole new level.
Notes on some of the Ingredients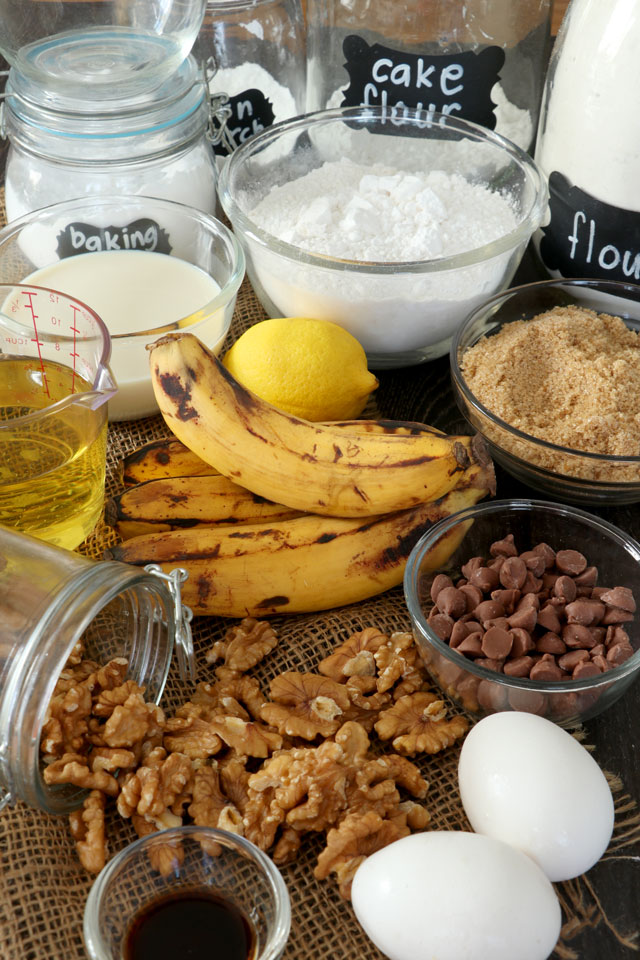 Bananas
You would like to use overripe bananas as they are much sweeter with more intense flavor. If you cannot wait for your bananas to ripen roll them in a paper bag and leave them in a warm area for a day or two. If you need them now then there is a hack. Line unpeeled bananas on a lined baking sheet and bake on a preheated oven at 150°C. The time may vary from 15 to 30 minutes. You know it is "ripe" when the skins turn brown.
Oil or Butter for Banana Bread?
There are several recipes out there that use butter in their banana bread recipe. This is a decision each one of us has to make and I for one am partial to using oil in this case. Butter will, of course, add that rich flavor to the bread. But you can only really achieve that moist but light texture when you use oil.
Nuts
Adding nuts is not a must but it certainly is very much recommended (and appreciated). It adds that bite and if added on top it gives an extra crunch when baked. The most popular choices are walnut and pecan. If you are in the mood to rebel, other nuts like pistachio, hazelnut, macadamia or cashew also go well with this bread.
Buttermilk
I normally use buttermilk when making this bread as it adds that tangy flavors. The other reason is because of its acidic content that tenderizes gluten which will give you softer crumbs. If you don't have it just mix milk with lemon juice and that is it. You can also substitute yogurt. It is also an important ingredient because you need acid for the baking soda to react and create carbon dioxide that will allow the bread to rise.
The secret to the best banana bread
Since there are probably thousands of banana bread recipes out there, it is really difficult to know which one is the best. But I guess that depends on one's preference and taste. I've also tried many different recipes but I came across one that gave me the idea of adding banana slices in addition to the mashed bananas.  These are added at the last stages of folding the other ingredients to the thick batter.
Printable Recipe
Best Chocolate Chip Banana Bread
What's better than having a slice of a classic moist banana bread loaded with sweet ripe bananas??? Moist banana bread loaded with sweet bananas slices, chocolate chips, and walnuts.
Ingredients
4

medium

overripe bananas

¾

cup

milk

2

tablespoon

lemon juice

1

cup

oil

1

teaspoon

salt

1

cup

brown sugar

- compressed

2

medium

eggs

2

teaspoon

vanilla extract

1

teaspoon

baking soda

2

cups

cake flour

- or all-purpose flour

¾

cup

walnuts

-chopped

¾

cup

chocolate chips
Instructions
Preheat oven to 180°C / 360°F. Then grease and line a 1x4in loaf pan or two 5x4in pans with parchment paper long enough that it leave an excess hanging out at the sides. Set aside.

Peel the bananas and place 3 of them in a bowl. Mash the bananas using a fork or electric hand mixer until mashed but still lumpy. Take the other banana and cut into thin slices and set aside.

In a small bowl, combine milk and lemon juice to make buttermilk. You can also use buttermilk if you have it.

In a large bowl, mix the sugar and oil using a whisk or electric mixer. Add the eggs one by one and vanilla extract and beat until the mixture becomes smooth.

Next, pour in the buttermilk and mashed bananas to the mixture and whisk until well blended.

Add the flour, baking soda and salt and mix again until well blended and smooth.

Lastly, add ½ cup chopped walnuts, ½ cup chocolate chips, and the banana slices to the batter. Fold them together using a spoon or spatula until well distributed.

Pour the batter into the prepared pan. Tap it several times to release trapped bubbles and even the batter out. Place the pan at the middle rack and bake for 40-50 minutes or until an inserted toothpick comes out clean.

take it out of the oven and let it cool down enough to handle. Lift the excess parchment paper on the side to lift the banana loaf bread out of the pan.

Slice and serve while still warm.
Nutrition
Calories:
385
kcal
Carbohydrates:
63
g
Protein:
7
g
Fat:
13
g
Saturated Fat:
3
g
Cholesterol:
36
mg
Sodium:
379
mg
Potassium:
302
mg
Fiber:
3
g
Sugar:
37
g
Vitamin A:
143
IU
Vitamin C:
5
mg
Calcium:
76
mg
Iron:
2
mg