Two of the most popular comfort foods of all time, mac and cheese and chili, combined in this sumptuous all-in-one recipe, the Chili Mac and Cheese!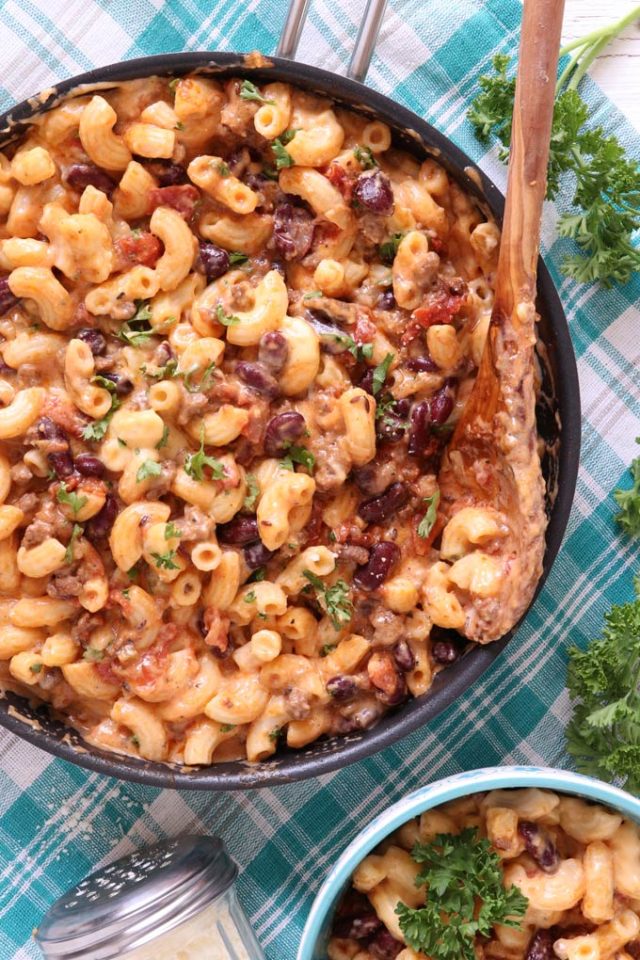 I am excited to share with you this delicious mash-up of the two of the best American comfort food classics. The warmth and homey feeling that a bowl of chili (chili con carne) provides and the nostalgic childhood memories that mac and cheese brings will definitely make you love this Chili Mac and Cheese.
It took me some time to decide as I was torn between making a one-pot chili mac and cheese, which is faster, or this recipe here.
I am usually more of the quick and easy kind of gal, the less the mess the better too! But then I thought to myself, how would I like my chili mac and cheese be? Should I go with saucy or with cheesy? Obviously, the cheesiness won me over!
I actually used my good old easy Mac and Cheese recipe for this. And if you are interested in a similar food mash-up like this one or simply obsessed with chili, then you should definitely check our Chili Cheese Fries  and  Chili Shepherd's Pie...Yummy!
Unlike the one-pot versions of Chili Mac and Cheese, where you cook the pasta in the chili then add shredded cheese at the end, I had to cook the pasta and chili separately, plus the cheese sauce.
Believe me, it sounds more tedious than it actually is. This whole thing was done just under 30 minutes.  But the outcome...flavorful chili with all the cheesy goodness of mac and cheese like you know it!
As you can see from the above photos, I made the chili seasoning from scratch using the usual spices, which is not all that bad and not that difficult. That way I am able to adjust it according to our preference.
Like if you like it saltier or not, spicy or only mildly spicy, a lot of cumin or pepper, you know, just simple things like that which can make a lot of difference to each one who is eating it.
Sure you can buy and use one of those ready mix chili powders that are easily available in the market but nothing beats freshly ground spices... and, at least, you know exactly what goes into your food.
Speaking of which, do not hesitate to add any garnishings that you like. Sprinkle it with more grated Parmesan cheese, some chopped parsley or coriander or whatever you fancy.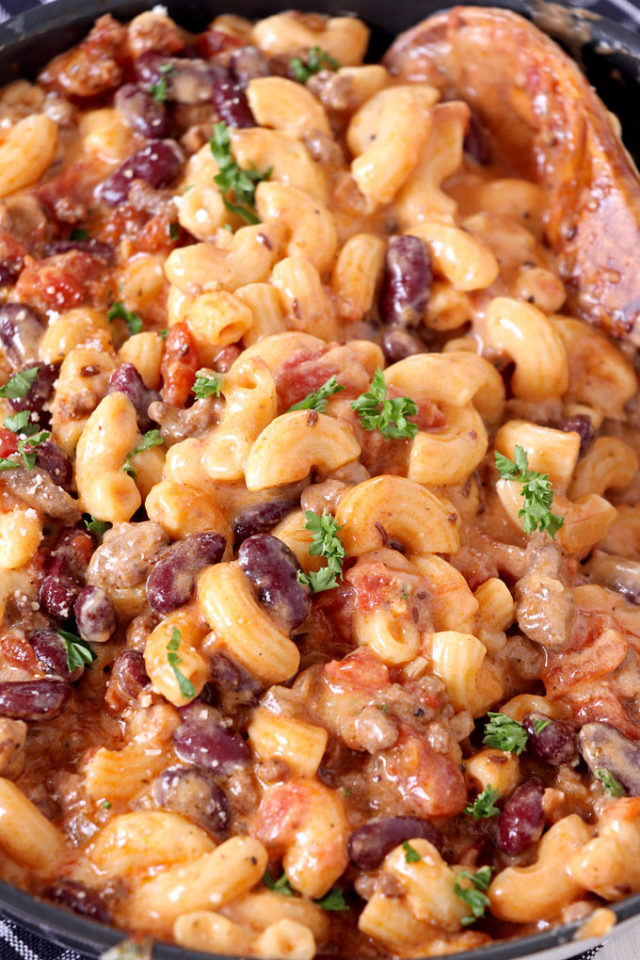 Q&A about this delicious cheesy Chili Mac and Cheese
The most popular choice, of course, is sharp cheddar but you can also use Gouda or Monterey Jack or try mixing your favorite cheeses. The more pungent usually the better.
If you are worried about calories then a 10% fat is for you but if you are more about the flavor then go for 20% fat.
Can I use a different kind of pasta?
Elbow macaroni is ideal because of its shape and crevices where the sauce can cling better. But similar short pasta should also be fine like farfalle, conchigliette, and fusilli.
Printable Recipe
Easy Chili Mac and Cheese
Two comfort food in one cheesy goodness! You got to try this Chili Mac and Cheese!
Ingredients
CHILI
2

tablespoons

olive oil

2

cloves

garlic

- minced

1

small

onion

- chopped

½

pounds

ground beef

1

medium

red bell pepper

- cut into small cubes

1

can (14.5 oz)

diced tomato

1

can

red kidney beans

- drained

1

teaspoon

cayenne pepper

2

teaspoons

paprika powder

1

teaspoon

cumin powder

2

teaspoons

onion powder

1

teaspoon

dried oregano

½

teaspoon

ground black pepper

1

teaspoon

salt
CHEESE SAUCE
4

tablespoons

butter

4

tablespoons

flour

2

cups

milk

2

cups

shredded sharp cheddar cheese

½

tablespoon

salt
Instructions
Cook macaroni pasta as per package direction until al dente. Drain water and set aside.

In a pot or deep pan, saute garlic and onion in olive oil until limp and translucent. Add ground beef and cook stirring to break up the beef into small pieces.

Once the ground beef is cooked and has all turned into brown, add the rest of the ingredient for the chili. Cook for another 5 minutes.

While waiting, prepare the cheese sauce. Melt the butter in a pot over low heat. Add flour and cook stirring constantly for 1 minute. Turn up the heat to medium and add milk in a steady stream while constantly whisking to break up lumps and cook until it thickens. Add shredded cheese.

Add the cooked macaroni and mix well. Pour in the Chili and mix again. Season with more salt if needed. Garnish with chopped parsley or coriander if desired. Serve into bowls while still warm.
Nutrition
Calories:
421
kcal
Carbohydrates:
37
g
Protein:
14
g
Fat:
23
g
Saturated Fat:
10
g
Cholesterol:
55
mg
Sodium:
1100
mg
Potassium:
313
mg
Fiber:
1
g
Sugar:
5
g
Vitamin A:
495
IU
Vitamin C:
0.7
mg
Calcium:
120
mg
Iron:
1.8
mg