Get this easy and simple recipe for this yummy Chili Crab that has the perfect blend of sweet and spicy!
I am in heaven! Yes! Crabs are one of the things that make me happy! What makes me more happy about this recipe is how surprisingly simple and easy it is to make.
I used blue crabs for this Chili Crab recipe but mangrove (mud) crabs would also be perfect.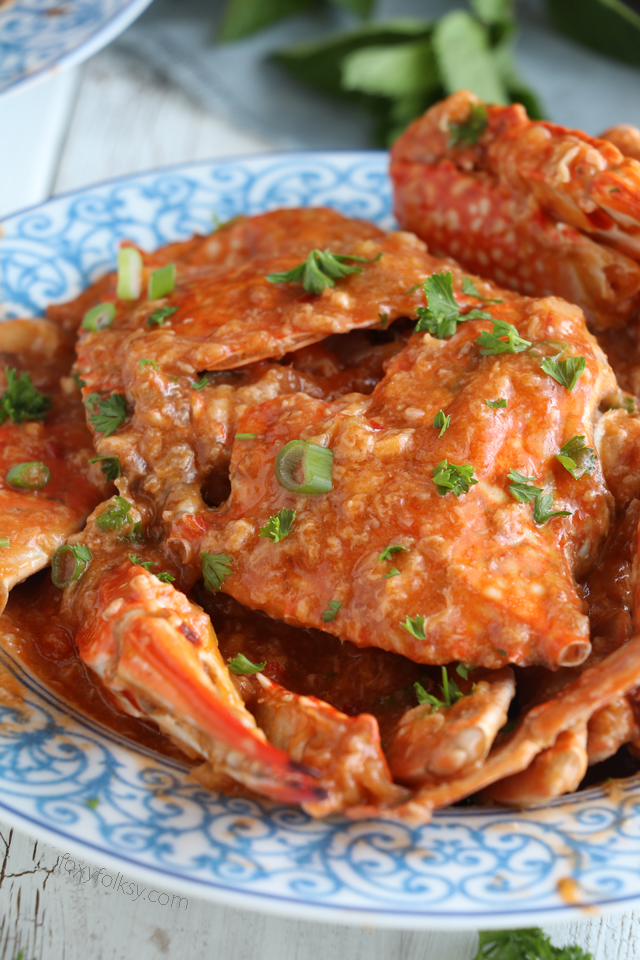 It would be better if I could get fresh crabs instead of the frozen one that I was able to manage to get here in Germany. Back in my hometown Pampanga, it is a lot easier to get fresh big mangrove (mud) crabs.  This is one of the things I look forward to every time we go to the Philippines. But (very) soon, I will be able to get my hands on those fresh, meaty, yummy crabs and all the other good stuff that I've been missing and craving for in the last five years that I've moved to Germany! ???? ????????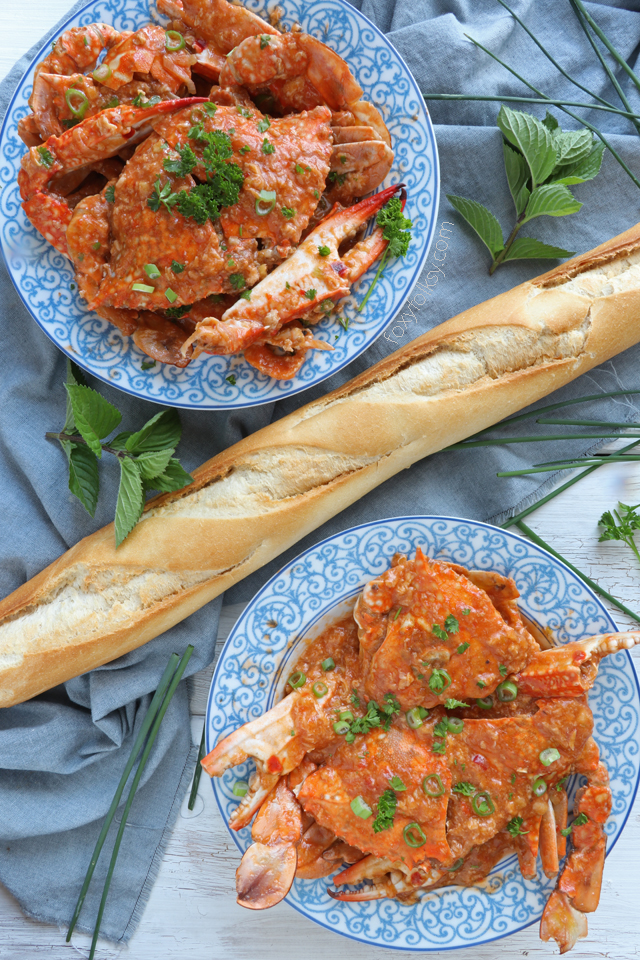 In buying fresh crabs, it could get frustrating and disappointing if you end up with ones that look good and solid outside but hollow or with so less flesh (and fat) inside especially since they are not that cheap at all. Years back, my best friend, Sharon, taught me a very important lesson in life!  She taught me a simple and a more subtle way of how to get good meaty crabs! You can tell that a crab is meaty if when you pinch (thumb on top and index at the bottom) the (pointy) side of the top shell (carapace) it should feel full or hard to press.
Printable Recipe
Chili Crab
Get this easy and simple recipe for this yummy Chili Crab that has the perfect blend of sweet and spicy!
Ingredients
2

tablespoons

cooking oil

3

big cloves

garlic

- minced

3

tablespoons

ginger

- minced

½

cup

shallots

- chopped (or a medium onion)

3

pieces

crabs

- washed and each cut into 2

1

cup

water

½

cup

tomato ketchup

½

cup

sweet chili sauce

3

tablespoons

fish sauce

1

tablespoon

cornstarch

- dissolved in 2 tablespoon water

1

egg

- beaten
Instructions
Heat oil in a skillet or wok over medium-high heat. Saute the garlic, ginger, and shallots.

Add the crabs and 1 cup of water then cover and let it cook for 5 minutes or until the crab's shells turn red all around.

Add the tomato ketchup, sweet chili sauce, and fish sauce. Stir well making sure that the crabs get covered with the sauces. Cook for another two minutes.

Move the crab pieces on one side of the wok and pour the cornstarch mixture into the sauce and mix until the sauce thickens. Lastly, add the beaten egg into the sauce and stir quickly to prevent it from making lumps. Cover the crabs with the sauce and cook for another minute.
Nutrition
Calories:
261
kcal
Carbohydrates:
36
g
Protein:
4
g
Fat:
11
g
Saturated Fat:
1
g
Cholesterol:
55
mg
Sodium:
2230
mg
Potassium:
227
mg
Fiber:
0
g
Sugar:
29
g
Vitamin A:
285
IU
Vitamin C:
2.3
mg
Calcium:
22
mg
Iron:
0.6
mg