Tender, juicy, and perfectly spiced grilled chicken wrapped in pita bread with a light and tangy homemade yogurt-garlic sauce. Try this quick and easy grilled Chicken Shawarma and enjoy the explosion of Middle Eastern flavors with every bite!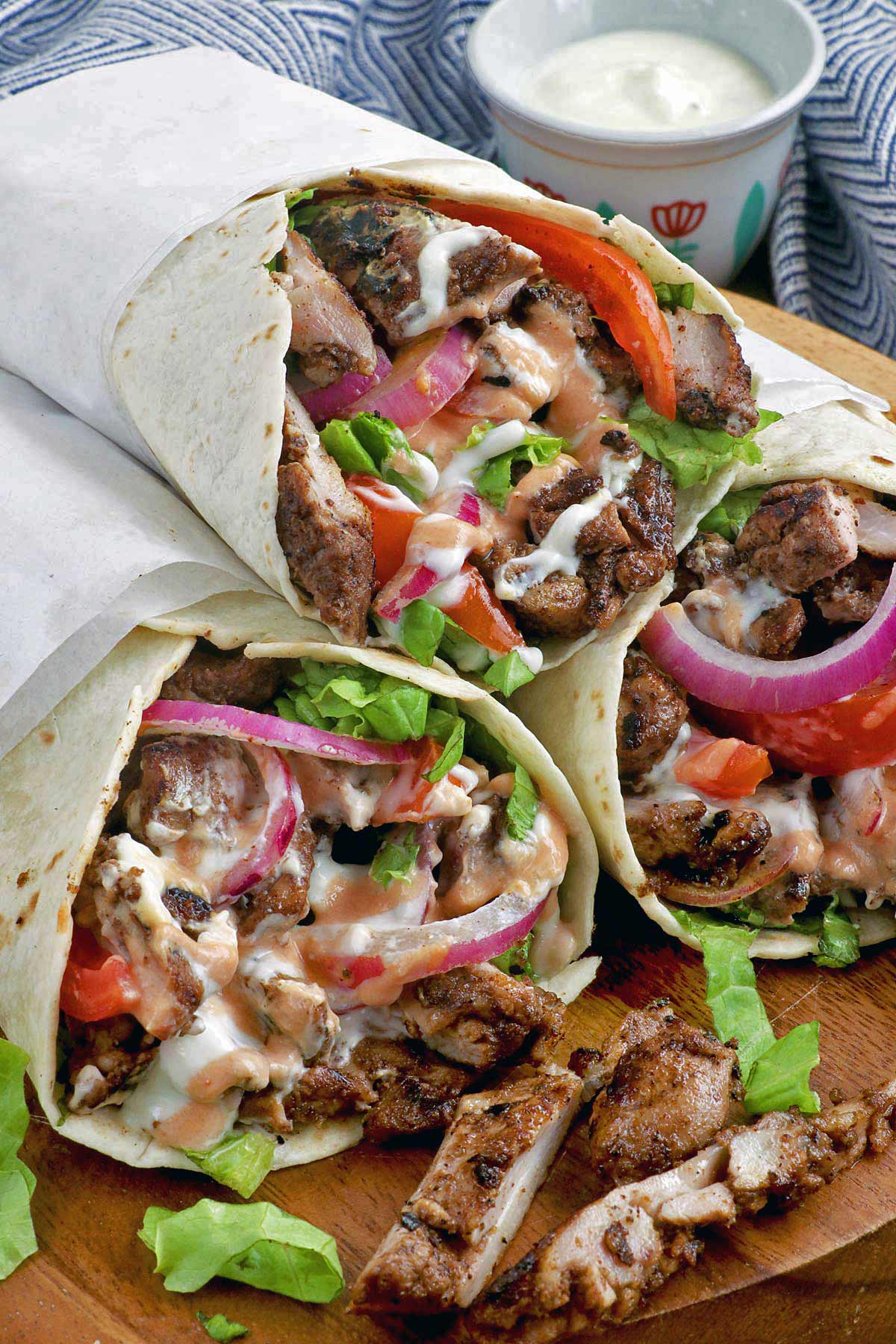 This homemade Chicken Shawarma is not only easy to make, but it is also delicious and healthy too! Made with chicken thigh fillet, marinated in a variety of spices, and then grilled to perfection until juicy and tender. Served with pita bread, lettuce, onion, tomatoes, and yogurt-garlic dip, you and the whole family won't get enough of this mouth-watering Chicken Shawarma.
What is Shawarma?
Shawarma is a popular Middle Eastern meat sandwich dish. The term Shawarma is an Arabic translation of the Turkish word "çevirme" which means turning, referring to the turning of the shawarma meat on the vertical rotisserie.
Shawarma is made with marinated meat such as chicken, beef, or lamb which are thinly sliced, stacked on a long skewer, and then roasted on a slowly-turning vertical spit. Using a sharp knife, the cooked meat is thinly shaved and then served as a wrap or a sandwich. Typically served with garlic sauce, pickles, and fries.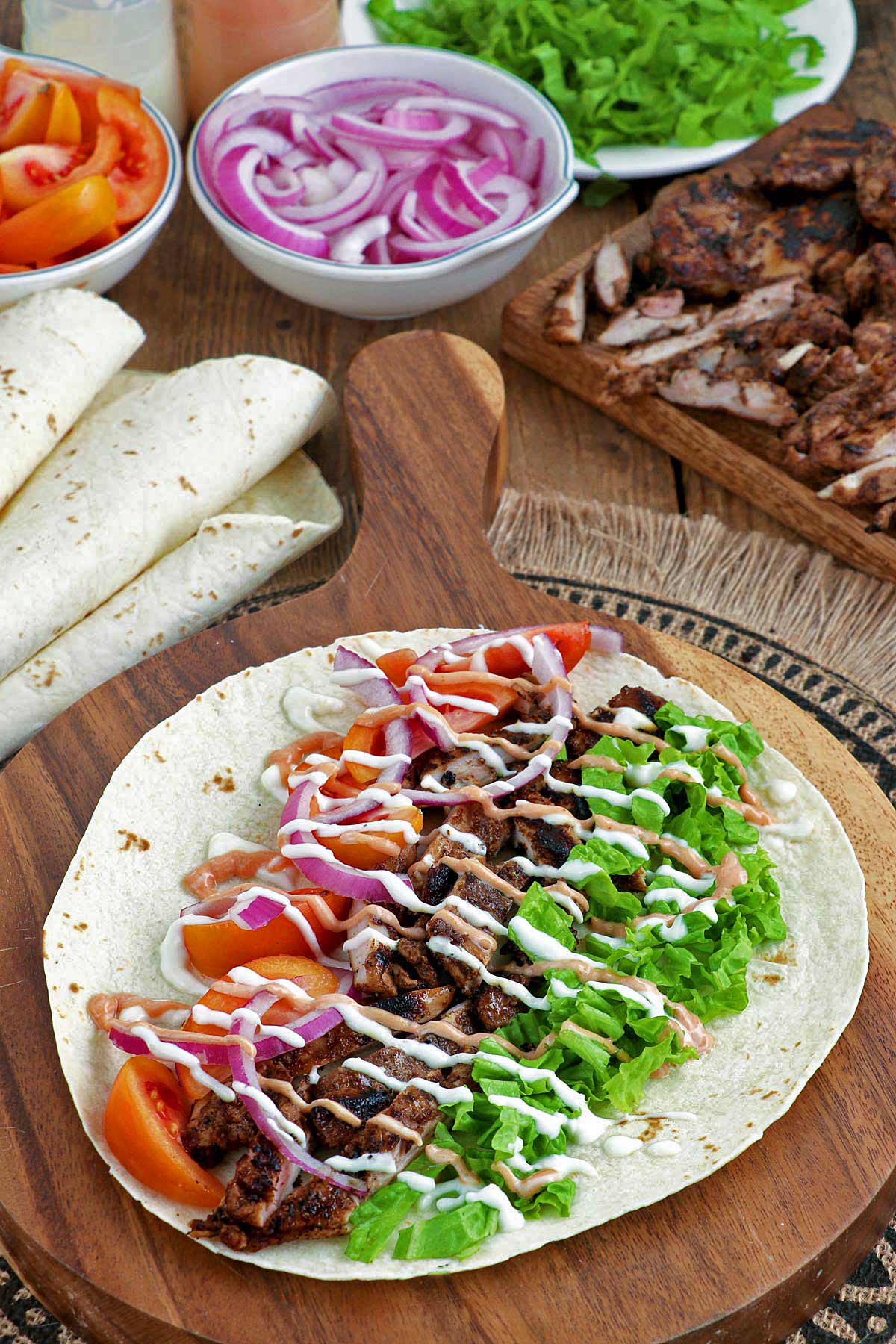 Shawarma Vs. Gyro?
Shawarma and Gyro are often confused with each other as both are cooked on a rotating vertical spit and are even served in the same way. However, those are the only similarities that these two dishes have. Gyro originated in Greece and is mainly seasoned with herbs like thyme, rosemary, and oregano. On the other hand, shawarma is flavor-packed with spices and Middle Eastern in origin.
What you'll need?
Chicken thigh fillets are juicier and do not dry out as easily as chicken breasts.  You could substitute them with chicken breasts fillets if thighs are unavailable.  
Spices - the spices used are cumin powder, ground coriander, allspice, paprika, onion powder, and garlic powder. The spices balance and complement each other for that perfect grilled Chicken Shawarma taste.
Yogurt adds tartness to the sauce. Either plain or greek yogurt works well in this recipe.
Mayonnaise - Although this is an optional ingredient, it makes the sauce creamier and balances the tanginess of the yogurt.
Garlic - this is the most important ingredient for the sauce as this gives it flavor.
Lemon juice - The lemon juice in the marinade helps "break down" the meat, allowing the marinade to deeply seep through and infuse the meat with flavor. The lemon juice in the sauce adds a tangy flavor to it.
Pita bread - you can make them yourself or use ready-made ones for convenience. If not available you can also use tortilla wraps.
Tips in Cooking Chicken Shawarma
You can marinate the chicken thighs in a Ziploc bag to cut down on cleaning time.
Cut the thighs fillets against the grain in this way, they are more tender as you cut through the fibers.
After grilling, let the chicken thigh rest for atleast 5 minutes. This will allow the juices to redistribute within the meat instead of seeping out onto the cutting board.
You know the chicken thighs are cooked once the internal temperature reaches 165°F.
Printable Recipe
Chicken Shawarma
Tender, juicy, and perfectly spiced grilled chicken wrapped in pita bread or tortilla with delicious homemade yogurt-garlic sauce. Try this quick and easy grilled Chicken Shawarma and enjoy the explosion of Middle Eastern flavors with every bite!
Ingredients
2

pounds

chicken thigh fillets
MARINADE
2

teaspoon

cumin powder

2

teaspoon

ground coriander

2

teaspoon

allspice powder

1

teaspoon

paprika powder

1

teaspoon

onion powder

1

teaspoon

garlic powder

½

cup

plain yogurt

or greek

3

tablespoon

olive oil

2

tablespoon

lemon juice

2-3

teaspoon

salt

¼

teaspoon

ground pepper
YOGURT-GARLIC SAUCE
1

cup

plain yogurt

or greek

2

tablespoon

mayonnaise

optional

2

clove

garlic

freshly grated

1

tablespoon

lemon juice

Salt and pepper

to taste

Sriracha sauce

for spicy option
TO SERVE
8

pieces

pita bread

- or soft tortilla

3

cups

lettuce

1

large

red onion

chopped

4

medium

ripe tomatoes

chopped
Instructions
In a large bowl, combine all the ingredients for the marinade and mix until well blended.

Add the chicken thigh fillets and mix to coat completely. Cover bowl with plastic wrap and marinate for at least 1 hour or place in the fridge overnight.

Make the yogurt-garlic sauce by simply mixing all the ingredients in a bowl. You can divide the sauce and add some sriracha to one part so you have two options. Cover and refrigerate until ready to use. You can also transfer sauce in a squeeze bottle for ease of use.

Grill the chicken thighs using a griddle pan or over charcoal. Grill the first side for 4 to 5 minutes until nicely charred, then turn and grill for another for 3 to 4 minutes or until charring is even.

For oven grilling: Preheat the oven to 425°F. Arrange the marinated chicken on a baking sheet pan lined with parchment paper. Roast for 30 minutes at 220°C/425°F. Move the pan to the top rack and broil very briefly until a little charred. Remove from the oven.

Transfer grilled chicken into a deep serving dish with a cover or use a plate. Let it rest for 5 minutes before slicing. Slice the chicken into strips and place them back into the dish.

Serve alongside the pita bread or tortilla wrap, sliced lettuce, tomatoes, onions and yogurt-garlic dip.

To make a wrap, lay a pita bread or tortilla on a plate lined with parchment paper or foil. Top it with chicken, lettuce, tomatoes, and onions. Drizzle some yogurt-garlic sauce on top then fold to and wrap.
Nutrition
Calories:
371
kcal
Carbohydrates:
12
g
Protein:
22
g
Fat:
26
g
Saturated Fat:
7
g
Polyunsaturated Fat:
5
g
Monounsaturated Fat:
12
g
Trans Fat:
1
g
Cholesterol:
118
mg
Sodium:
764
mg
Potassium:
702
mg
Fiber:
3
g
Sugar:
6
g
Vitamin A:
7725
IU
Vitamin C:
29
mg
Calcium:
128
mg
Iron:
2
mg