Try this creamy and delectable Chicken Pastel recipe. Made with chicken, sausages, and vegetables smothered in a rich savory white sauce. Perfectly delicious with bread or steamed rice.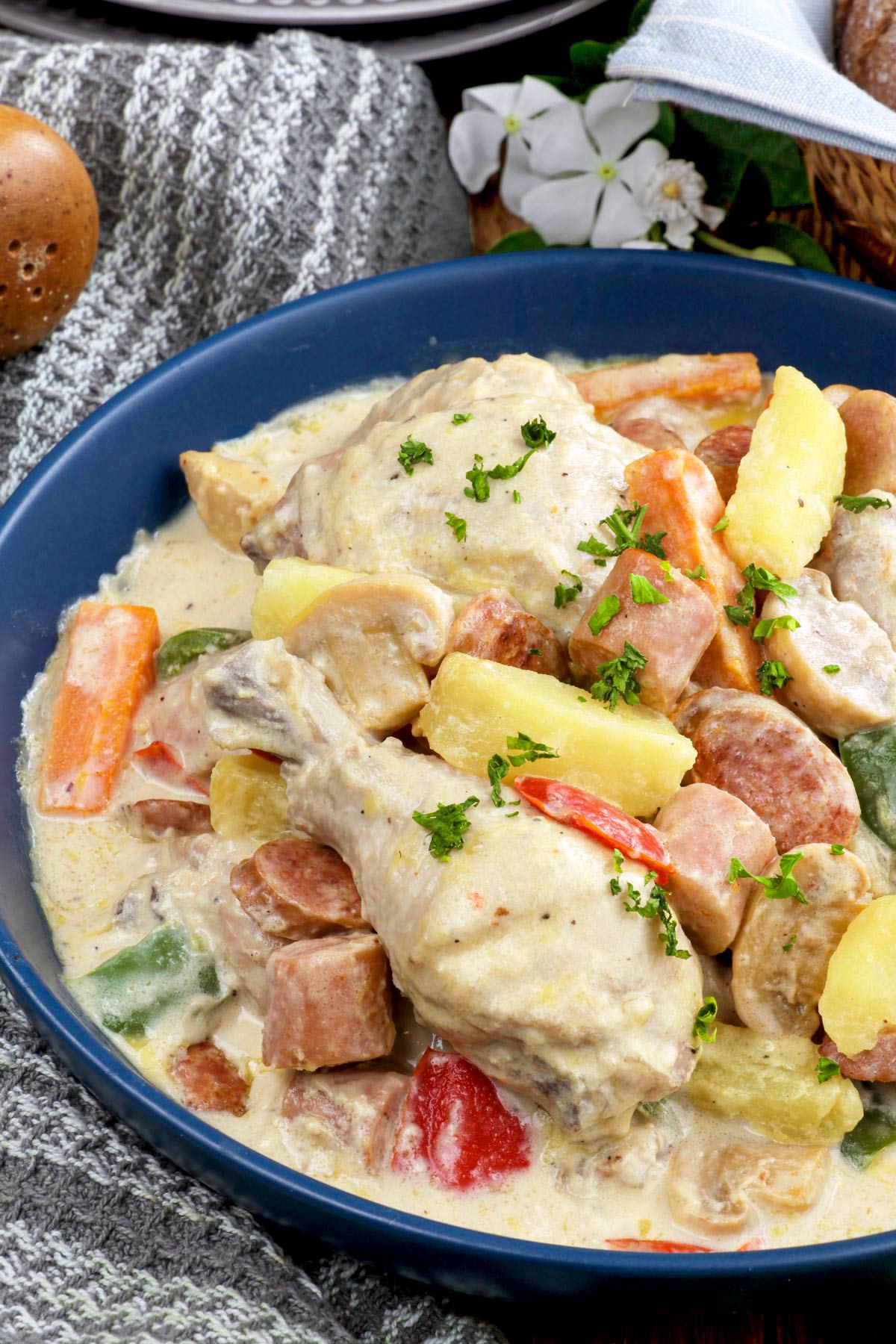 This hearty stew is so simple to make but delivers a very flavorful dish that the whole family would surely love. It is a great dish to serve during special occasions but it is also easy enough for a humble family dinner. Chicken Pastel is somewhat similar to Chicken ala King as they both have creamy sauces and almost have the same set of ingredients.
What is Chicken Pastel?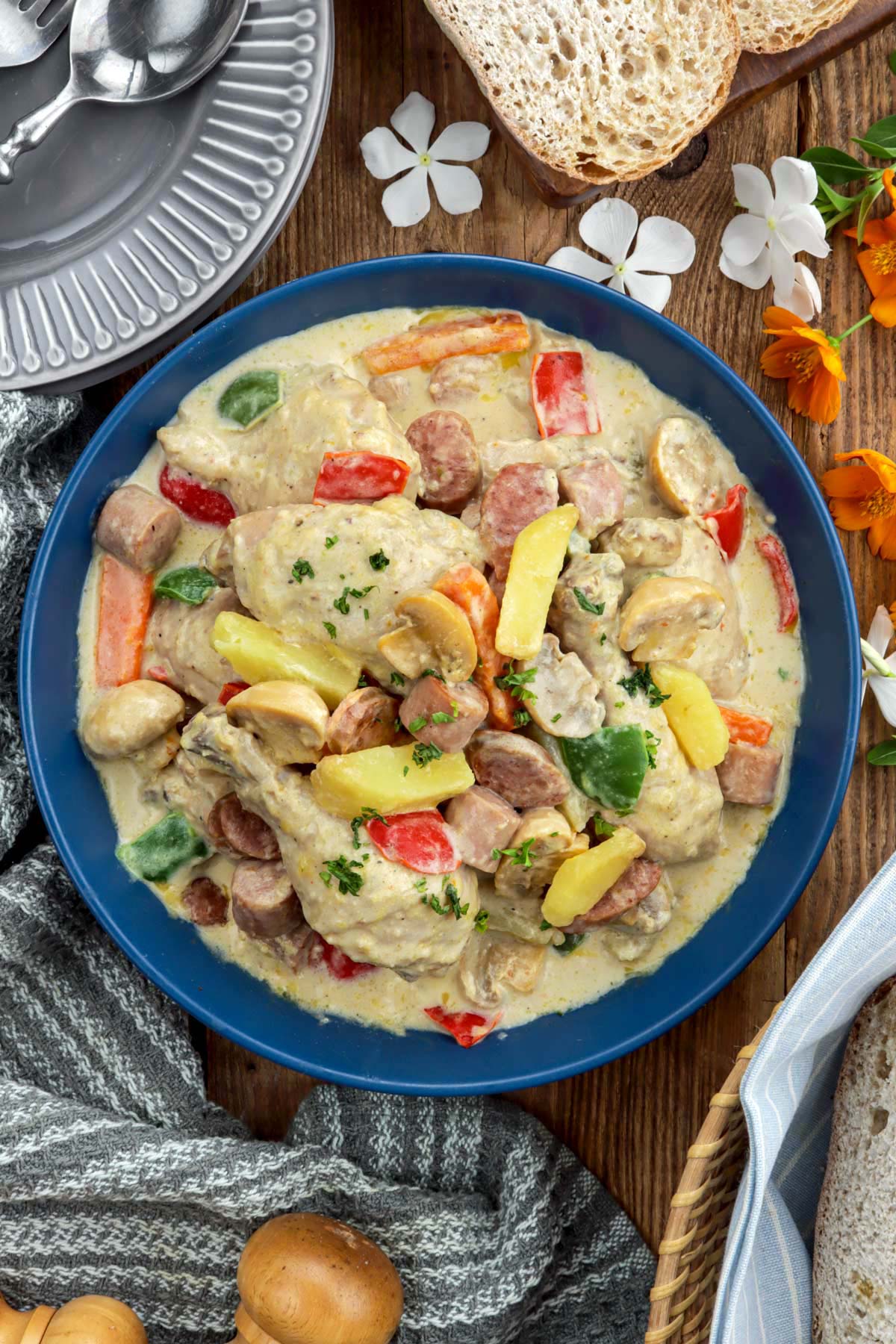 It is a Filipino creamy chicken stew adapted from the Spanish Pastel de Pollo, a chicken pot pie dish. Similarly, it is traditionally cooked in a casserole, covered with a pie crust, and then baked until golden.
However, this recipe is so much easier for you as you don't need to do the additional work and effort of making the pie crust. It is also made extra special with slices of chorizo de Bilbao, sausages, whole mushrooms, all-purpose cream, and evaporated milk.
Ingredients You'll Need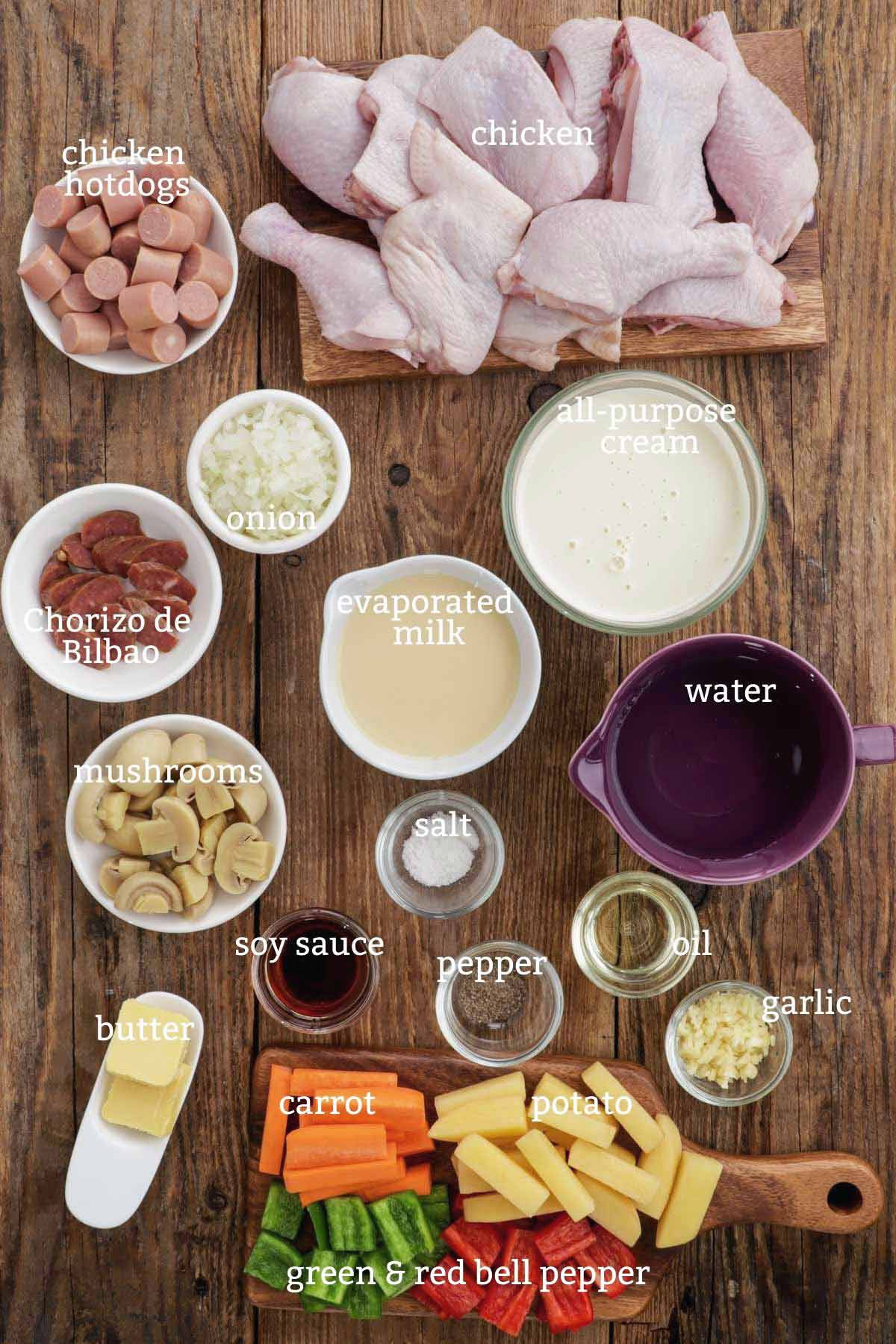 Chicken - Bone-in chicken pieces work best for this recipe. The flavor of the bone spreads out into the stew giving it a richer flavor. If you prefer boneless chicken, try using chicken thigh fillets instead of chicken breasts.
Chorizo de Bilbao is a Filipino dry pork sausage. If unavailable, you may substitute it with Chinese sausage.
Champignon mushrooms are also known as white button mushrooms. You may also use fresh mushrooms if preferred. If whole mushrooms are unavailable, you may alternatively use the sliced ones too.
Butter -enhances the flavor and adds a creamy and velvety flavor to the sauce.
Fish sauce and soy sauce add a savor and umami to the dish.
Vegetables - Potato, carrot, and bell pepper extend the serving of the dish. They also add color, texture, and of course, flavor.
Hotdogs - also extend the serving of the dish and adds texture and flavor. If chicken hotdogs or Vienna sausages are not available, you may use regular hotdogs.
All-purpose cream + Evaporated milk - for a creamier and richer sauce.
Water - alternatively, you may use chicken stock for a deeper flavor.
Tips for cooking Chicken Pastel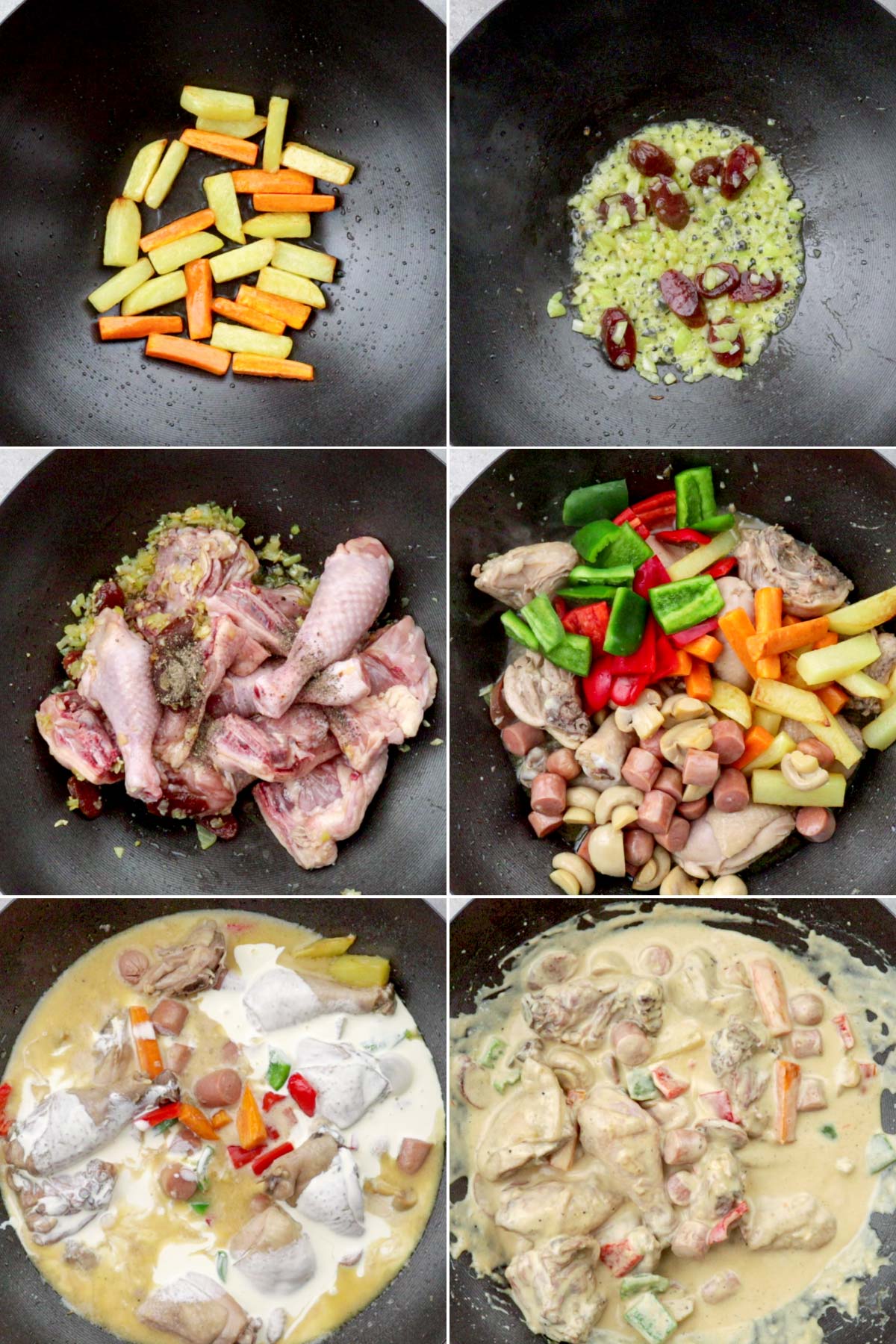 Cut the potatoes and carrots in the same size and shape to have them cook at the same time and evenly. To cut into batonnet is to simply cut in stick-shaped cuts. The typical size of a batonnet cut is ¼ inch by ¼ inch by 2 inches long.
Pan-frying the vegetables will help them stay firm and seal in their flavor before adding to the stew.
To avoid the cream from curdling, make sure your cream is at room temperature before adding it to the stew. Also, make sure to just bring it to a gentle simmer instead of a boil.
How to Serve and Store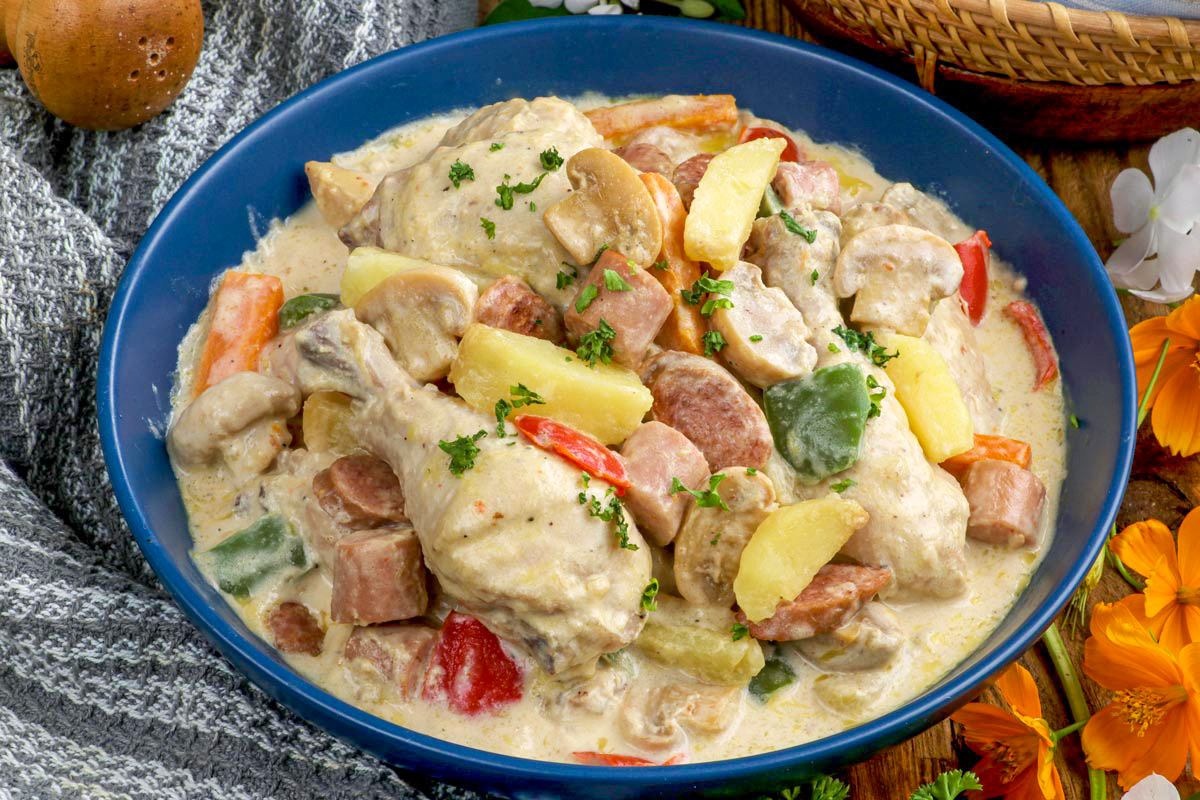 Chicken Pastel is delicious as a main dish with steamed rice for hearty and filling lunch or dinner. You may also enjoy it with a slice of bread for a lighter meal.
Store leftovers in an airtight container and keep them in the refrigerator for up to 3 days.
To reheat, place in a saucepan over medium heat or in a microwave until heated through.
Printable Recipe
Chicken Pastel
Try this creamy and delectable Chicken Pastel recipe. Made with chicken,sausages, and vegetables smothered in a rich savory white sauce. Perfectly delicious with bread or steamed rice.
Ingredients
2

tablespoons

oil

1

large

potato

cut batonnet

1

medium

carrot

cut batonnet

1

piece

chorizo de Bilbao

sliced diagonally

3-4

pieces

chicken hotdogs or 1 can Vienna sausage

cut into half-inch rounds

1

small can

whole Champignon mushrooms

drained then cut into halves if too big

2

tablespoons

butter

1

medium

onion

finely chopped

3

cloves

garlic

minced

2

pounds

chicken leg quarters

cut into serving pieces

2

tablespoons

fish sauce

or 1 teaspoon sea salt

¼

teaspoon

ground pepper

1

cup

water

1

small

green bell peppers

cut into cubes

1

small

red bell pepper

cut into cubes

1

can

evaporated milk

150ml

1

pack

all-purpose cream

250 ml

1

teaspoon

soy sauce

Salt and pepper

to taste
Instructions
2 tablespoons oil,

1 medium carrot,

1 large potato

In a wide pan, heat oil over medium heat. Fry the potato and carrot cubes until the sides are golden brown. Remove them from the pan and set them aside.

1 piece chorizo de Bilbao,

3-4 pieces chicken hotdogs or 1 can Vienna sausage,

1 small can whole Champignon mushrooms

Next, fry the Chorizo de Bilbao, hotdogs, and mushrooms. Remove the hotdogs and mushrooms from the pan as they become just lightly browned and set them aside.

2 tablespoons butter,

1 medium onion,

3 cloves garlic

Add the butter to the pan. Once melted add the onions and cook until lightly caramelized, about 3 minutes. Then add garlic cook for a minute.

2 pounds chicken leg quarters,

2 tablespoons fish sauce,

¼ teaspoon ground pepper

Add the chicken pieces and stir in fish sauce and ground pepper. Cook, stirring from time to time until the chicken turns opaque, about 5 minutes. This will let the chicken absorb the seasoning.

Juices will come out from the chicken after this time but you may add 1 cup of water if it is too dry. Then cover the pan and cook for 15 minutes stirring from time to time.

1 small green bell peppers,

1 small red bell pepper,

1 can evaporated milk

Add back the potatoes, carrots, mushrooms, hotdogs, and bell peppers. Stir to distribute. Lower heat and add the evaporated milk. Simmer for 5-7 minutes or until vegetables are cooked through.

1 pack all-purpose cream,

1 teaspoon soy sauce

Add soy sauce and all-purpose cream. Stir to combine. Cook for another 5 minutes or until the sauce becomes creamy and thick.

Add salt and pepper to taste, if needed.

Serve while hot and enjoy!
Nutrition
Calories:
460
kcal
Carbohydrates:
11
g
Protein:
26
g
Fat:
35
g
Saturated Fat:
11
g
Polyunsaturated Fat:
6
g
Monounsaturated Fat:
14
g
Trans Fat:
1
g
Cholesterol:
153
mg
Sodium:
737
mg
Potassium:
578
mg
Fiber:
1
g
Sugar:
8
g
Vitamin A:
2494
IU
Vitamin C:
29
mg
Calcium:
182
mg
Iron:
1
mg
Traditional Chicken Pastel
If you would like to make it the traditional way, here is the recipe for the dough and the added procedure:
1 ½ cups flour
2 tablespoons sugar
½ teaspoon baking powder
¼ teaspoon salt
½ cup cold unsalted butter - cut into small cubes
3-5 tablespoons cold water
In a mixing bowl mix together the flour, baking powder, sugar, and salt.
Cut in butter using the mixer by pulsing until the mixture resembles a coarse meal, with a few pea-size pieces of butter remaining.
Add water, a tablespoon at a time, pulsing until dough is no longer too crumbly and holds together when squeezed.
Transfer to a lightly floured surface. Pull them together to form a ball. Using a rolling pin, roll it out to flatten in a round shape wide enough to cover a pie dish or oven-safe skillet/pan.
Transfer the chicken Pastel filling to a pie dish or if you cooked it in an oven-safe skillet, simply lay the dough on top to cover the whole skillet or pie dish. Trim the dough if needed then tuck the edges. Make some slits on top for the steam to release while baking.
Bake at 200ºC/400ºF for 30-40 minutes or until the crust becomes golden brown.