Chicken Halang-halang is a Visayan soup that has a rich and creamy texture with a spicy flavor. If you are looking to jazz up your usual chicken soup dishes, this recipe is a definite must-try! Easy, hearty, and bursting with amazing flavors.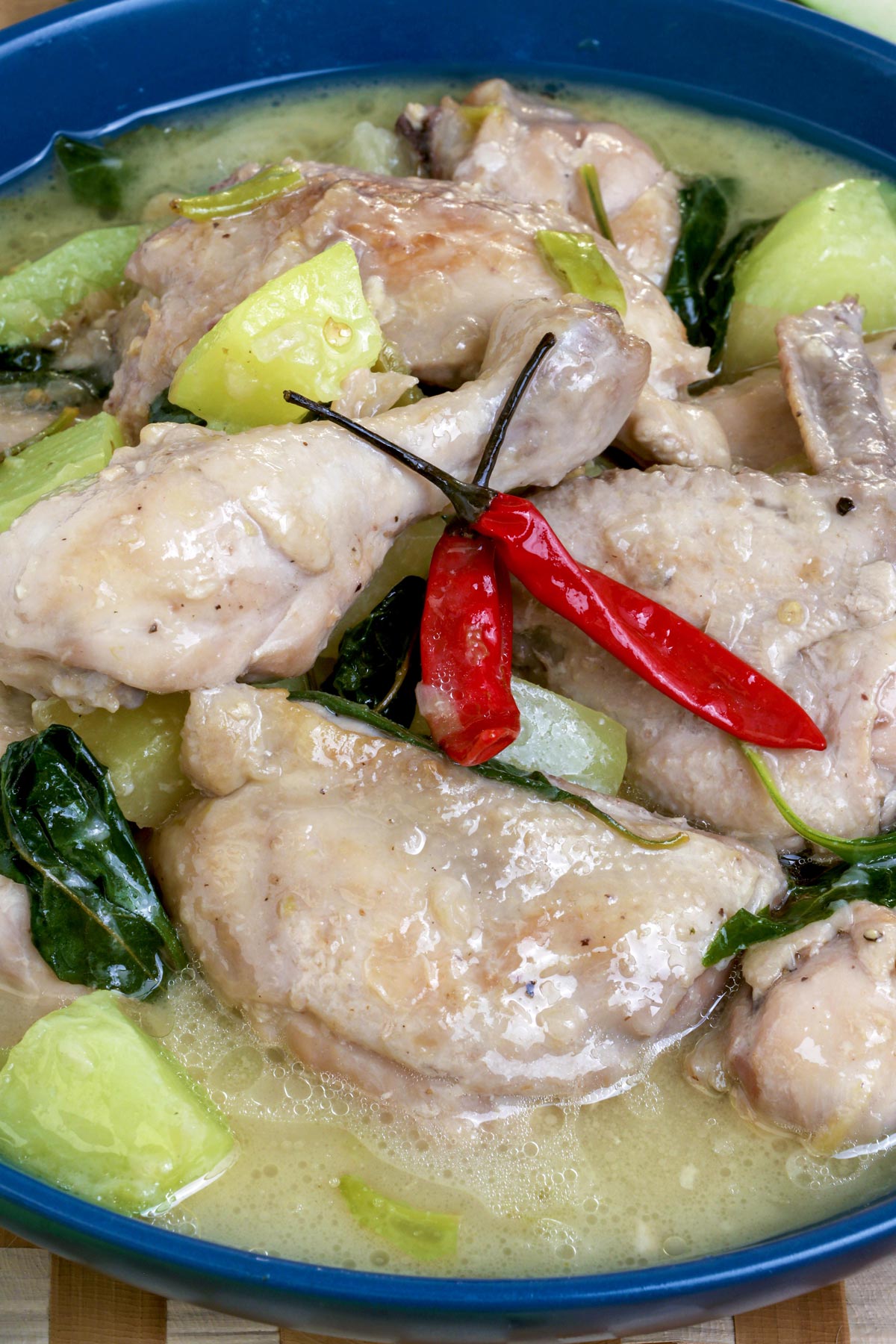 Filipinos love ginataan (food cooked with coconut milk). They have incorporated coconut milk or gata into almost any dish, be it vegetables, fish, seafood, meat, or even dessert! To name a few delicious Filipino dishes that uses gata are Laing, Bicol Express, Sinanglay na Tilapia, Inangit and today's recipe, Halang halang.
What is Halang halang?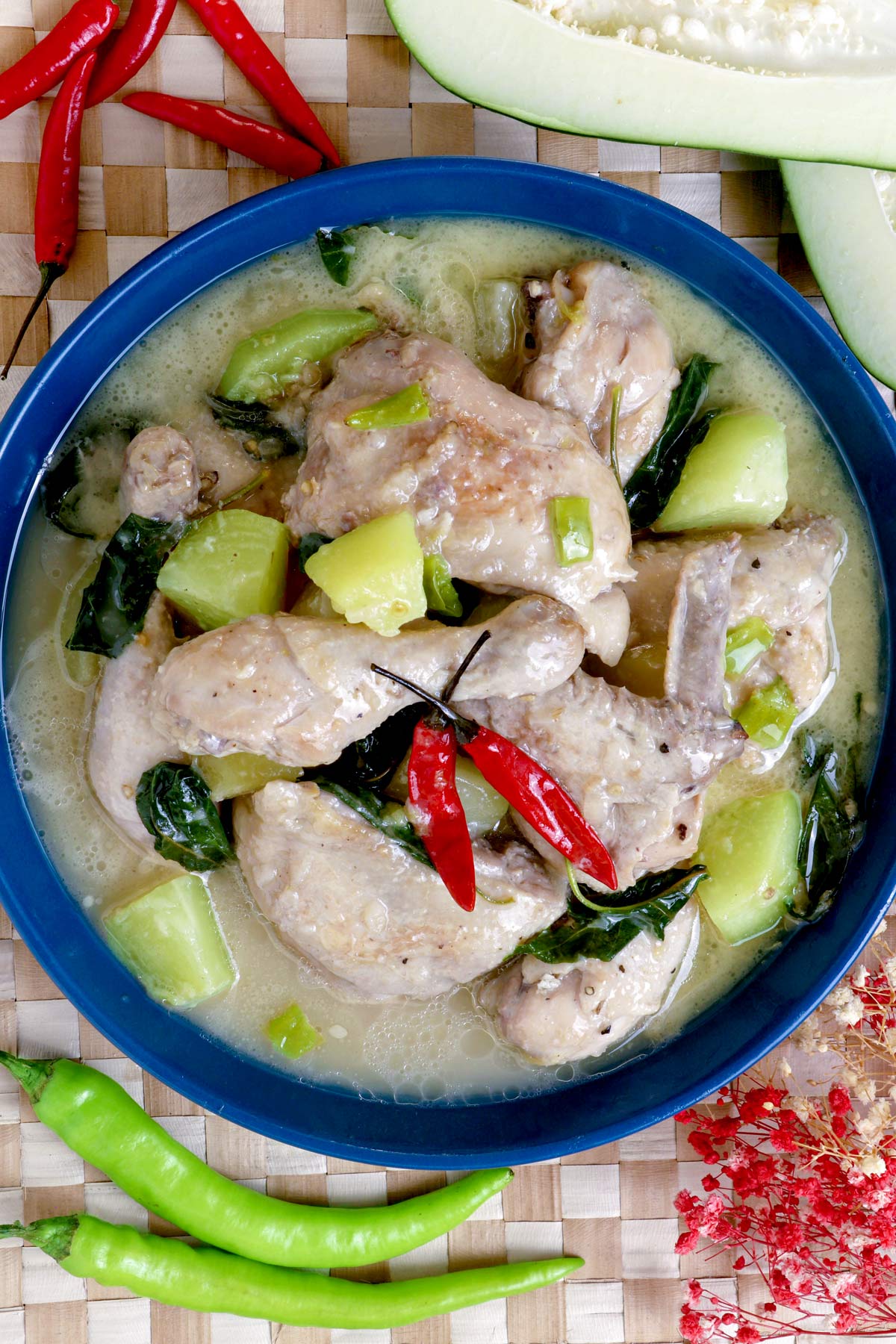 Halang halang is a spicy chicken stew made with coconut milk that originated in the Visayas region but is also popular in some regions of Mindanao. While it might look pretty similar to Chicken Tinola or Binakol, this dish definitely stands on its own with its mouthwatering creamy soup with a spicy kick. This is what the term halang literally stands for—spicy!
It is somewhat a fusion of Chicken Tinola and Ginataang Manok. You will get the ginger and papaya slices of classic tinola and the creaminess of ginataang manok from the coconut milk. The addition of lemongrass and chilies, however, distinguishes this dish, giving it a slightly lemony, zesty, and hot flavor!
Ingredients Needed
Chicken- use thigh, legs, and wings, cut into serving portions, as they are best for soups.
Aromatics- ginger, onion, and garlic as the basics. A stalk of lemongrass (locally known as tanglad) with white part, and green separated for enhanced gingery-lemony flavors.
Green papaya or chayote is normally used. You can skip it but they are good healthy extenders. Papaya sometimes imparts sweetness to the dish, so if you are not into that, use chayote.
Chilies- this recipe uses both long green chilis and bird's eye chili (siling labuyo) to give the soup its signature spicy taste! You can use just one or any that is available.
Chili leaves impart a nice additional flavor and are highly recommended but you can also use malunggay or spinach.
Seasonings- fish sauce adds umami and ground pepper and salt enhances the other aromatics and overall flavors.
neutral oil for sauteing.
Cooking Tips
Bone-in chicken pieces add extra depth of flavor to the soup. But if you prefer to use boneless chicken, you may use chicken breast or thigh fillet.
Make sure to cut the papaya into uniform, medium chunks. This will ensure that it will cook evenly and at the same time.
If you want it less spicy, keep the chilis intact or remove the seeds before adding them. If fresh chilies are unavailable, you may also use chili flakes.
For a creamier Halang halang, try using coconut cream instead, and then just add water as needed until you get your desired consistency.
Serving and Storing
Enjoy Chicken Halang-halang while it's still hot and serve with steamed rice. You may also have fish sauce on the side as a dipping sauce.
Since this is cooked with coconut milk, it may spoil if left out at room temperature for a long time, especially in hot weather. So make sure to place leftovers in a container with a tight-fitting lid and store them in the fridge for up to 3 days.
To reheat, place leftover in a small pot and bring it to a gentle simmer until heated through. You can also warm it in the microwave.
Printable Recipe
Chicken Halang-halang Recipe
Chicken Halang halang is a Visayan soup with a rich and creamy texture and spicy flavor. If you are looking to jazz up your usual chicken soup dishes, this recipe is a definite must-try! Easy, hearty, and bursting with amazing flavors.
Ingredients
2

tablespoons

oil

1

thumb

ginger

sliced and crushed

1

medium

yellow onion

chopped finely

2

cloves

garlic

minced

3

pieces

long green chilis

chopped

2

pounds

chicken

thigh, legs, and wings, cut serving pieces

4

tablespoons

fish sauce

¼

teaspoon

coarse ground pepper

1

stalk

lemongrass or 'tanglad'

white part and green separated

1

cup

water

1

small

green papaya

cut into cubes

1

can

coconut milk

400ml

2

pieces

chili labuyo

uncut

Salt and pepper

as needed

bunch

chili leaves

or malunggay (2 cups)
Instructions
2 tablespoons oil,

1 thumb ginger,

1 medium yellow onion,

2 cloves garlic,

3 pieces long green chilis

In a wide pot, heat oil over medium heat. Add ginger, onion, garlic, and green chilis. Saute until limp and aromatic, about 2-3 minutes.

2 pounds chicken,

4 tablespoons fish sauce,

¼ teaspoon coarse ground pepper,

1 stalk lemongrass or 'tanglad'

Add the chicken, fish sauce, ground pepper, and lemongrass. Stir to coat the chicken with oil. Cover with lid to let the juices from the chicken out. Cook for several minutes until the sides of chicken are a bit browned.

Pour in water, cover and cook for 15 minutes.

1 small green papaya,

1 can coconut milk,

2 pieces chili labuyo

Add the green papaya and mix. Pour in the coconut milk and add the labuyo. Cover again and let it simmer over low heat for 10-15 minutes or until the papaya and chicken are tender. Add water if needed.

Salt and pepper,

bunch chili leaves

Season with salt and pepper if needed. Lastly add the chili leaves and stir. Cook for another 2 minutes then turn off the heat.

Transfer to individual serving bowls and enjoy with rice.
Nutrition
Calories:
420
kcal
Carbohydrates:
9
g
Protein:
19
g
Fat:
35
g
Saturated Fat:
19
g
Polyunsaturated Fat:
5
g
Monounsaturated Fat:
10
g
Trans Fat:
1
g
Cholesterol:
65
mg
Sodium:
1226
mg
Potassium:
492
mg
Fiber:
1
g
Sugar:
4
g
Vitamin A:
418
IU
Vitamin C:
23
mg
Calcium:
47
mg
Iron:
4
mg