These juicy and delicious ground Chicken Balls will bring home the taste of Asian street food right in your kitchen but are yummier and so much healthier! Serve them as snacks or party appetizers with your fave dipping sauce.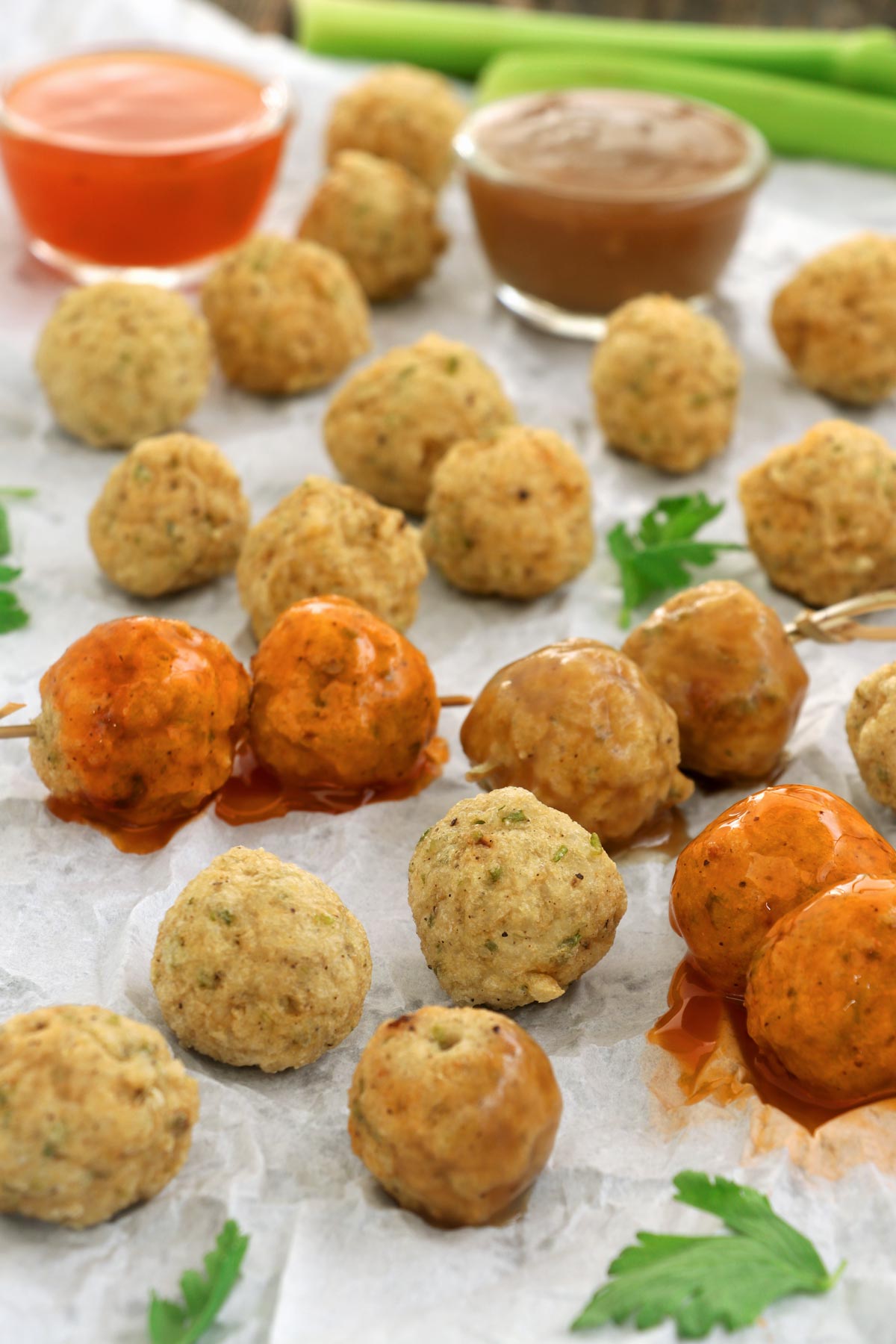 Jump to:
After posting several of my homemade recipes for the most popular street foods in the Philippines like Fish balls, Kwek-kwek, Calamares, Kamote Que, Ukoy, and Turon, I can't help but add one more! Of course, chicken balls instantly came to mind! For who can overlook these tasty round goodies, right? It is a high-protein, family-friendly recipe that everyone will enjoy.
What are Chicken Balls?
There are several varieties of chicken balls depending on which country they originate from. The western version is more likened to chicken nuggets where pieces of chicken are coated with batter or breading and are either fried or baked. This recipe is the Asian version of chicken meatballs. The chicken meat is ground and blended with baking powder, starch, spices, and veggies. They are typically deep-fried before serving.
What chicken part to use?
While you can use the meat of any part of the chicken to make these, I choose to use the chicken breast fillets. They are fleshy and since there are no bones so it is easier and you get to make more balls out of them. But if you have the time to debone or fillet a chicken thigh, then go for it! It simply has more flavor.
How to serve Chicken Balls
You can recreate the setup of street food by placing the balls in bamboo sticks and serving them with various dipping sauces such as sweet chili sauce, spiced vinegar, and my special Manong sauce! These chicken balls can also be added to your soups and hotpots, or as toppings to various other Asian dishes.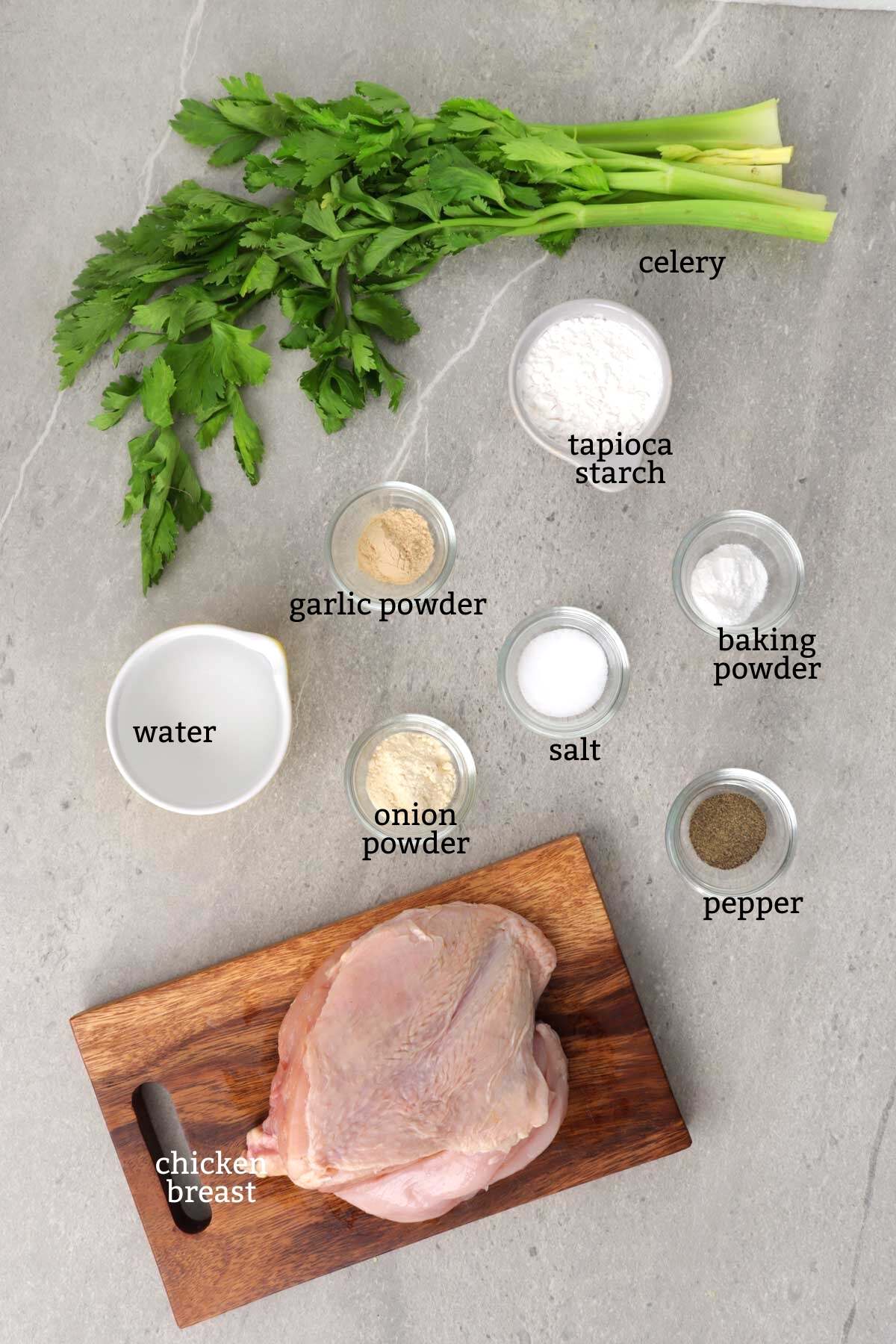 Foxy Tips when making Chicken Balls
Make sure to blend the ingredients together well until everything is well incorporated and gluten has properly formed. Otherwise, the balls will fall apart when paced in the warm water.
Adding ice water gradually is important to keep the mixture cold at all times. This will help the mixture set properly and make the balls springy!
Make sure to grease you hands with oil when shaping to prevent it sticking to your skin. You can also oil the spoon.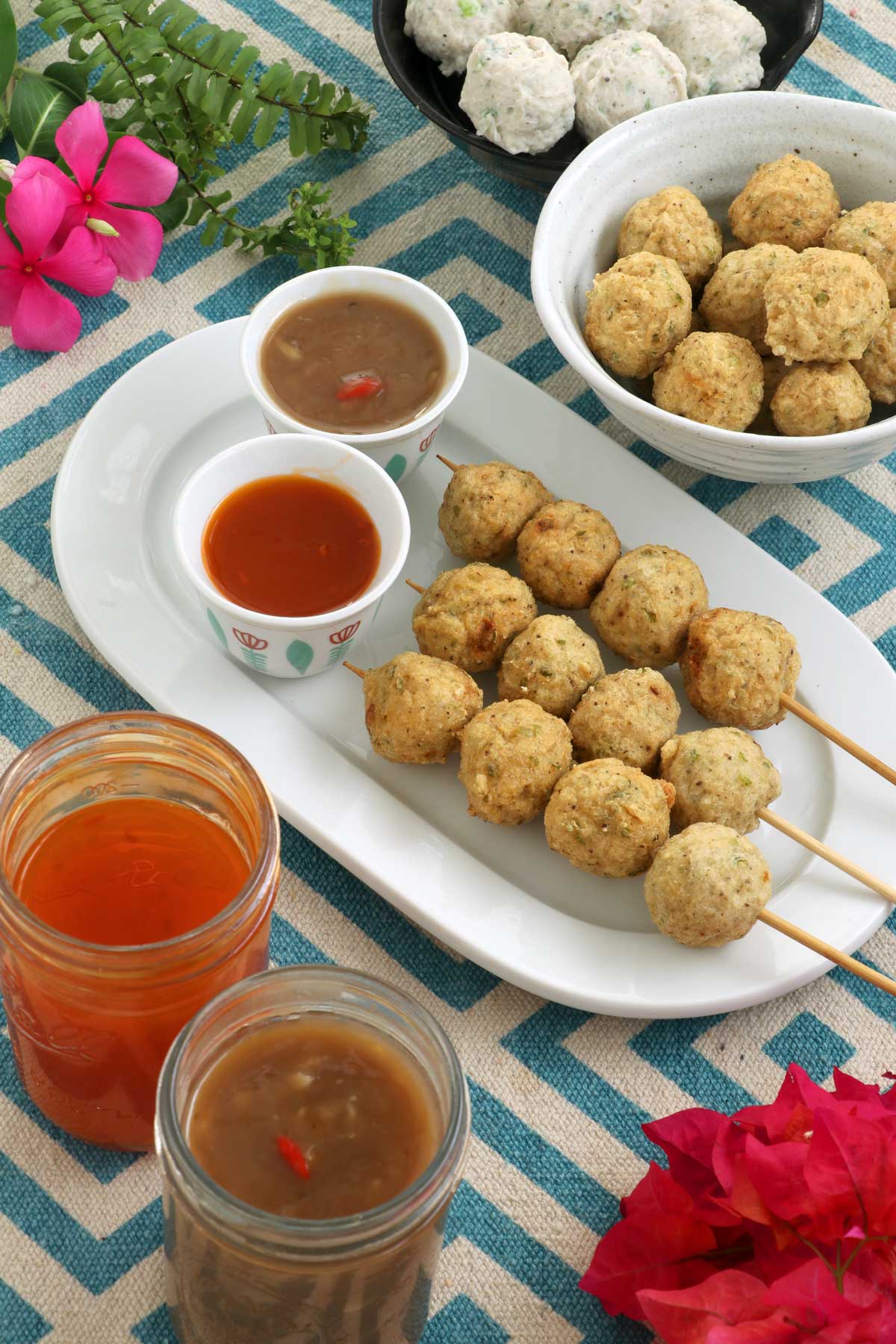 How to make it without a food processor?
I know that not everyone owns a blender r food processor, so in this case, I recommend buying ground chicken already. In some supermarkets or meat shops, you can ask them to have it ground twice so it is really fine.
Once the rest of the ingredients are added to the ground chicken, you will need to use your hand to mash the mixture until it turns into a thick, smooth paste.
Storing notes
You can make these ahead in a big batch and store them for months. Just thaw what you need whenever you like.
After pre-cooking the balls in hot water, dunk them in cold water to cool down. Transfer them to a colander or rack to dry them out a bit before packing. Place them in air-tight containers or sealable plastic bags. They can stay refrigerated for 5-7 days. For longer shelf life, it is best to keep it in the freezer. Frozen chicken
balls will last for 3 to 4 months.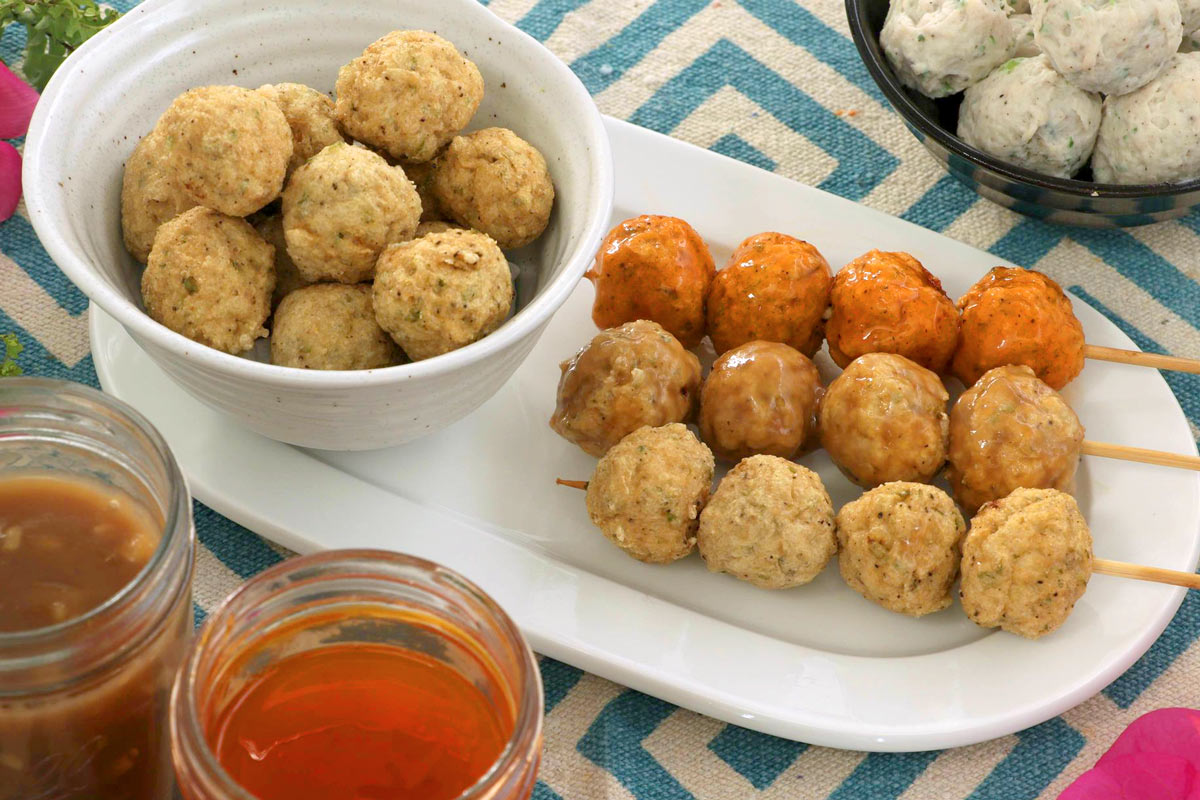 Printable Recipe
Chicken Balls
These juicy and delicious ground Chicken Balls will bring home the taste of our beloved Asian street food right in your kitchen but are yummier and so much healthier! Serve them as snacks or party appetizers with your fave dipping sauce.
Ingredients
500

grams

chicken breast

cut into cubes (alternatively use ground chicken)

1

teaspoon

garlic powder

1

tablespoon

onion powder

2

teaspoon

salt

1

teaspoon

fine ground pepper

1

teaspoon

baking powder

4

tablespoon

tapioca or cornstarch

½

cup

water

¼

cup

celery or parsley

very finely chopped

Water for boiling

Cold water in a large bowl

Oil for frying
Instructions
Cut chicken breast into small pieces and place in a food processor or blender.

Add onion powder, garlic powder, salt, ground pepper, starch, baking powder. Pulse for a couple of minutes gradually adding the ice water in between until it gets a homogeneous texture. Add About 2-3 minutes depending on the speed of the processor. Add the chopped celery and pulse for another 20 seconds. Transfer content to a bowl.

Warm 6-8 cups of water in a large pot over low heat. Never let the water boil at all times. At the same time, prepare a large bowl with cold water.

Shaping. Lightly grease one hand with oil. Then scoop a fistful of the mixture. Create a small round opening with your thumb and index finger. Then gently squeeze the mixture to push it up and out through the opening to make a small ball. Using a spoon, scoop the ball into the pot of hot water. Do this to the rest of the mixture in batches making sure that the pot is not too full so the balls can float to the top.

Once the balls float let them cook for another 2-3 minutes then scoop them using a strainer and transfer them to the bowl with cold water. Once they have cooled down transfer them to a colander to drain excess water.
Notes
Store in ziplocks to freeze or you can fry them and serve with fish ball sauce or sweet chili sauce
Nutrition
Calories:
741
kcal
Carbohydrates:
41
g
Protein:
108
g
Fat:
13
g
Saturated Fat:
3
g
Polyunsaturated Fat:
2
g
Monounsaturated Fat:
4
g
Trans Fat:
1
g
Cholesterol:
320
mg
Sodium:
5340
mg
Potassium:
2464
mg
Fiber:
3
g
Sugar:
1
g
Vitamin A:
281
IU
Vitamin C:
9
mg
Calcium:
257
mg
Iron:
3
mg
Try these Chicken dishes too!