This easy homemade Carioca recipe uses only 4 simple ingredients and is ready in just minutes. These sweet and chewy fried glutinous rice balls are popular Filipino street snacks that are inexpensive but oh-so-yummy!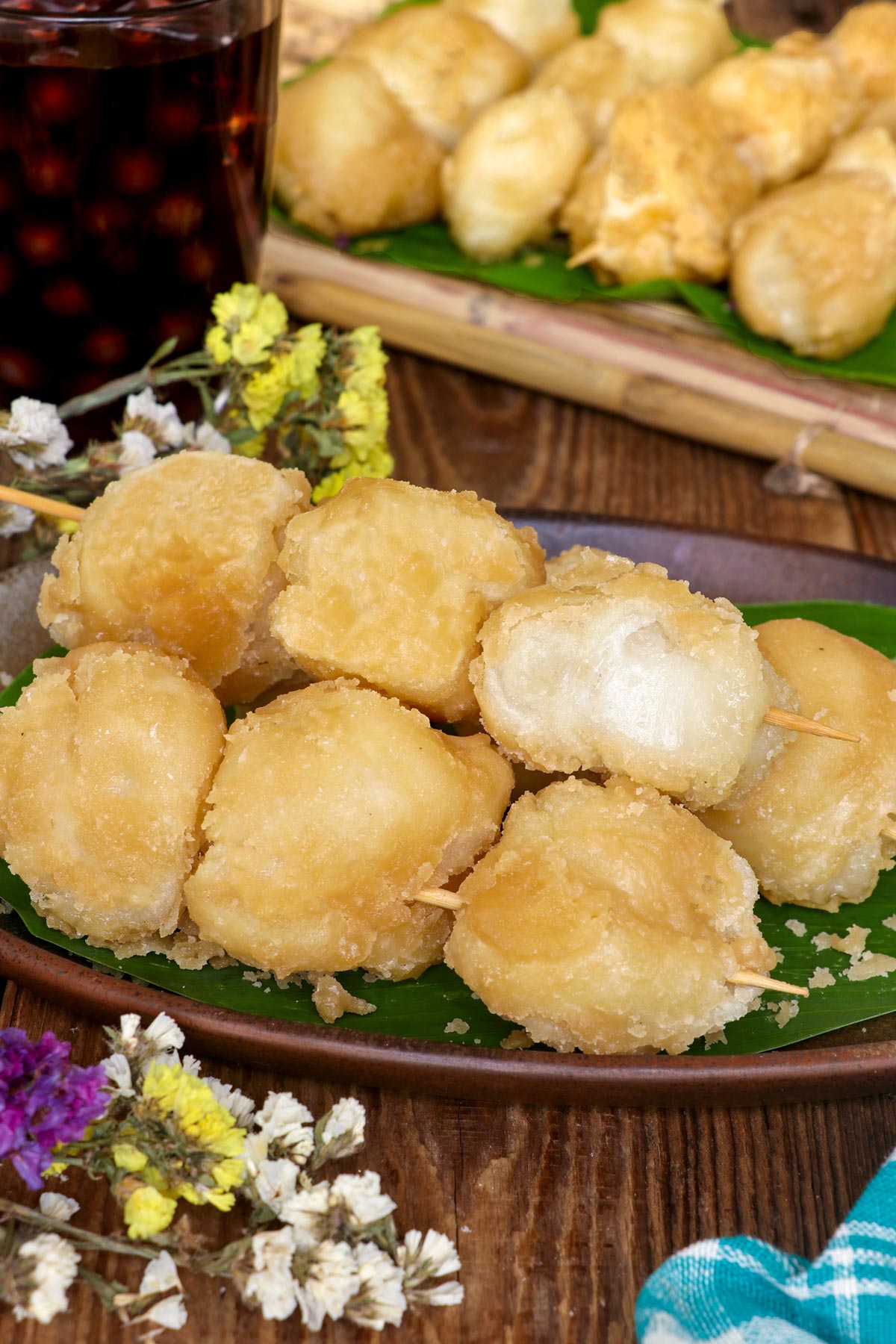 Filipinos are really fond of delicacies made from glutinous rice like Sapin-sapin, Kalamay Lansong, Espasol, Palitaw, and many more! And I can say that one of the simplest and easiest to make among these kakanins would be carioca. However, as simple as they are to make, I can honestly say that these are absolutely delicious—especially when they are still warm. I swear you'll never stop with just one!
What is Carioca?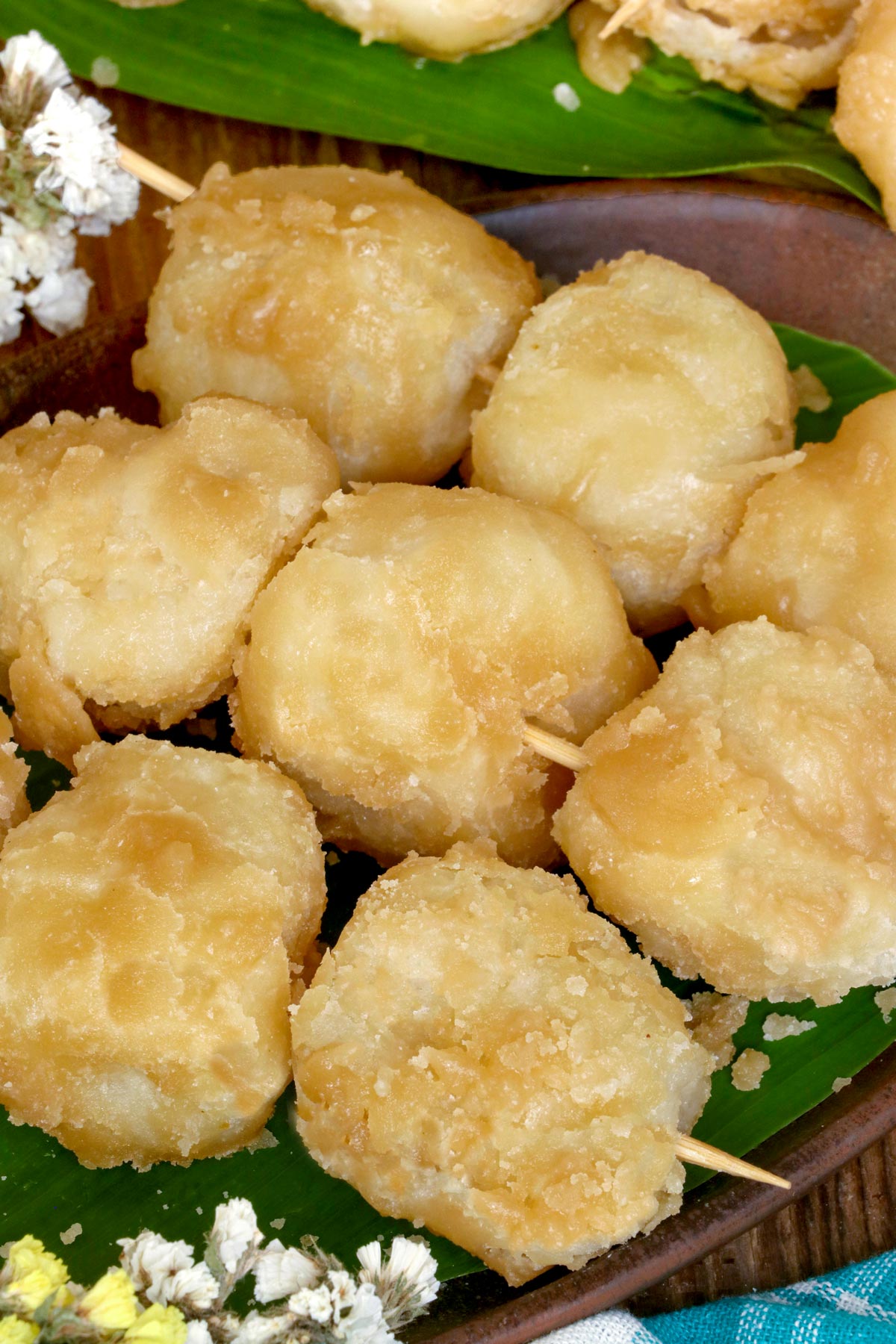 Karioka, cascaron, pinakufu, paborot, or tinudok- these are probably just a few other names this recipe goes by, but I have always known it as carioca. It is basically glutinous rice flour and water formed into balls, deep-fried then tossed in a sugar syrup. The sugar syrup will then dry out as it cools down and form a brittle sweet shell. They are usually skewered before serving, to make it easier to eat. They are sold by street vendors all over the country, usually found next to other skewered sweet treats like banana cue and kamote cue.
More Glutinous Rice Delicacies
Ingredients Needed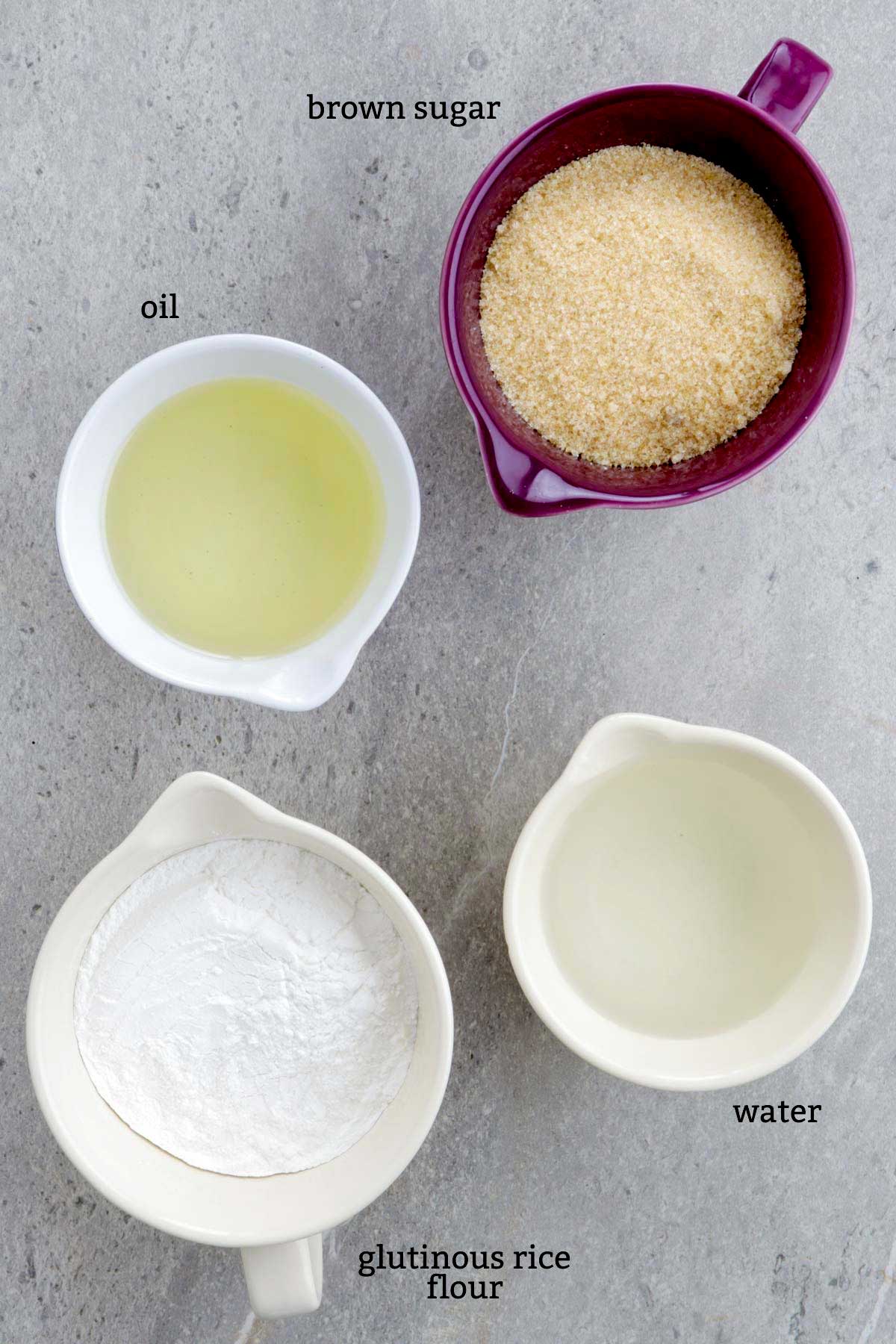 Glutinous rice flour- also called sticky rice flour. You can find this on the baking aisles of most grocery stores. This is different from plain rice flour, so make sure you find the right type when buying. If unavailable, you can grind your glutinous rice into a fine powder.
Sugar- you can use white or brown sugar for this recipe.
Oil- make sure to use a neutral, high smoke point like canola or sunflower oil.
Water
Tips for making Carioca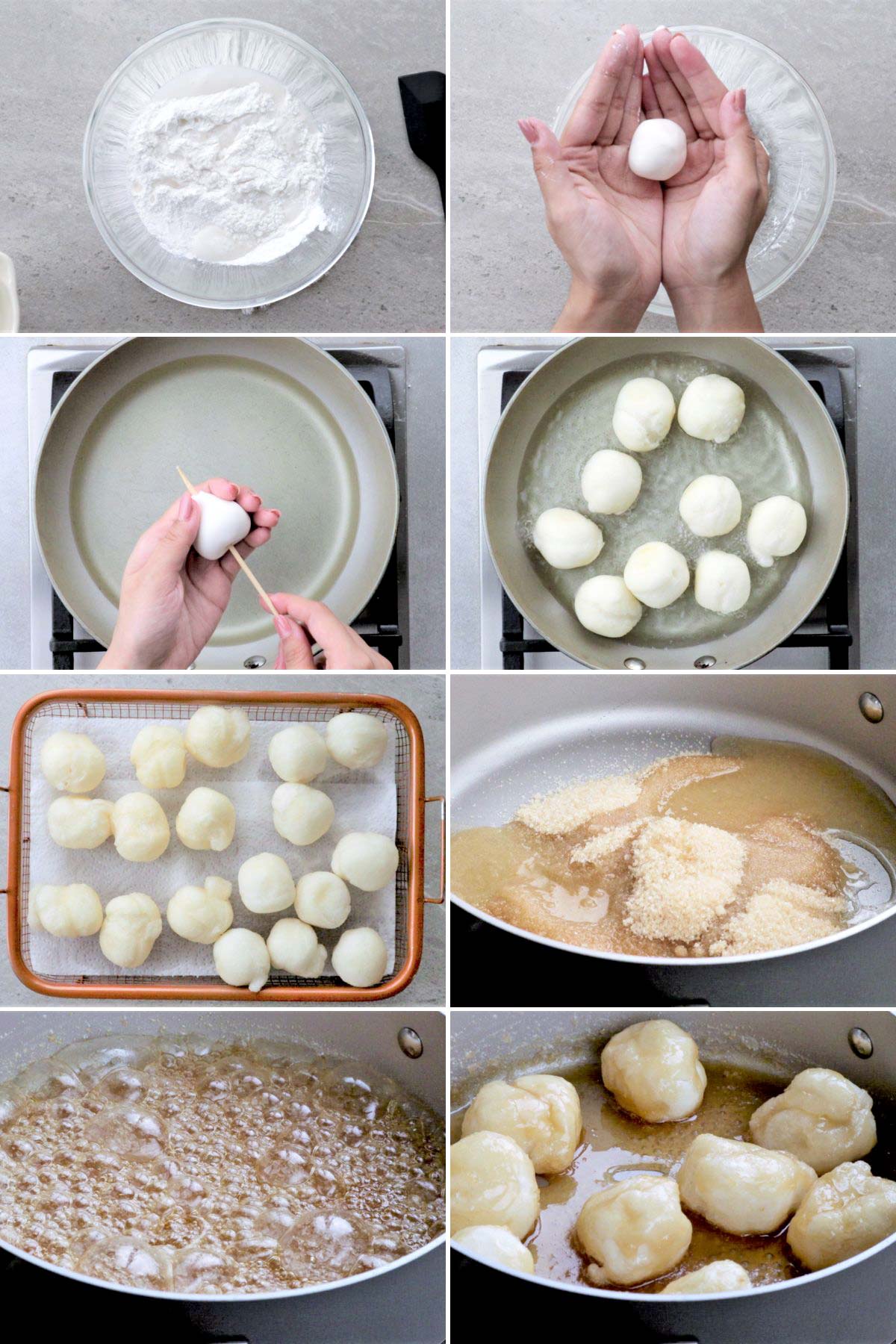 Poke a hole through the balls using a skewer before frying them. This will prevent them from bursting open during the frying process. You might still see some splits on the surface, but that is fine.
If you are using a small pan, it is better to cook in batches. You will have more room to move them about and prevent overcooking.
Turn the carioca balls occasionally when frying to ensure even cooking and maintain their spherical shape.
Once the balls have turned light golden and doubled in size, you can remove them from the hot oil. Make sure not to overcook them, as they will become dry and too tough to chew.
Place the deep-fried sticky rice balls in a cooling rack to drain excess oil before tossing them back into the pan with the sugar syrup.
Use low heat when cooking the sugar syrup because it can quickly burn and taste bitter.
Give the sugar syrup a richer taste by adding butter, or use coconut milk instead of water.
Serving and Storing
Carioca balls are best eaten freshly made and while still warm. Perfect as an afternoon snack paired with a hot cup of chocolate, coffee, or tea.
You may make and fry the balls ahead of time and just coat them with the sugar syrup before serving.
You may leave the carioca at room temperature for a day or two. However, after a while, especially in warm weather, the sugar coating may start to melt.
You may store them in the refrigerator for about 2-3 days, but the texture of the carioca will become tough because of the cold temperature.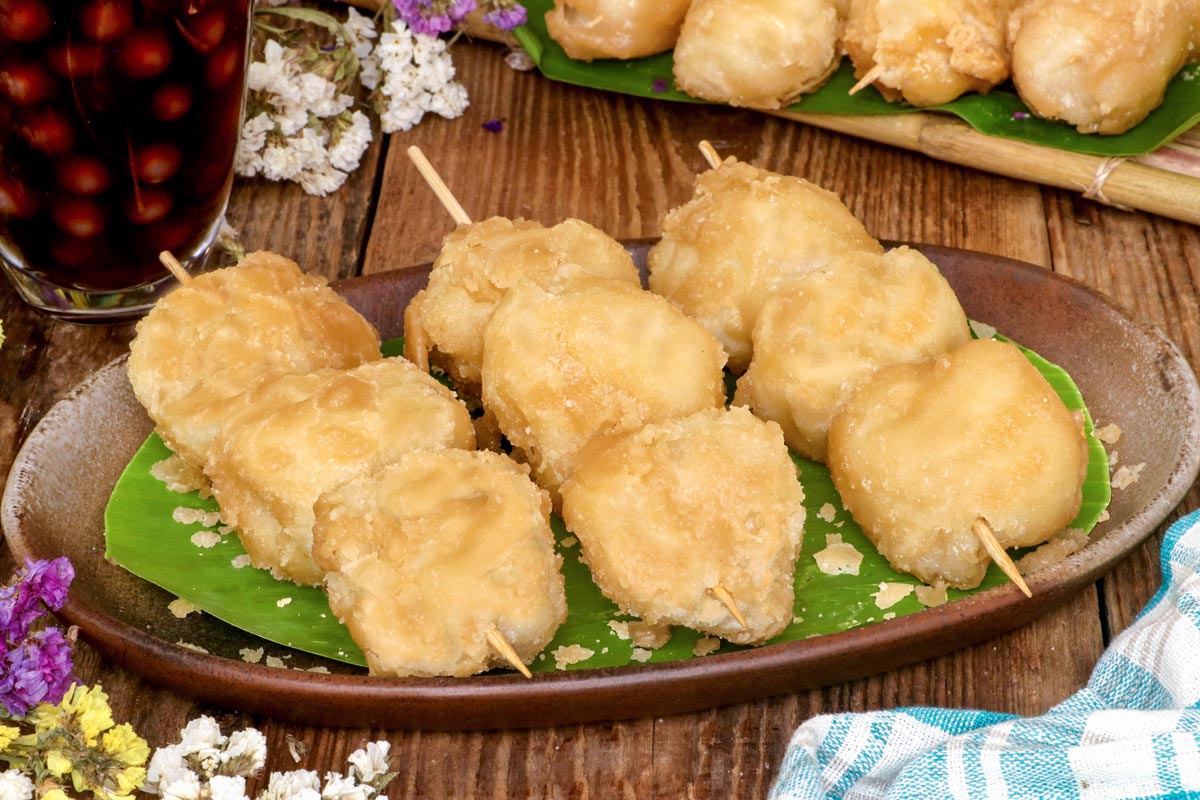 Printable Recipe
Carioca Recipe
This easy homemade Carioca recipe uses only 4 simple ingredients and can be cooked in just minutes! These sweet and chewy glutinous rice balls coated with sugar syrup are popular Filipino street snacks usually sold on skewers.
Instructions
1 cup glutinous rice flour,

½ cup water

Combine glutinous rice flour and water in a bowl and mix until a dough forms.

Get a tablespoon of the dough and roll it into a ball. Do the same for the rest of the dough. Poke holes through them to prevent them from breaking/bursting too much when fried.

Pour oil into a pan/skillet and heat over medium heat.

Fry the balls in batches, if needed. Turn them from time to time for even cooking. Cook until they are light gold and double in size.

Remove the carioca balls from the hot oil and transfer them to a cooling rack lined with paper towels.

Make the caramel syrup by combining the sugar and water in a saucepan. Stir until sugar is dissolved . Cook over medium-low heat until bubbly.

Turn the heat off and add the carioca balls to the pan. Gently stir to make sure the balls are fully coated with syrup.

Skewer the rice balls into bamboo sticks and serve!
Nutrition
Calories:
110
kcal
Carbohydrates:
28
g
Protein:
0.4
g
Fat:
0.1
g
Saturated Fat:
0.01
g
Polyunsaturated Fat:
0.01
g
Monounsaturated Fat:
0.01
g
Sodium:
2
mg
Potassium:
3
mg
Fiber:
0.2
g
Sugar:
23
g
Calcium:
1
mg
Iron:
0.04
mg
Frequently Asked Questions
Can I add coconut shreds?
Sure, if you want to add more texture and a nutty flavor to the Carioca balls, you certainly can add these to the recipe.
Is this recipe gluten-free?
Absolutely! Glutinous rice flour does not contain gluten, so this Filipino snack is allowed on a gluten-free diet.
Why are my carioca balls still raw inside?
There may be two things why this happened, the balls are too big or the oil is too hot. The dough balls should be around an inch big (I used a tablespoon). They will expand as they cook.
Why are they dry?
It can be because the dough did not have enough liquid, to begin with. Remember just like rice, the water ratio may vary. Just adjust the amount of water as needed to achieve the correct texture. The dough should be pliable but not watery.