Mouth-watering coconut juice mixed with milk, gulaman, tapioca, and coconut meat- Buko Salad Drink is so refreshing and invigorating! A pitcher of this sweet and milky drink is a perfect way to quench your thirst on a hot and humid day!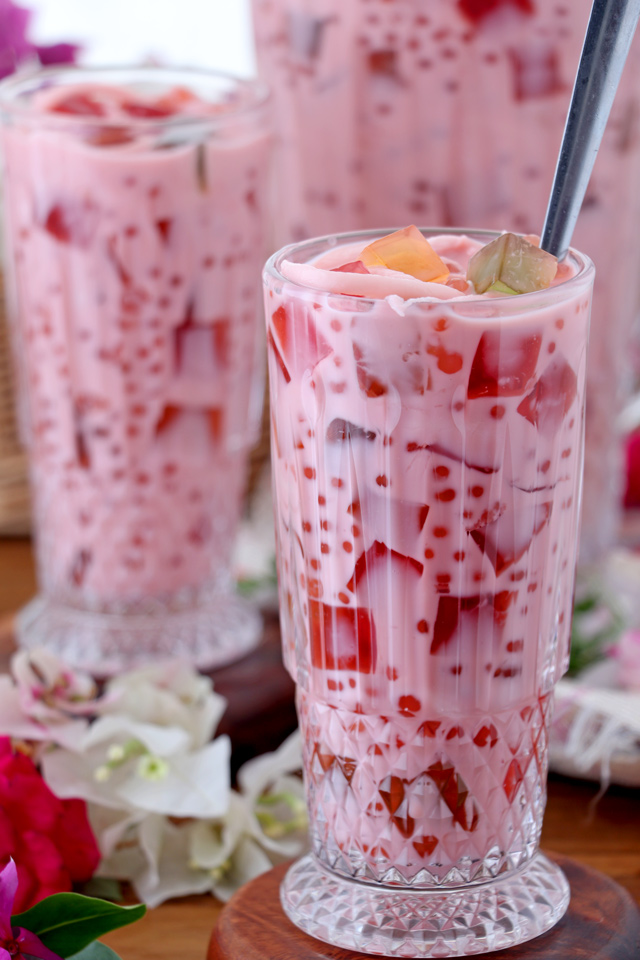 Before pearl coolers and milk teas came here in the Philippines, the most popular refreshment that we had is called "samalamig" or "palamig". These are chilled beverages sold by street vendors that are usually displayed in clear gallons lined up in a range of flavors.
Majority of the palamig contains gulaman, sago, and other jellies. But chilled fruit juices like melon, mango, avocado, and coconut are also very common. If you happen to pass by a samalamig stand, you will surely be tempted with the sight of the colorful containers bursting with flavors in front of you.
I myself, can't help but enjoy some when we are out in the market and especially on a hot and sunny day. It instantly refreshes and is very affordable too! My favorite, since childhood up to this day, is this Buko Salad drink. It can easily get your attention with its usually pink color. It is also loaded with tapioca pearls, a medley of jelly cubes, and coconut strips.
Foxy Tips in Cooking Tapioca and Gulaman for Your Buko Salad Drink
Do not soak your tapioca pearls in water. I boil tapioca directly without soaking it in water first. The reason behind this is because tapioca consists mainly of starch, so soaking them in water will dissolve it and it will lose its form.
Since uncooked pearls are very starchy, use a lot of water when boiling them. Otherwise, you will have very sticky and dry pearls versus the chewy and elastic result that you want. So check your pearls every now and then to make sure it does not dry up.
Also remember that when cooking your gulaman, the amount to be used depends on the brand. So I always check on the instructions on the box beforehand.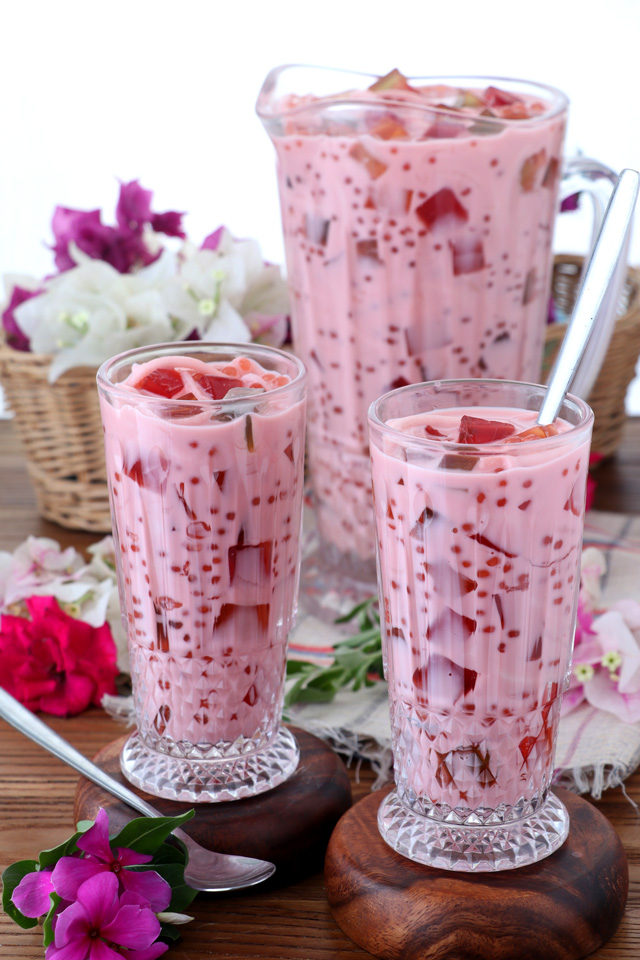 Pearls and Jellies 101- What is the difference?
I have been getting some questions on the difference between tapioca pearls and sago as well as gulaman and gelatin. And whether or not they can be used as a substitute for the other.
Tapioca versus Sago Pearls- the main difference between the two is their content origin. Tapioca is made from cassava while Sago is made from palm. They are both very starchy and can be cooked in similar ways. For this Buko Salad Drink recipe, yes, these can be interchanged depending on what you prefer!
Gulaman versus Gelatin- while these two are often used synonymously, there is a distinct difference between them- the source. Gulaman is made from a type of seaweed while gelatin is protein-based. If you are looking for a vegan option, gulaman is the one for you.
If you are looking for other thirst quenchers, I recommend some of my favorites below: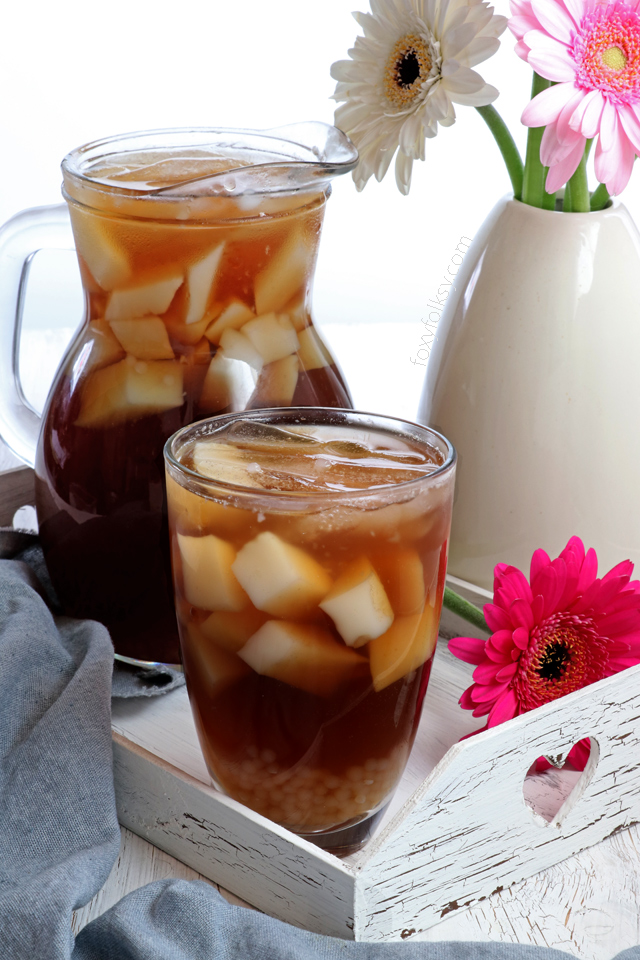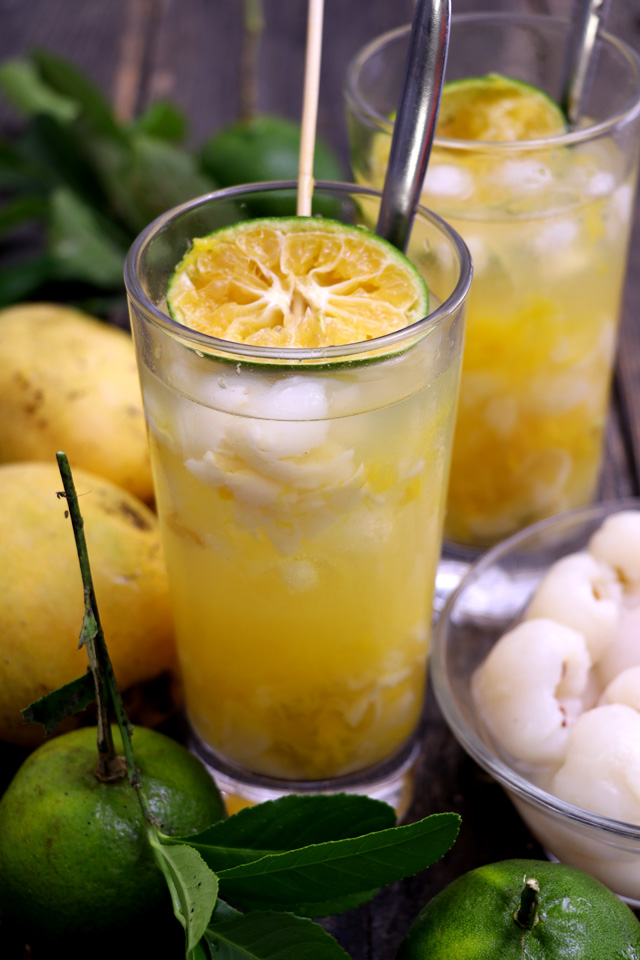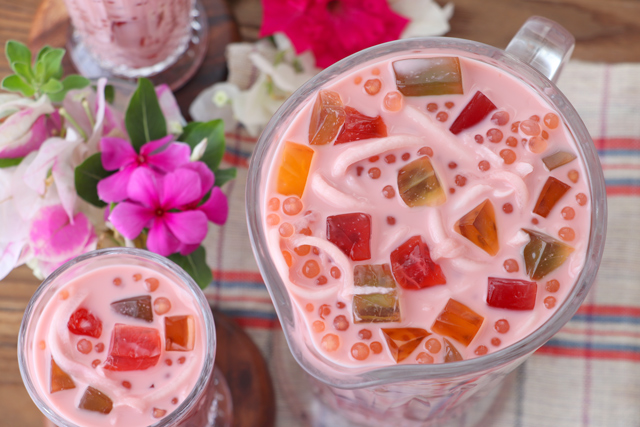 Printable Recipe
Buko Salad Drink
Mouth-watering coconut juice mixed with milk, gulaman, tapioca, and shredded coconut meat- this Buko Salad Drink is so refreshing and invigorating!
Ingredients
2

cups

coconut juice

370

ml

evaporated milk

300

ml

condensed milk

1

cup

coconut meat strips

¼

teaspoon

red food color
GULAMAN
1

tablespoon

red unflavored jelly powder

1

tablespoon

green unflavored jelly powder

1

tablespoon

yellow unflavored jelly powder

6

cups

water

6

tablespoons

white sugar
TAPIOCA PEARLS
½

cup

uncooked Tapioca pearls

4

cups

water
Instructions
GULAMAN
Prepare each color. Remember to follow the jelly powder to the liquid ratio on the package as they vary depending on the brand.

Per color, sprinkle the jelly powder over 2 cups of water. Add 2 tablespoons of sugar. Stir until dissolve.

Bring the mixture to a boil over low heat. Turn off the heat once it starts boiling and pour the gelatin mixture into seperate molds and refrigerate to set.

Once they have set, cut into small cubes and set aside.
Tapioca Peals
Boil 4 cups of water then add the tapioca pearls. Let it cook for 10 minutes or until the pearls are completely translucent. Drain and set aside
BUKO SALAD DRINK ASSEMBLY
Pour the evaporated milk and condensed milk in a bowl and mix. Stir in the coconut juice until well blended.

Add the coconut strips, tapioca pearls and gulaman cubes. Mix well.

Drop ¼ teaspoon of red food color in the mixture and stir until it turns into an even pink color.

Transfer in a pitcher and add ice cubes or refrigerate.
Nutrition
Calories:
183
kcal
Carbohydrates:
29
g
Protein:
5
g
Fat:
6
g
Saturated Fat:
3
g
Cholesterol:
21
mg
Sodium:
140
mg
Potassium:
343
mg
Fiber:
1
g
Sugar:
28
g
Vitamin A:
169
IU
Vitamin C:
3
mg
Calcium:
200
mg
Iron:
1
mg