Bukayo is a classic Filipino dessert/sweet that is delightfully moreish. This classic treat is made of three simple ingredients and is extremely easy to make at home.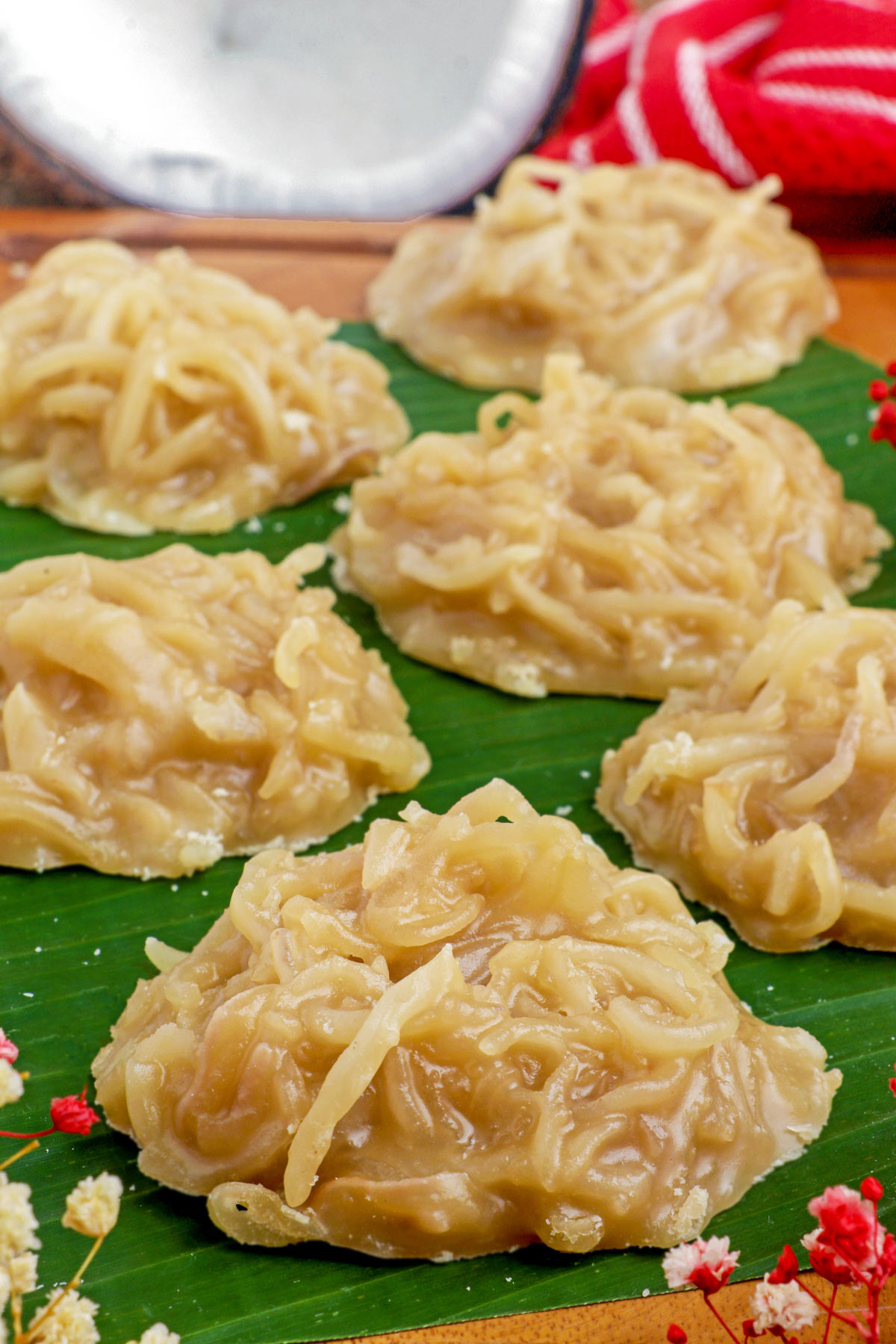 There are so many native sweets that take me on a trip down memory lane, like Peanut Brittle, Lengua de Gato, Pastillas de Leche, and this candied coconut treat, Bukayo. I remember buying them as kids in 'sari-sari' store (the original Filipino convenience store) near us normally stored in large glass jars. My siblings and I would immediately munch on these candies, and they'd be gone in no time! I haven't had much chance to enjoy Bukayo lately, so I decided to make them myself! I am rather pleased with how they turned out.
What Is Bukayo?
Bukayo is a traditional sweetmeat in the Philippines made from young coconut meat and sugar. It is believed to have originated in Lingayen, Pangasinan but is well-known throughout the Philippines and has different versions and names depending on the province. It is also called bucaio, bucayo, bukhayo, pakumbo, or bocarillo.
This Filipino coconut candy is traditionally created by simmering young coconut strings in caramelized syrup made from coconut water and 'panutsa de bao'/'sinakob' which is raw sugar. The mixture is divided and shaped into round patties or balls. They are left to dry until they harden before being served or eaten. The result is super sweet and mildly chewy candies that are just addicting! Aside from being a snack or dessert, Bukayo may also be used as a filling for Pan de Coco if kept soft and spreadable.
Ingredients You'll Need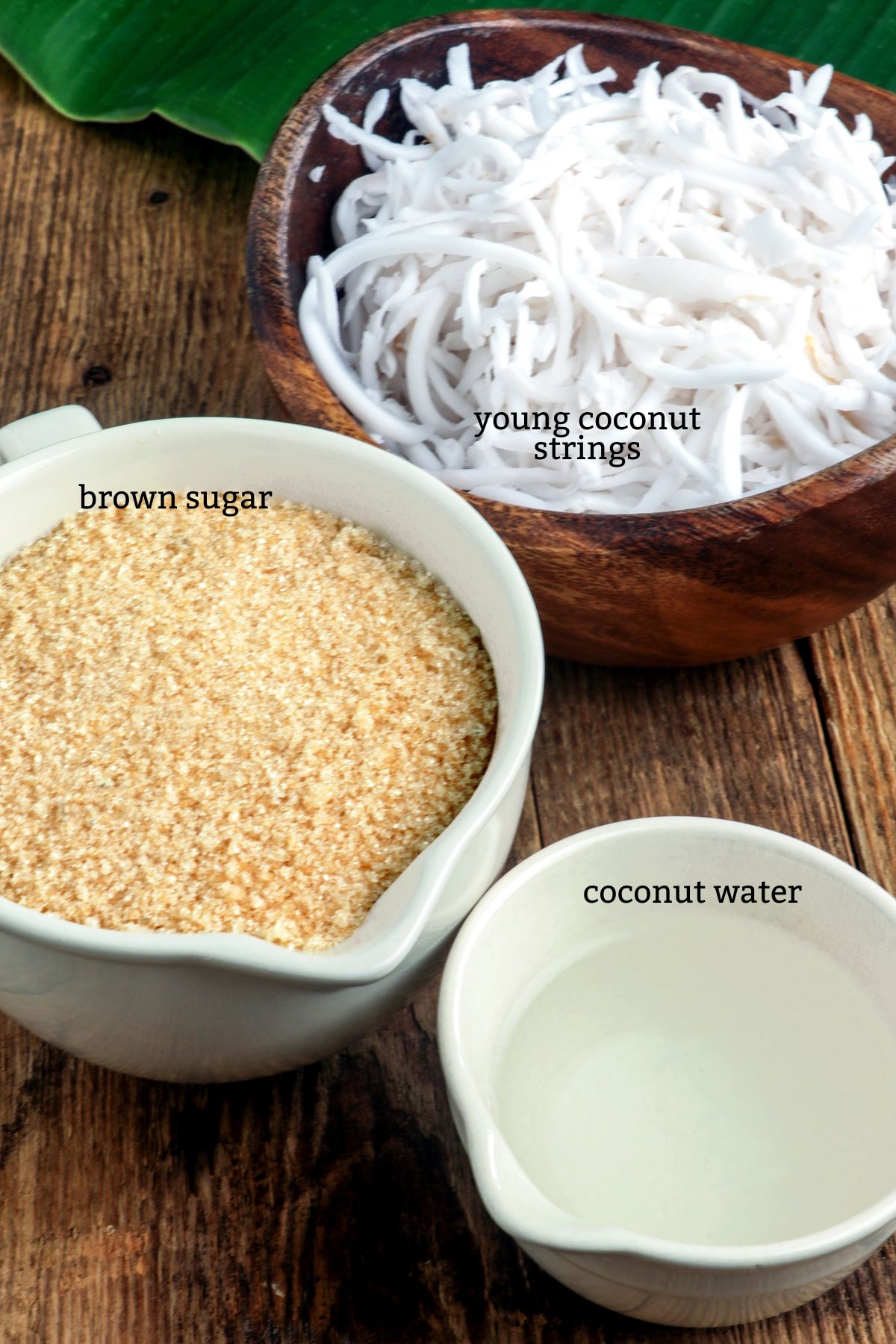 Coconut Strings- I used mature coconut meat for this recipe. However, some also use Macapuno or coconut sport, which has a softer, gelatinous texture and transparent appearance.
Coconut Water- this gives the Bukayo more of a coconutty flavor! However, plain water will do if you do not have this.
Brown Sugar- I used light brown sugar to get that light-golden finish I wanted. But feel free to use dark brown or muscovado sugar if you prefer your candies to have a darker color.
Bukayo Variations
I wanted to keep this recipe as simple as possible. However, adding a few more ingredients can always boost the flavor and texture of your Bukayo!
Pandan leaves- add this as you melt the sugar in coconut water, then remove it before adding the coconut strings. It will add a pleasant taste and aroma to your finished product.
Coarse Sea Salt- sprinkle a bit on top after shaping your Bukayo. This will give them pops of saltiness that will balance all that sweetness nicely.
Vanilla Extract- same as the pandan leaves, this will further enhance the flavor of the Bukayo. Vanilla flavor jives really well with the sweet caramel taste of this recipe.
Sesame seeds- Sprinkling a bit of this on the mixture will give it a more oriental and nutty taste!
Cooking Tips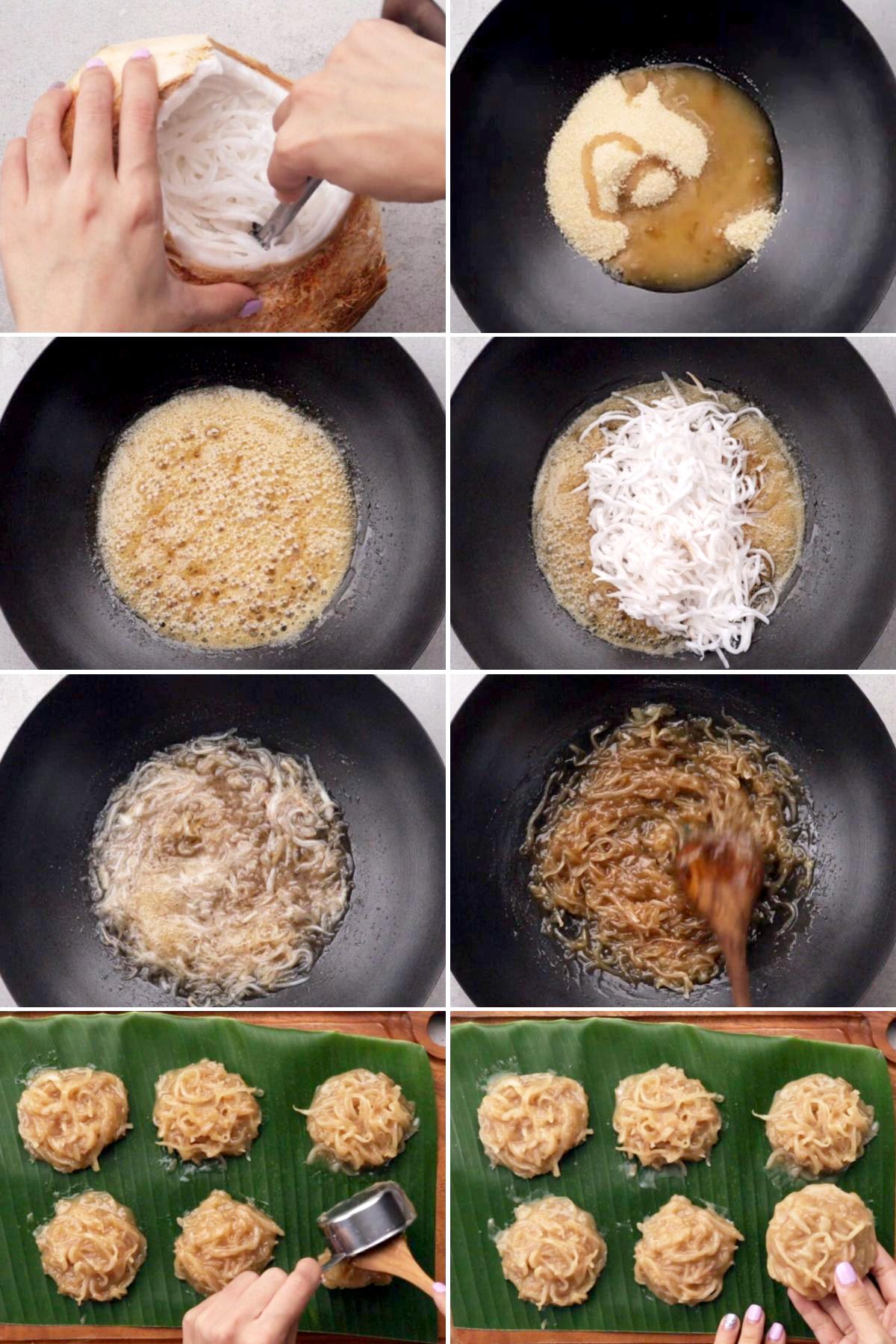 Use a non-stick wok or pan, as the syrup can get very sticky. It will also make cleaning up less stressful for you.
Use low heat when melting the sugar, and tilt and swirl the pan in a circular motion from time to time to make sure it does not burn.
The mixture will bubble up as it cooks, so be careful and use a long wooden spoon if you have one.
Simmer until the coconut strings turn golden, and the syrup thickens even more.
If your caramel does not thicken when stirring once cooled (recipe step# 4), it is not cooked enough. Simply return it to the pot, and continue to cook for a little longer.
If you do not have a banana leaf, you may use parchment paper instead.
More Delightful Filipino Sweets
How to Store
Place your Bukayo in an airtight container together or wrapped individually. This candied coconut is sensitive to moisture, so keep it in a dry, cool area. If stored properly, it should last up to a week.
Printable Recipe
Bukayo Recipe
Bukayo is a traditional sweetmeat in the Philippines made from young coconut strings and sugar. It This classic treat is made of three simple ingredients and is super easy to make at home.
Ingredients
1 ½

cups

brown sugar

¼

cup

coconut water

or just plain water

2

cups

coconut strings

from young coconut
Instructions
1 ½ cups brown sugar,

¼ cup coconut water

In a non-stick pan over low heat, dissolve brown sugar in coconut water until it turns into a thick syrup.

Once the syrup has thickened, add the coconut strings and mix until they are fully coated. Let it simmer until the syrup is reduced and thickens further.

Once the syrup has thickened, remove the pan from heat and place it on the kitchen counter with a trivet or hot holder underneath.

Wait until the syrup has stopped bubbling and has cooled down a bit. Then stir the mixture continuously until the syrup turns opaque as it crystallizes and becomes thick and sticky.

Scoop a portion of the mixture and place it on top of a banana leaf. Form into a flat round disk and do the same with the remaining mixture.

Let it cool down completely and harden and then remove them from the banana leaves gently.

Transfer to a plate to serve or to an airtight jar for storage.
Nutrition
Calories:
323
kcal
Carbohydrates:
62
g
Protein:
1
g
Fat:
9
g
Saturated Fat:
8
g
Polyunsaturated Fat:
0.1
g
Monounsaturated Fat:
0.4
g
Sodium:
33
mg
Potassium:
204
mg
Fiber:
3
g
Sugar:
58
g
Vitamin C:
1
mg
Calcium:
55
mg
Iron:
1
mg