Brazo de Mercedes is another delicious Filipino dessert that is made of soft, pillowy meringue with rich custard filling rolled into a log, jelly-roll fashion. Learn the secret to get that perfect meringue with a super fine foamy texture that easily melts in your mouth like magic! It is also so easy it can be done in about 30 minutes!
The name Brazo de Mercedes is Spanish that translates to Mercedes' arm or to be more specific, arm of our Lady of Mercy and its origin dates way back when the Philippines was still a Spanish colony but the dessert itself is uniquely Filipino and although it is likened to the Spanish Brazo de Gitano (gypsy's arm) but unlike it, Brazo de Mercedes does not use flour nor adds egg yolks in making the cake. The yolks are used to make the custard filling. 
Get ready to be surprised when you take your first bite of soft and foamy meringue that dissolves the instant it enters your mouth, it is like eating a piece of heaven literally...or at least a like piece of cloud.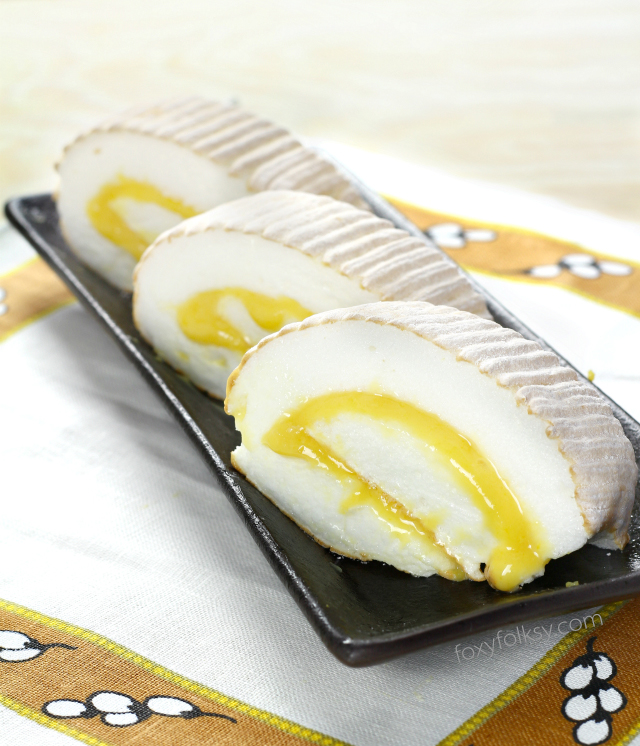 This is not the first time I made this delectable dessert, the one you see here is my third attempt. My first was 2 years ago for a friend's birthday party and I could say it was a success based on how fast it was gone.
So yesterday I decided it is time to share this beautiful and yummy dessert on my blog.
I still have the paper where I wrote down the ingredients from my successful first try but apparently, I was too lazy to write the instructions down.
I thought to myself, no big deal I would just wing it from memory and what could be so difficult in making a meringue, right???
I was so wrong and that is why this here is my third attempt, the second was a total fail that I had to throw it away. The meringue was fine before I put it in the oven then suddenly, halfway through the baking time it was deflated from 1 inch thick to about half a centimeter when it was done! What did I do wrong? 
Tips on how to make the perfect meringue
So feeling shocked and disappointed with my meringue, I made a quick research and found out that it is very likely that it was due to the high-speed whipping of the egg whites that I did on that batch that caused the problem.
Beating the whites too fast will cause big and small bubbles to form and the big bubbles will burst while baking causing the meringue to deflate.
I made meringue several times before to use in other recipes like Frech Macarons and Sylvanas so I know the drill like using the clean, dry and grease-free bowl and utensils for example but I guess it is sometimes easy to forget the small details that make the difference between a success and a failure.  
Here are the other things I did to achieve this fluffy and super fine texture for my Brazo de Mercedes:
I used eggs that are at room temperature.  

Use eggs that are fresh if possible, they might not create as much volume as older (3-5 day-old) eggs, but they make a more stable meringue.

I only use metal or glass bowls for mixing. Plastic bowls could absorb fat and grease that can prevent or reduce the volume when beating the whites. 

Make sure your bowl and beaters are dry and clean.

Beat the egg whites for a minute or two at low-speed before adding the sugar and make sure it is added gradually, like a spoonful at a time and scattered not dumped.

Do not beat the whites at high-speed. Use medium high-speed until stiff peak forms or when it has the consistency of a shaving cream. 

I also placed another (empty) baking sheet on the top rack of my oven while the meringue is baking on the middle rack for the first 10 minutes

 

then removed it and let it bake for another 5 minutes until the top is slightly and evenly brown. (Applies only to the electric oven using top and bottom heat.)
 You may also run a pastry comb or serrated knife on the surface of the meringue before baking for a little design. Only make sure to do it crosswise and not lengthwise (like I did on the photo below?) so it will not break when you roll it (like mine did but not shown in photo).
Printable Recipe
Brazo de Mercedes
Learn the secret to get that perfect meringue with a super fine foamy texture that easily melts in your mouth like magic! It is also so easy it can be done in about 30 minutes!
Instructions
In a mixing bowl, beat the egg whites at low speed until foamy, it takes about 1 minute. Add the cream of Tartar and go on beating until soft peaks form.

Still at low speed, gradually add the sugar a tablespoon at a time. When all sugar has been added, turn speed to medium and beat for another two minutes then increase speed to medium-high and go on beating until stiff peaks form.

Preheat oven to 180°C.

Line a baking sheet with parchment paper then spray or brush it with enough oil. This will make it easier to remove the meringue from the parchment paper once it is baked.

Transfer the meringue to the lined baking sheet and use a spatula to spread evenly forming a rectangle that is about an inch thick. Bake for 15-20 minutes or until the top turns golden brown.

Meanwhile, prepare the custard by mixing the egg yolks and sweetened condensed milk in a small pan or pot. Cook the mixture over medium-low heat while continuously stirring until the texture thickens to a spreadable paste. Add the vanilla extract before removing from heat then let it cool down completely before spreading.

Remove the meringue from the oven and let it cool down for a few minutes. Generously dust the top of the meringue with powdered sugar using a fine mesh sieve. Take another parchment paper and place it on top of the meringue and then another baking sheet on top of that parchment paper.

Flip the trays so that the meringue is now on the other baking sheet with the bottom facing up. Peel the other (old) parchment paper. You should now see the white side of the meringue. Spread the custard evenly on top of it leaving about a centimeter at one of the long side uncovered.

Roll it, jelly-roll fashion, starting from the long side that is covered with filling. Brush off excess powdered.

Cut into desired serving size.
Notes
This recipe should be enough for 4-5 persons but can easily be doubled or divided as needed.
Nutrition
Calories:
228
kcal
Carbohydrates:
34
g
Protein:
7
g
Fat:
6
g
Saturated Fat:
3
g
Cholesterol:
166
mg
Sodium:
101
mg
Potassium:
221
mg
Sugar:
33
g
Vitamin A:
315
IU
Vitamin C:
0.8
mg
Calcium:
117
mg
Iron:
0.8
mg