Soft and chewy to the bite with a rich, caramelized, and smoky taste! This Black Kutsinta recipe uses blackstrap molasses, imparting a unique flavor and black color. Enjoy it with a drizzle of dulce de leche, or top it with sweetened desiccated coconut!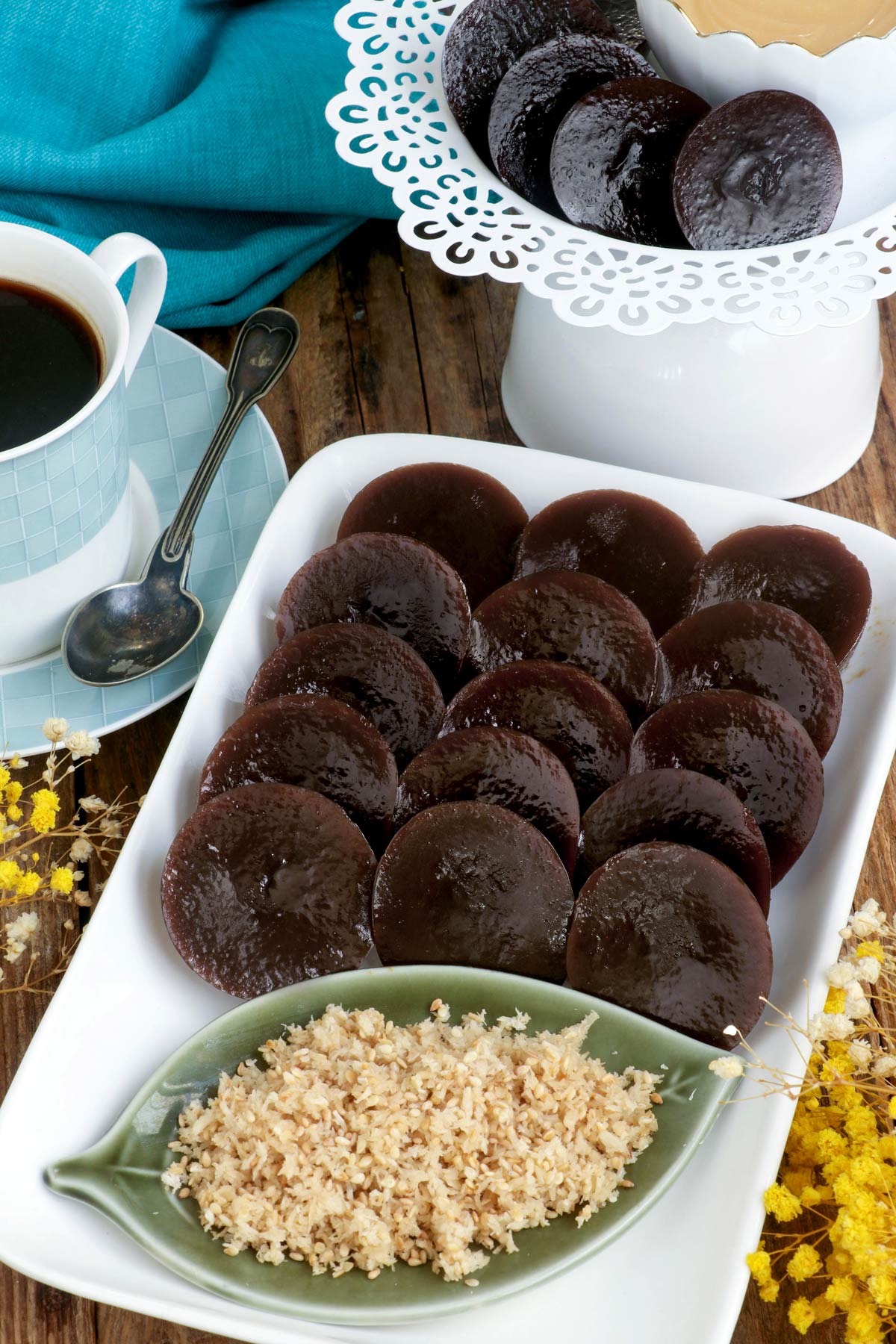 Kutsinta has always been one of my most popular recipes here. And I am really not surprised by the fact that a lot of folks are looking for an easy homemade recipe to re-create one of our best childhood breakfast treats right in their kitchen! Particularly, those who reside in cities or suburbs where local street peddlers no longer roam. And, of course, those living overseas who long for these sweet rice cakes.
So when I heard about this Black Kutsinta version, I made sure to give it a shot and see what all the hype was about. And it certainly did not disappoint!
What is Black Kutsinta?
Black Kutsinta is a Filipino rice cake derived from Kutsinta, which has a brown-reddish hue from brown sugar and annatto or achuete. Black Kutsinta is made the same way as my Kutsinta, with tapioca flour, all-purpose flour, and brown sugar. But instead of using annatto, these sticky round cakes are made using blackstrap molasses.
It is extra delicious with a rich and smoky flavor, even more so when topped with sweet sesame and coconut toppings. You can also top it with a drizzle of Dulce de Leche !
Ingredients You'll Need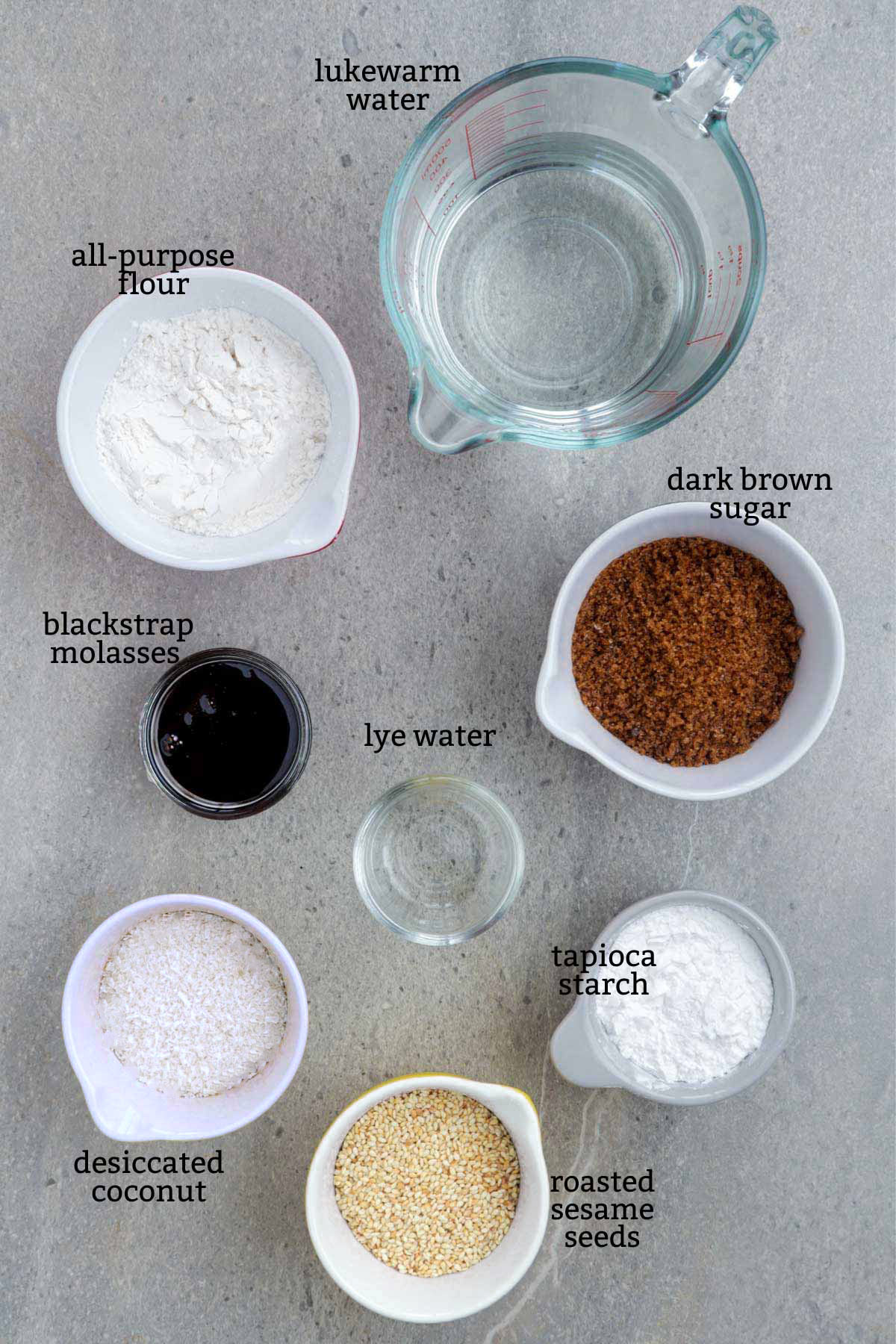 For the Black Kutsinta
All-purpose flour + Tapioca starch- the combo of these two gives the kutsinta a sturdy shape but is still soft and chewy.
Dark brown or muscovado sugar- gives the kutsinta a rich sweetness!
Blackstrap molasses- adds a unique flavor and dark color to the mix.
Lye water- known as "lihiya" locally, is responsible for giving the steamed rice cake a springy texture! It is also used in other Filipino delicacies like Pichi-pichi and Suman sa Lihiya.
Lukewarm water - helps dissolve the dry ingredients faster.
For the Topping
Desiccated coconut- You may also use freshly grated coconut, just omit the hot water in this recipe.
Hot water- is used to rehydrate the desiccated coconut.
Roasted sesame seeds
Dark brown or muscovado sugar
What is blackstrap molasses?
It is a dense, dark syrup produced in the process of making sugar. Sugar is made by boiling sugarcane juice until it solidifies into crystal form, which is then turned into granulated sugar. The resulting syrup from that same process is molasses or cane syrup. It is boiled several times to extract as much sucrose as possible. The third round of boiling is when blackstrap molasses is produced. It contains very little sucrose, making it less sweet and deeply caramelized with a mildly bitter taste. You will find them in grocery and baking shops.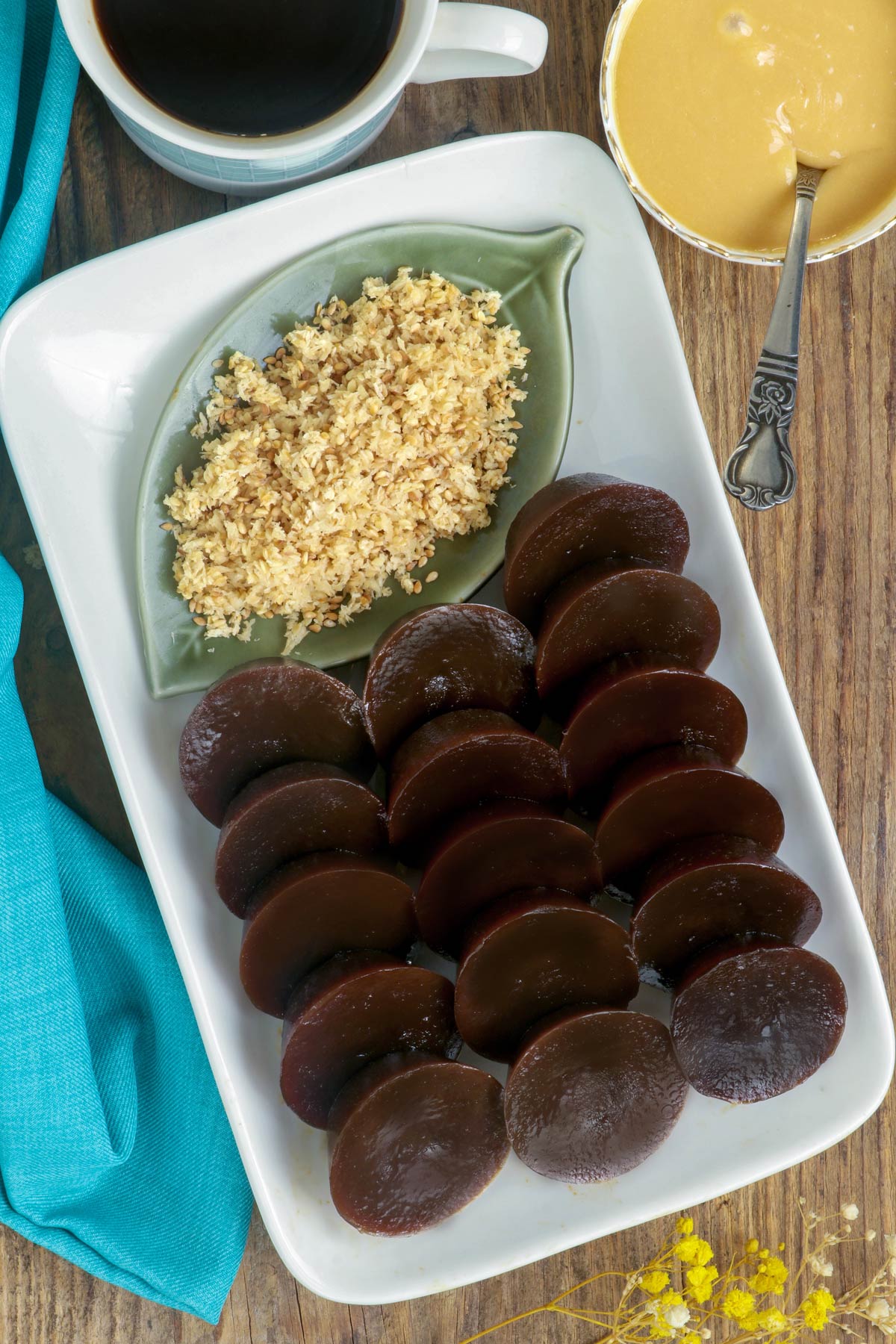 Is it healthy?
Absolutely! Because of the boiling process, the nutrients derived from blackstrap molasses are significantly higher than those derived from other sweeteners. This plant-based sugar byproduct is rich in iron, antioxidants, calcium, and several vitamins and minerals.
Foxy Tips in making Black Kutsinta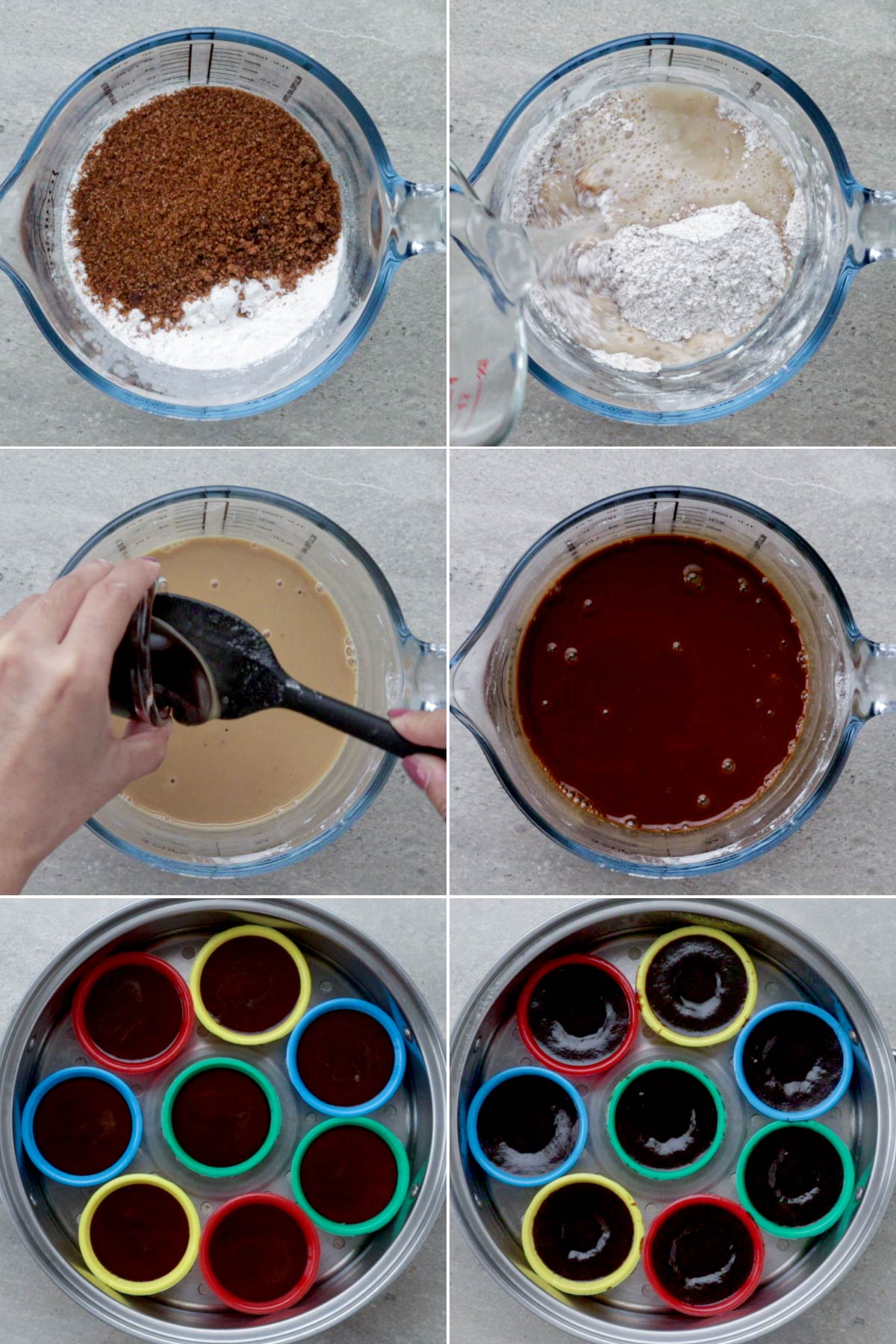 Grease your kutsinta molds before pouring the mixture into them. This will make unmolding easier later on.
Reduce the amount of lime water to ½ teaspoon if you want a firmer black kutsinta.
Make sure that the steamer water has already boiled (over medium heat) before placing the steamer basket with the filled kutsinta molds.
Place a cloth on the lid of your steamer to prevent water from dripping onto the kutsinta; this will prevent soggy or wacky-looking rice cakes.
If you are using desiccated coconut, soak it in water for at least 30 minutes and occasionally stir for the best results.
How to Serve and Store
Enjoy Black Kutsinta for breakfast or mid-afternoon snacks with a cup of hot coffee or chocolate. Savor it on its own, top it with toasted sesame, sugar, and coconut shreds or drizzle with dulce de leche.
Black Kutsinta may be kept refrigerated for up to 3 days. Make sure to wrap them tightly to keep their texture as long as possible.
You can reheat them in the microwave for a few seconds, or re-steam them instead.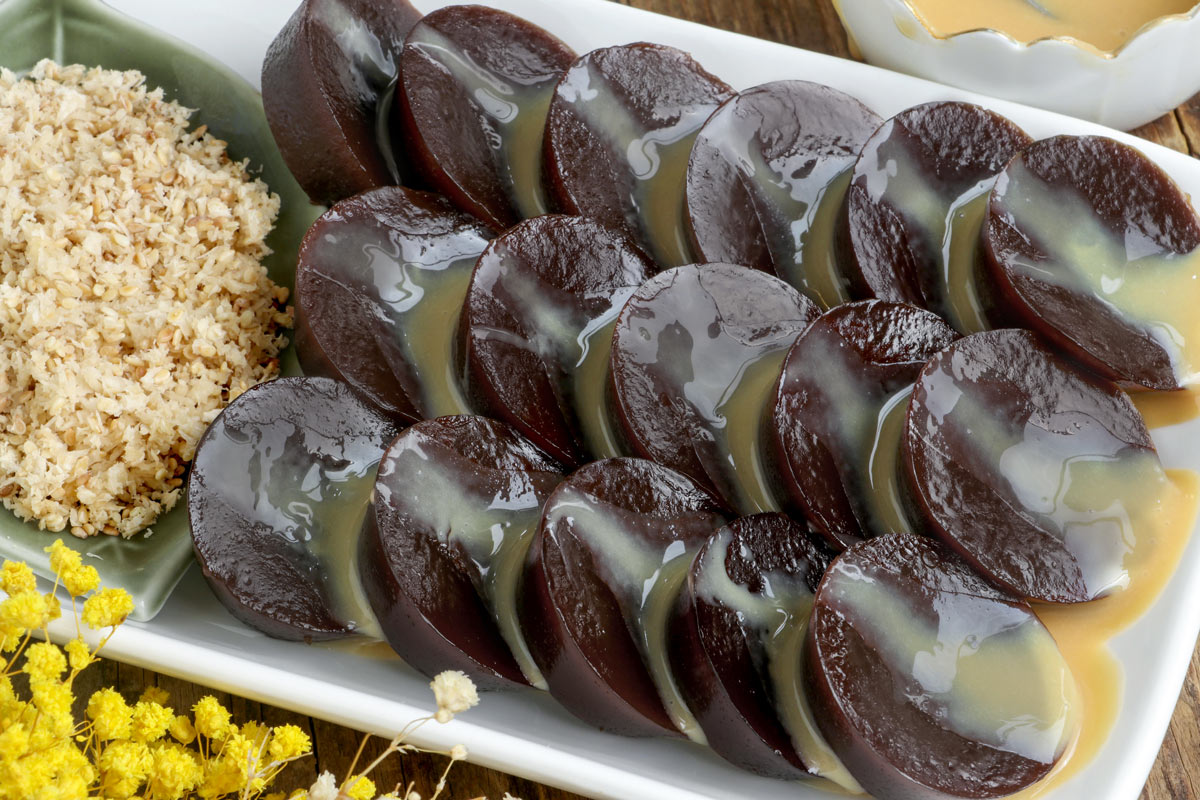 Printable Recipe
Black Kutsinta Recipe
This variation of the classic Kutsinta uses blackstrap molasses to give it a unique flavor and darker color. It has the same soft and chewy bite but a richer, caramelized, smoky taste!
Ingredients
Vegetable or coconut oil

for brushing molds
For the Kutsinta Mixture
½

cup

all-purpose flour

3

tablespoon

tapioca starch

½

cup

muscovado sugar

or dark brown sugar

1

tablespoon

blackstrap molasses

1

cup

lukewarm water

1 ½

teaspoons

lye water
TOPPING:
¼

cup

desiccated coconut

or ½ cup freshly grated coconut

⅛

cup

hot water

⅛

cup

roasted sesame seeds

1

tablespoon

muscovado sugar

or dark brown sugar
Instructions
Slightly grease your kutsinta molds with oil and set aside.

½ cup all-purpose flour,

3 tablespoon tapioca starch,

½ cup muscovado sugar

In a large bowl, combine the all-purpose flour, tapioca flour and sugar.

Add in lukewarm water and stir until the mixture is smooth.

1 tablespoon blackstrap molasses,

1 ½ teaspoons lye water

Add the blackstrap molasses and mix well. Then stir in the lye water and mix.

Fill the molds about three-quarters (¾) full of the mixture. Arrange in a single layer in a steamer basket.

Steam over medium heat for about 20-30 minutes or until the top is set when touched.

Remove from heat and allow to cool.

¼ cup desiccated coconut,

⅛ cup hot water,

⅛ cup roasted sesame seeds,

1 tablespoon muscovado sugar

To make the topping: Place the desiccated coconut In a small bowl. Pour the hot water over it and mix well. Let it cool down. Add the roasted sesame seeds and muscovado sugar and mix.

Unmold the black kutsinta and arrange it on a serving plate. Let it cool down a bit before serving.

Serve with the desiccated coconut topping or with dulce de leche.
Nutrition
Calories:
51
kcal
Carbohydrates:
10
g
Protein:
1
g
Fat:
1
g
Saturated Fat:
1
g
Polyunsaturated Fat:
0.2
g
Monounsaturated Fat:
0.2
g
Sodium:
3
mg
Potassium:
34
mg
Fiber:
0.4
g
Sugar:
6
g
Vitamin A:
0.1
IU
Vitamin C:
0.02
mg
Calcium:
17
mg
Iron:
0.4
mg
Frequently Ask Questions
Why is my Black Kutsinta hollow in the center?
The high temperature when steaming creates a deformation in the center of the rice cake. Make sure that the heat is at medium-low at all times.
Why is my Black Kutsinta bitter?
You may have added too much lye water to the mixture. Use proper measuring spoons to have the exact measurement at all times.
Why doesn't my Black Kutsinta unmold?
Make sure to generously brush the molds with oil or butter. It is also better to use silicon or plastic molds instead of tin ones.