Now, here is a classic! The Black Forest Cake or Black Forest Gateau (British) or what is known here, in Germany where it originated, " Schwarzwälder Kirschtorte" which literally means Black forest cherry torte.
I had Black Forest cakes before in the Philippines (mostly from Goldilocks), but believe me, it's not the same! The original Black Forest cake has Kirschwasser in it. It is a clear fruit brandy made from sour cherries and without it, it does not really qualify as Schwarzwälder Kirschtorte. Well, at least not in Germany.
The first time I made this cake, I was still fairly new at baking. I've been only a couple of months in Germany and Armin requested Black Forest cake for his birthday. It was kind of overwhelming for me. Maybe it's because he is German and it is a German cake and I do not know so much about it!? But, oh well, what will I not do for love! 🙂 It turned out not so bad after all (or so he said) and at least I learned from the experience.
And now, 4 years (and a lot of baking cakes) later, I am more confident to share it here and just in time for Valentine's Day too! If you like an easier but equally lovely and delicious dessert, then check out my previous post on Panna Cotta for Valentine!   
A little info! The Black Forest cake is not actually named after Black Forest, the mountainous region in southwest Germany, like everyone thinks (that included me). Well, at least, not directly. It is named after the Schwarzwälder Kirsch(wasser) which is believed to have originated in the region. Because the kind of sour cherries, dark morello, used for making the original Kirschwasser were grown only in Black Forest.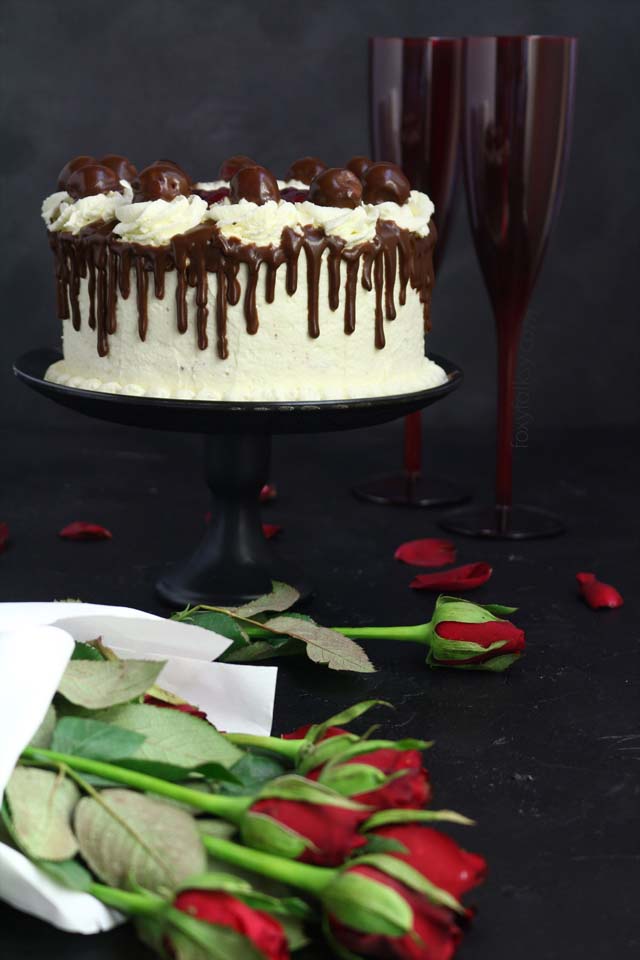 German Black Forest Cake
Try the classic German Black Forest cake! Layers of dark chocolate cake, dark sour cherries and whipped cream with a touch of Kirschwasser.
Ingredients
DARK CHOCOLATE CAKE
1

cup

sugar

¾

cup

all-purpose flour

- or cake flour (+ 1 Tbsp cornstarch)

½

cup

cocoa powder

½

teaspoon

baking powder

½

teaspoon

baking soda

½

teaspoon

salt

1

egg

½

cup

milk

¼

cup

vegetable oil

1

teaspoon

vanilla extract

½

cup

boiling water

½

teaspoon

coffee granules

(optional)
FILLING & FROSTING
½

cup

syrup from morello cherries

(canned)

1

tablespoon

sugar

1

tablespoon

cornstarch

- dissolved in 1 Tablespoon water

1

cup

dark morello cherries

(canned) - each cut into quarters

17

liquid ounces

whipping cream

2

tablespoons

sugar

2

teaspoons

vanilla extract

2

tablespoons

cherry brandy

(Kirschwasser)

12

pieces

whole dark morello cherries

(canned)

chocolate shavings
Instructions
FOR THE CAKE:

Line bottom and grease and flour a 6-inch tall aluminum round pan. In a large bowl, using a hand whisk or spatula, mix all ingredients for cake together, adding the eggs and milk the last. Note that the batter will be runny.

Pour batter in the prepared pan and tap it a bit to even out the batter and get rid of big air bubbles.

Bake on preheated oven at 350°F/180°C for 30-35 minutes or until the inserted toothpick comes out clean. Remove from oven and let it cool down. Make sure it is no longer warm when you assemble the cake. Can be made a day in advance. Cover in fling wrap and place in the fridge. Cut the cake horizontally into 3 equal layers.

FOR THE FILLING:

Combine ½ cup cherry syrup add 1 Tbsp sugar in a saucepan and simmer over medium-low heat while stirring constantly. Once the sugar is dissolved, add the cornstarch mixture and continue to cook until it becomes really thick and the color darkens. Remove on heat and add the cut morello cherries. Let it cool down completely and then add 2 Tbsp Kirschwasser and mix.

In a big bowl, combine whipping cream and sugar, Using an electric mixer, whip the cream until almost stiff. Add the vanilla extract and whip until stiff.

TO ASSEMBLE:

Place the base layer of cake on top of your cake plate or cake stand. Pipe a dam of whipped cream on the top edge of the cake. Spread ⅓ of the cherry mixture in the center. (You may add more whipped cream on the center if you like) then top with another layer of cake and repeat the process.

Spread some more whipped cream on the top and sides of the cake and use the rest to decorate. Cover cake sides with chocolate shavings. Pipe 12 rosettes on top around the edge of the cake and place 1 whole cherry on each rosette. Spread remaining ⅓ of cherry mixture on top of cake.
Notes
If round pan is not tall enough (at least 7cm high), divide the batter into 3 parts and bake in 3 separate pans.
If you have a cake ring, you may also use it while assembling the cake to make it easier. Add some space on the sides and fill it with cream as you layer the cake and remove the ring by slowly sliding it upwards.
If you like to cover your cherries with chocolate like I did and use ganache instead of shaving:
Place 100 gram chocolate and ⅓ cup cream in a microwave-safe bowl, nuke for 10 seconds and stir for 1 minute until it melts. If still chunky, nuke for another 5 seconds then go on stirring. Let it cool down but don't let it harden. Dip the cherries one by one before placing on top of cake. Place the rest of ganache in a piping bag fitted with tip with smallest round hole. Or just use a plastic sandwich bag and cut a small hole at the tip. Pipe the ganache just below the rosettes moving it down to make a dripping effect.
To work with the cake easier, place the cake first in the fridge for some minutes so the whipped cream is more stable. The ganache will also harden faster if the cake is cold.
Nutrition
Calories:
375
kcal
Carbohydrates:
62
g
Protein:
4
g
Fat:
12
g
Saturated Fat:
9
g
Cholesterol:
33
mg
Sodium:
309
mg
Potassium:
247
mg
Fiber:
3
g
Sugar:
43
g
Vitamin A:
130
IU
Vitamin C:
1.7
mg
Calcium:
58
mg
Iron:
1.9
mg