This quick and easy Binagoongang Talong recipe will amaze you with its savory, umami-filled flavors and enticing aroma! A variant of the popular dish Pork Binagoongan with the addition of eggplants, making it healthier and much more budget-friendly.
Bagoong is an iconic Philippine condiment of fermented krill, fish, or shrimp paste with salt. It is known for its strong, fishy, and somewhat funky smell when raw. Bagoong is a very versatile condiment. It may be used as a dipping sauce for both fruits and vegetables, a popular Kare-kare accompaniment, and is also used as the main flavoring for dishes like Pinakbet, Dinengdeng, Bicol Express, Pork Binagoongan, and this recipe, the Binagoongang Talong.
What is Binagoongang Talong?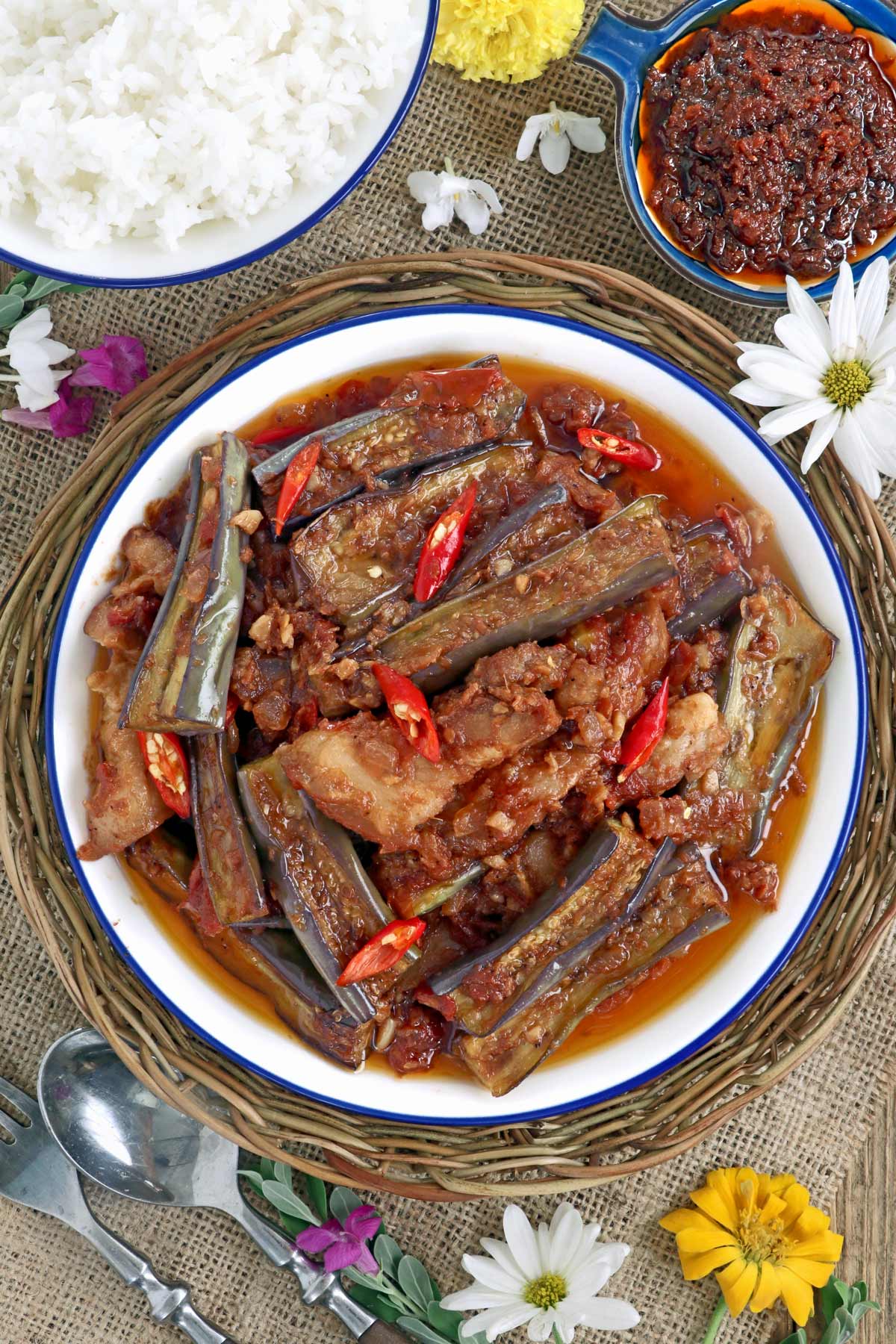 If you love the savory-bold flavors of Pork Binagoongan but want to cut down on the meat, then this yummy dish is for you. Binagoongang Talong is made by sautéing fried eggplant slices in shrimp paste and tomatoes. This recipe still includes pork belly, but I made sure the proportions allowed the eggplants to shine through and be the star of the dish.
Binagoongang Talong is so simple and easy to make. It is not only well-balanced in flavor but in nutrition as well!
Ingredients You Will Need
Eggplants are also known as aubergine in other countries, specifically in the parts of Europe. You can use any eggplant shape you may find.
Shrimp paste or bagoong alamang. You can use the commercially sold sautéed shrimp paste in bottles or the raw shrimp paste. If using raw shrimp paste, you may want to adjust the sugar as it is saltier.
Pork belly - If you prefer a leaner part of the pork, you may substitute this with pork shoulder (kasim).
Aromatics- I used onion and garlic for a classic savory base.
Tomatoes – add tons of fresh, umami flavor that perfectly complements the shrimp paste.
Vinegar – will balance the saltiness of the shrimp paste.
Water
Sugar – A dash of sweetness will round up the flavors nicely!
Red chilis- You can add some if you want to add a punch of heat to the dish! If you like it extra spicy, slice them and leave the seeds on.
Cooking Tips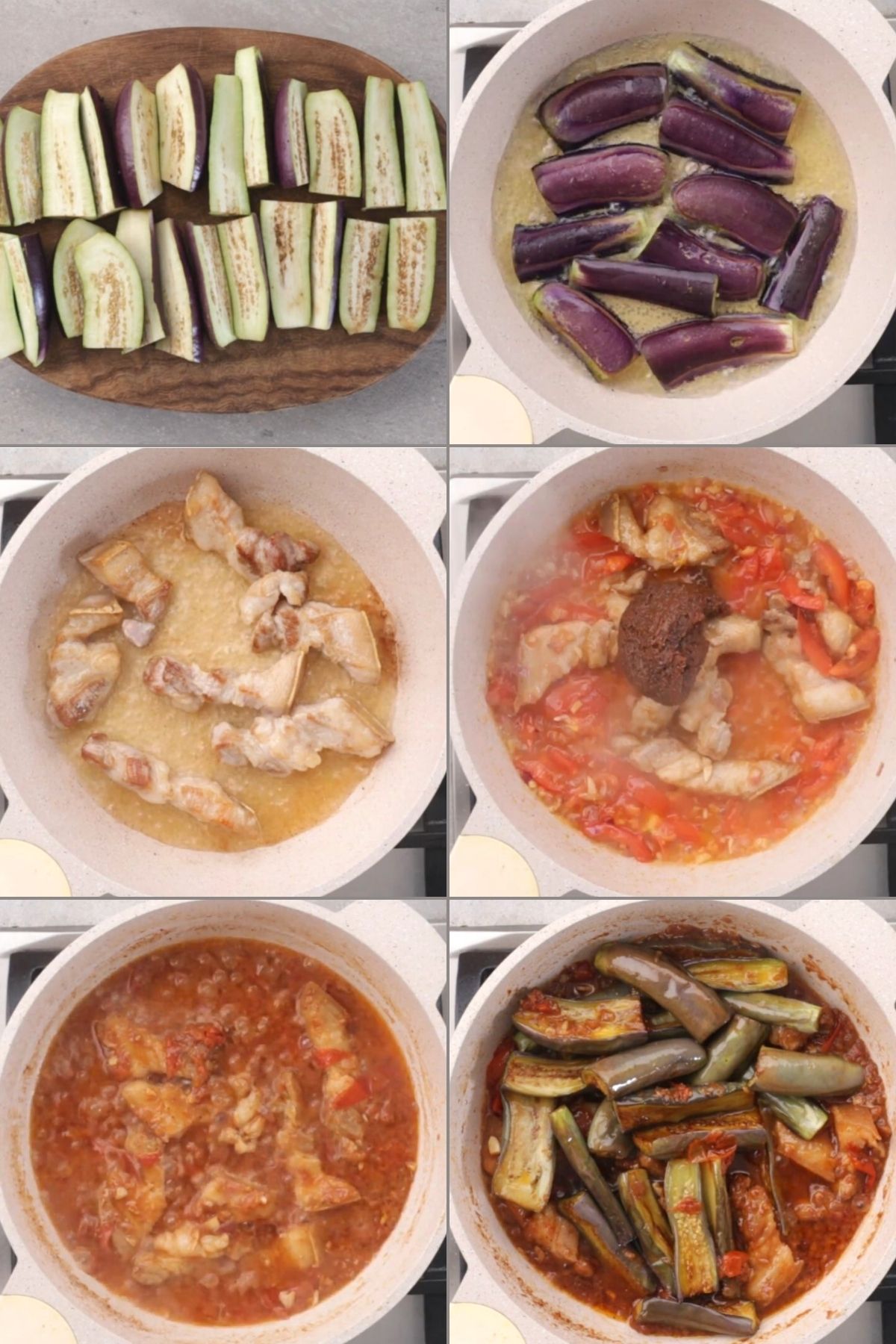 Due to oxidation, eggplants tend to turn brown when peeled or cut when exposed to air. You can prevent this by placing the newly peeled and cut eggplants in a bowl of water.
Cut the meat in uniform sizes to ensure even cooking.
Always give your bagoong a taste first to get a grasp on what you should tweak, as some are on a sweeter side. Make the necessary adjustment based on your preference.
After adding the vinegar, DO NOT STIR until the acid of the vinegar has cooked off. Give it a few minutes to boil, uncovered and without stirring.
How to Serve and Store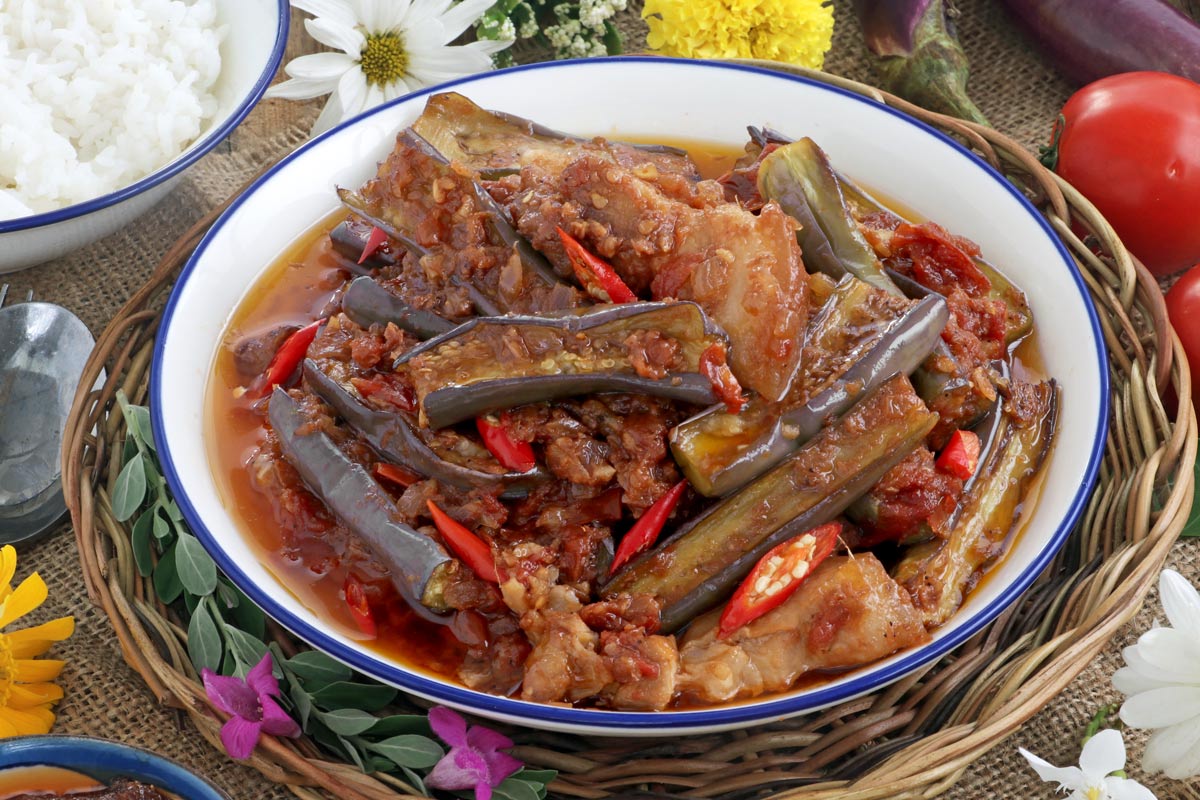 Serve and enjoy Binagoongang Talong fresh from the pan while still hot with lots of steamed white rice. You may also add a few slices of green mango on the side, it goes perfectly well with this dish.
Place any leftovers in an airtight container and keep them in the refrigerator for up to five days.
You don't have to worry about reheating it multiple times as its flavor won't be affected. In fact, some even say that the flavor improves after a while! Reheat using the microwave or in a pan over medium heat.
Printable Recipe
Binagoongang Talong Recipe
This one-pan, straightforward Binagoongang Talong recipe will amaze you with its savory, umami-filled flavors and enticing aroma! This flavorful dish is a variant of Pork Binagoongan using eggplants as the main ingredient, making it healthier and much more budget-friendly.
Ingredients
1

pound

eggplants

½

pound

pork belly

1

medium

onion

finely chopped

4

cloves

garlic

minced

3

medium

tomato

chopped

¼

cup

vinegar

½

cup

water

1-2

tbsp

brown sugar

¼

cup

shrimp paste

1-2

pieces

red chili

chopped (optional)
Instructions
Cut each eggplant into 4 equal parts.

Heat oil in a deep pan using medium heat and fry the sliced eggplants until they turn brown. Remove from heat and set aside.

½ pound pork belly,

1 medium onion,

4 cloves garlic

In the same pan, fry the pork belly until they are brown on the edges. Then add garlic and onion. Saute until limp and aromatic.

Add the tomatoes and continue sautéing until they become tender and mushy.

Add the shrimp paste and stir. Cook for a minute.

½ cup water,

¼ cup vinegar

Pour in water and bring to a boil. Add vinegar and allow to boil uncovered and without stirring.

Lower heat and cover the pan with the lid. Let it simmer until pork is tender and the liquid is reduced to half.

Add brown sugar and stir until dissolved. Add the cooked eggplants.

Cook for 1 more minute, then turn off the heat.

Transfer to a serving plate and garnish with chopped red chilis.
Nutrition
Calories:
74
kcal
Carbohydrates:
10
g
Protein:
8
g
Fat:
1
g
Saturated Fat:
1
g
Polyunsaturated Fat:
1
g
Monounsaturated Fat:
1
g
Cholesterol:
94
mg
Sodium:
300
mg
Potassium:
276
mg
Fiber:
2
g
Sugar:
7
g
Vitamin A:
772
IU
Vitamin C:
16
mg
Calcium:
59
mg
Iron:
1
mg
More Filipino Vegetable Recipes