Thin, soft, sweet crepes brushed with caramel sauce then wrapped around sweet, fresh bananas. Topped with whipped cream and sprinkled with almonds and grated chocolate. Definitely, these Banana Crepes are a taste of heaven!!!
Ok, this is another repost recipe, people. I made the original one in the early days when I was just starting this blog and obviously I thought our ottoman with its velvet-leathery texture would look cool as a background. I guess years of practice and after a lot of rejections from food submission sites, then trying my best to improve my photos so they can get accepted, has paid off.
Crepes (crêpes) are thin pastry that can either be sweet or savory. It was originally from Brittany, France but became very popular all throughout the country and many parts of Europe and now the world.
You would have thought that making crepes is as easy as making pancakes...well it is, but only if you got the right recipe to make it so thin but also soft and that you can roll or fold it.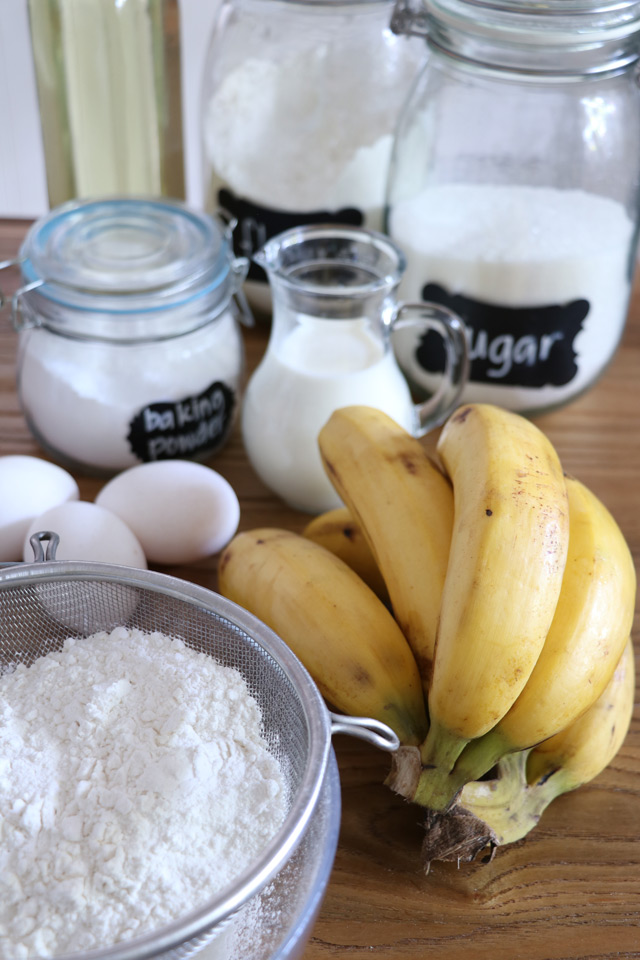 how to make simple crepes?
The first recipes I tried tasted fine but some became too crisp after cooling down and breaks when I start to roll them, while the others seem to be too thick to be called crepes at all.
Then I learned a simple trick.
By simply adding hot water to the batter from time to time so it will keep it thin while you are cooking the whole batch of crepes. This will make it easier for you to spread them as thinly as possible when you tilt and rotate your crepe pan.
The consistency you are looking for is that of a melted ice cream. That, when you run and lift a fork through the batter, it will easily fall and drip fluidly back to the bowl leaving only a thin coat on the fork.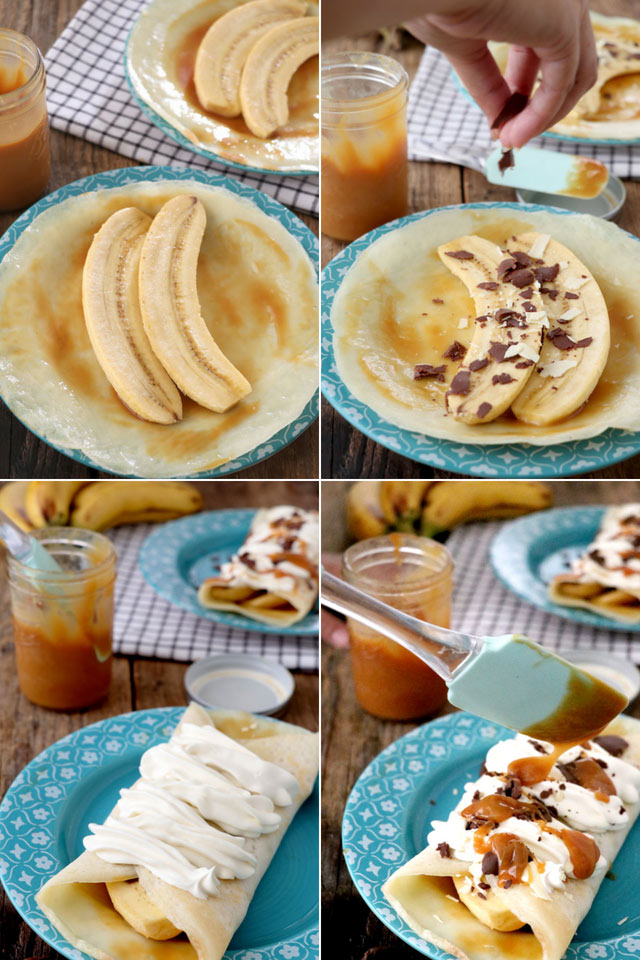 Now, to keep them soft and pliant, after turning the crepe over to cook the other side, brush the top surface of the crepe with butter.
Believe me, this really makes them soft and easier to roll. Also, it keeps them moist, especially if you are making a big batch and you cannot serve them immediately from the pan.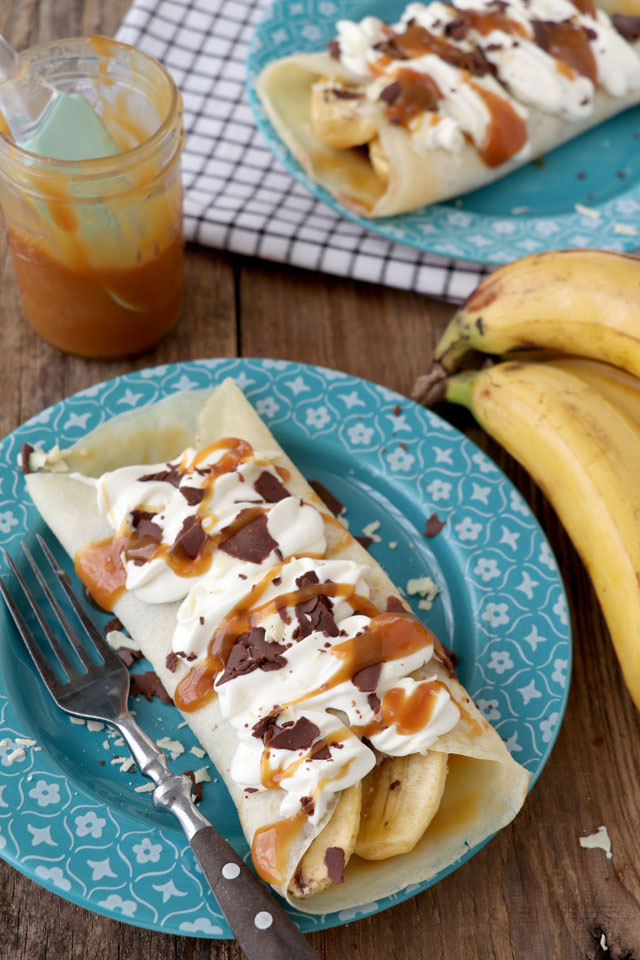 Normally, crepes would not have any rising agent at all, but you would notice that I added a bit of baking powder. That is because I was aiming for a little body for my crepes for this specific Banana Crepes and not for the totally flat thin ones like the French crepes.
They are also not cooked until browned like most crepes are, but just enough. It is just a matter of preference, really maybe because this is exactly how I had my first crepes in a hotel-restaurant some years ago and I remembered how lovely it was.
I would suggest making the Choco-Caramel Sauce ahead as this can be stored in the fridge for days or even weeks.  Click here for the recipe.
Printable Recipe
Banana Crepes with Choco-caramel Sauce
Thin, soft, sweet crepes brushed with caramel sauce then wrapped around sweet, fresh banana. Topped with whipped cream and sprinkled with almonds and grated chocolate. These banana crepes are simply heavenly!!!
Ingredients
CREPES
2

cups

flour

3

pieces

eggs

1

cup

milk

¼

cup

oil

½

teaspoon

baking powder

dash

salt

1

tablespoon

sugar

2-3

cups

hot water

¼

cup

butter

- for coating
Instructions
Cut bananas into half lengthwise. Set aside. Add ½ tablespoon sugar to cream and whip using a hand mixer and put in the fridge for later use.

Combine flour, eggs, milk, oil, salt, sugar and baking powder in a bowl. Using a mixer, mix until all ingredients are well incorporated.

Preheat pan over medium heat. Brush or spray pan with oil if needed. Add ¼ cup of hot water at a time to the batter while whisking continuously. Add more until you reach a melted ice cream like consistency.

Pour or scoop the batter onto the pan, then lift and rotate the pan to spread batter as thinly as possible. Cook 1-2 minutes or until lightly golden, Then turn and cook the other side for another minute. Place a cooked crepe on a plate and using a brush lightly coat with butter.

To assemble, take a crepe, coat surface with choco-caramel sauce. Place banana at one end of the crepe and roll. Place banana crepe on a serving plate and pipe whipped cream on top. Drizzle with a bit more choco-caramel sauce and top with almond and chocolate flakes if desired.
Nutrition
Calories:
512
kcal
Carbohydrates:
52
g
Protein:
9
g
Fat:
30
g
Saturated Fat:
11
g
Cholesterol:
93
mg
Sodium:
290
mg
Potassium:
233
mg
Fiber:
2
g
Sugar:
15
g
Vitamin A:
605
IU
Vitamin C:
0.2
mg
Calcium:
134
mg
Iron:
2.1
mg