If you want a healthier and budget-friendly variation of the famous Adobo, try this Adobong Atay ng Manok recipe. You get all the deliciousness of the iconic Filipino dish, but with the unique flavor and texture of chicken liver.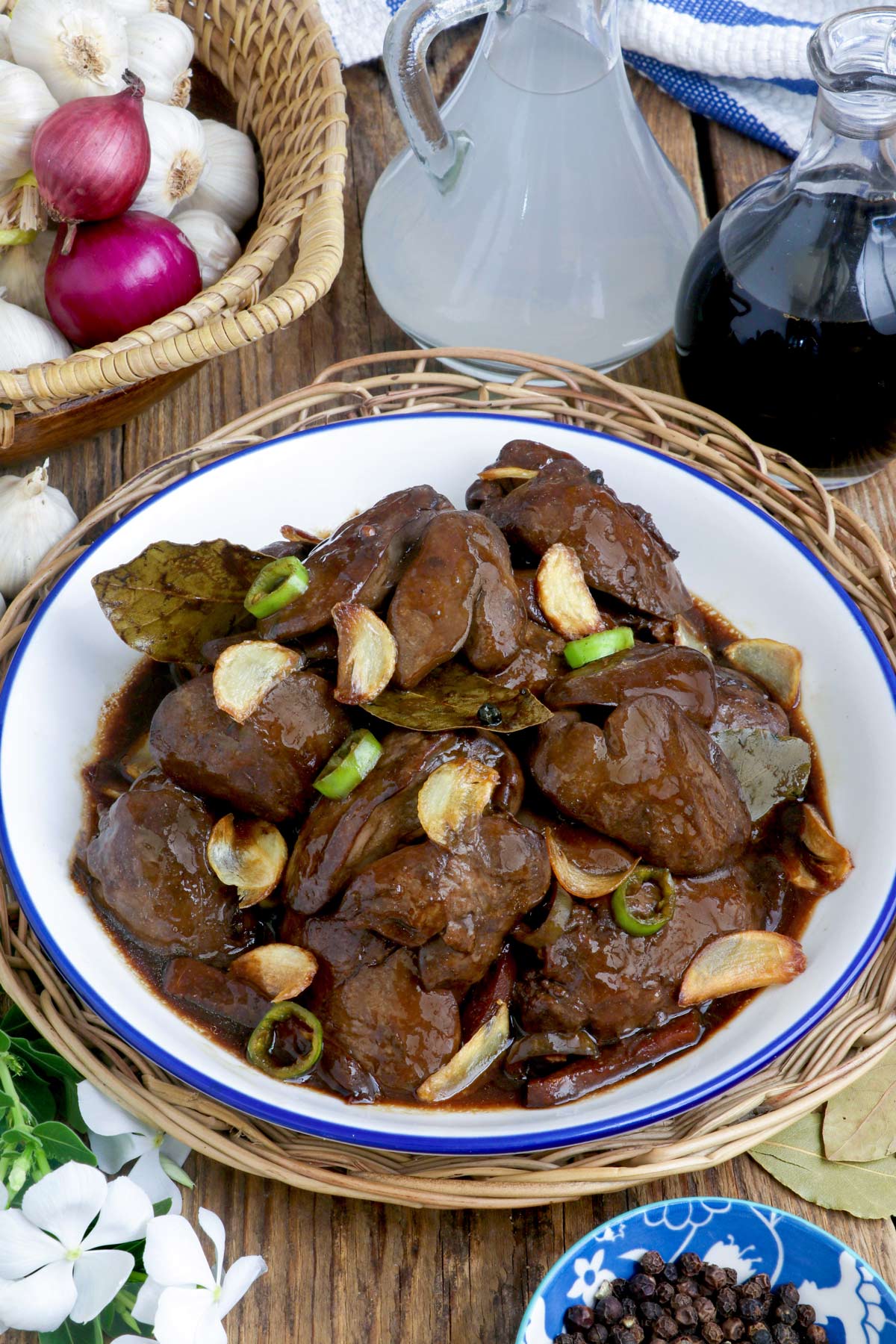 Pork and Chicken Adobo may have taken the front and center seats in international culinary fame, but believe me, this adobo featuring chicken liver is a great but somewhat understated contender! It tastes just as wonderful with that perfectly seared chicken liver that complements the distinct tangy-savory adobo sauce. Adobong Atay ng Manok also has the added bonus of not only being very affordable but super nutritious too!
Is Chicken Liver Healthy?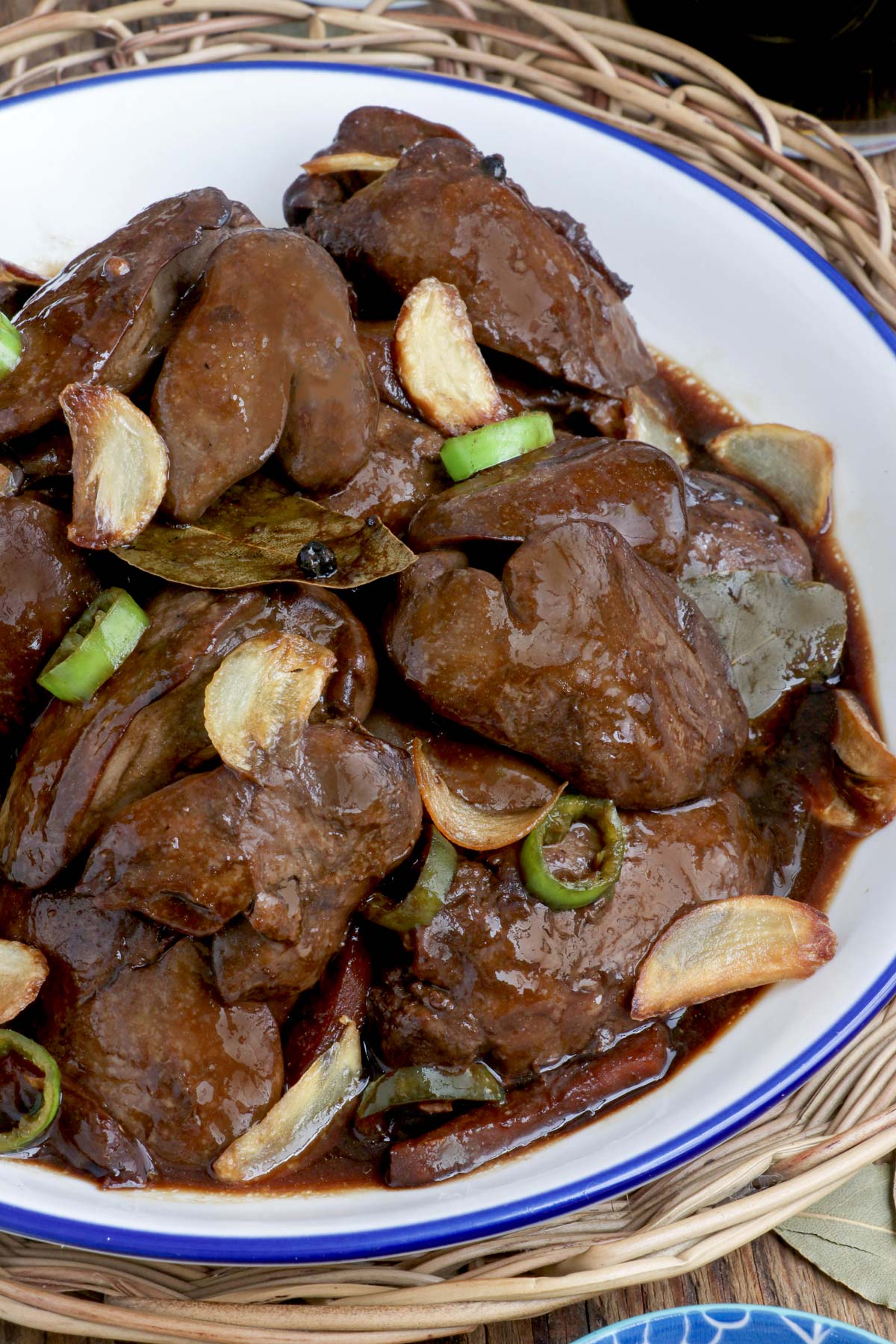 An absolute, resounding yes! Many turn their noses up at offals (organ meat) such as animal liver, which is why they are sold at lower prices. However, many do not know that the liver is considered a "superfood"! It has essential vitamins and minerals like iron, folate, and vitamins A and B12. It is also high in protein and has fewer calories and fat than most meats. Contrary to popular belief, livers do not contain toxins, so they are safe to eat.
Ingredients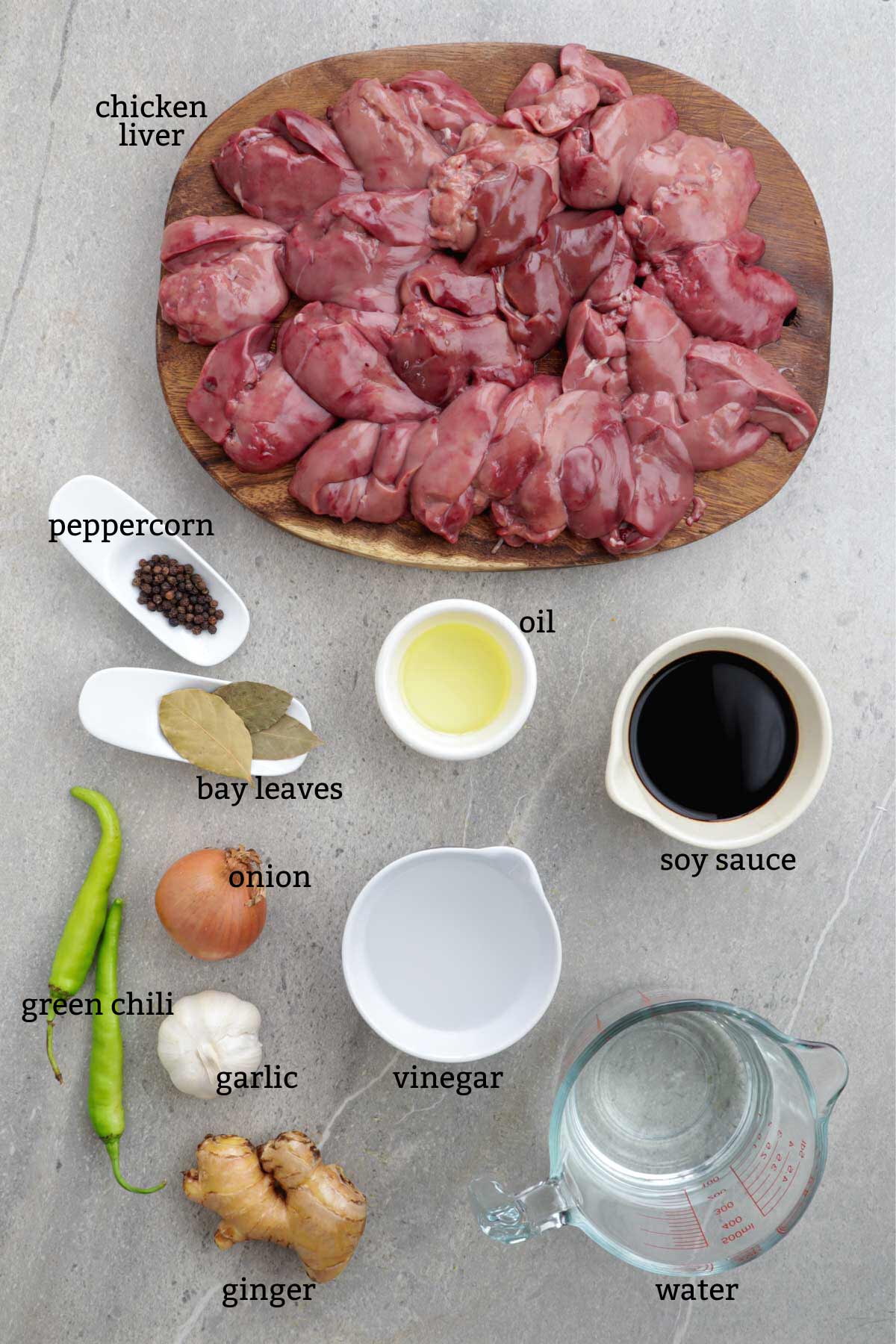 Chicken liver- make sure to buy them fresh! They should have a deep red, almost mahogany color, moist but not slimy.
Cooking liquids- as per the usual adobo specifications, you will need soy sauce, vinegar, and water.
Onion and ginger - to help mask the metallic taste of the liver.
Garlic - fried garlic slivers as a garnish to the dish. It also adds texture and of course a nice flavor.
Bay leaves- also called laurel leaves, will add a nice aroma to your adobo.
Peppercorns- add a touch of mild heat to the dish.
Cooking Oil - use any type of vegetable oil you like.
Long Green Chilis- this is optional. You can add it if you want to give your chicken liver adobo a zing!
Cooking Tips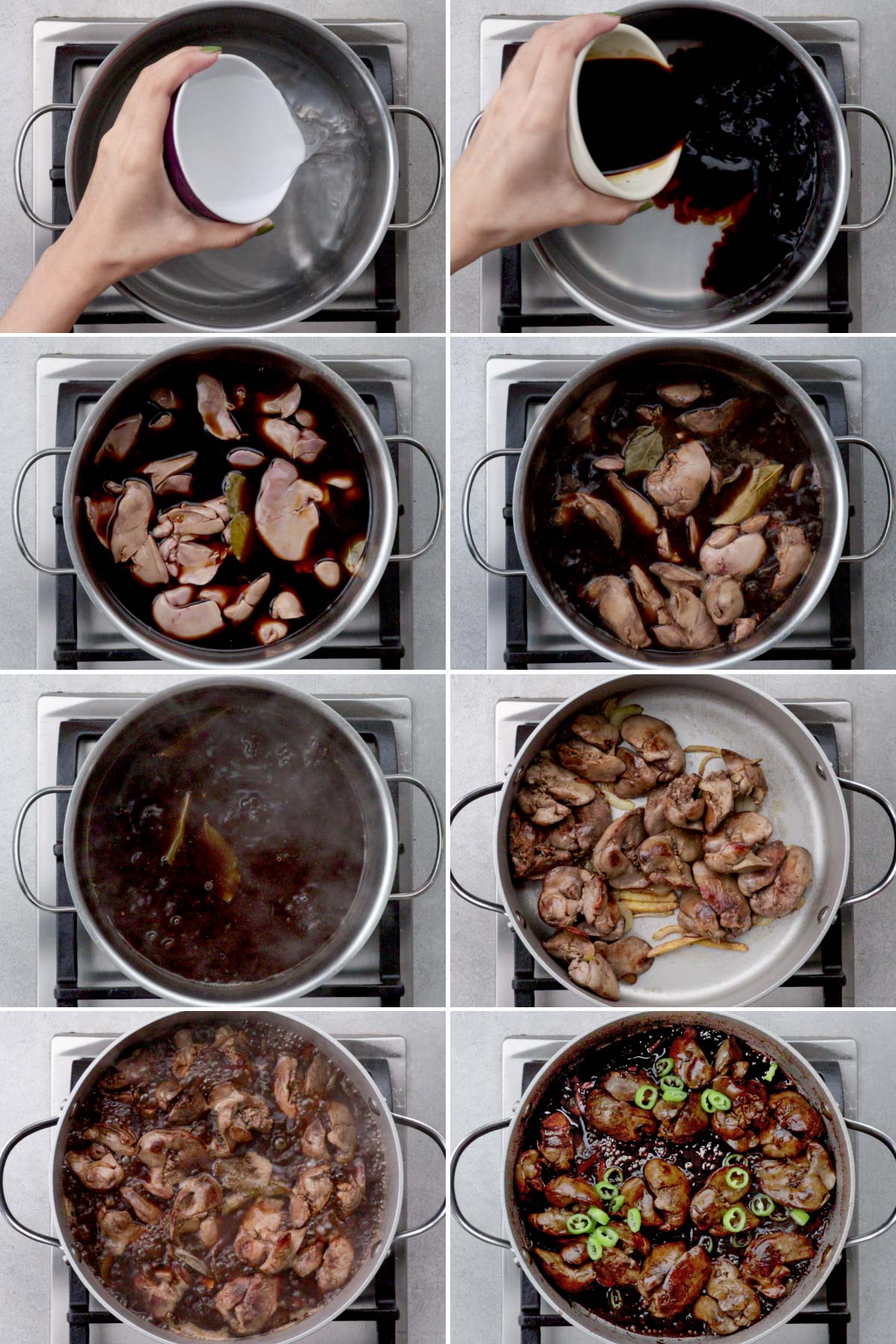 Soaking the chicken livers in cold water for a few minutes will help remove impurities, make them more tender, and neutralize their flavor. If you really do not like the slight metallic taste, we suggest soaking the liver in milk before cooking and rinsing it off.
Drain chicken livers well and let them sit in a colander or fine-mesh sieve to remove excess liquid.
Once you add the vinegar, do not stir! Allow it to simmer uncovered for 3 to 5 minutes until the sharp acidity cooks off.
Use a large pan to give the livers a good sear! I love it when they have crisp edges with tender, buttery insides.
Do not overcook the liver! Chicken liver cooks fast, so keep an eye on them. Once they turn opaque and brown, remove them from the heat. Over-cooking livers will make them grainy and rubbery, which will ruin the dish.
Some also add the chicken heart to their chicken liver adobo. You can make this dish even heartier by adding hard-boiled eggs!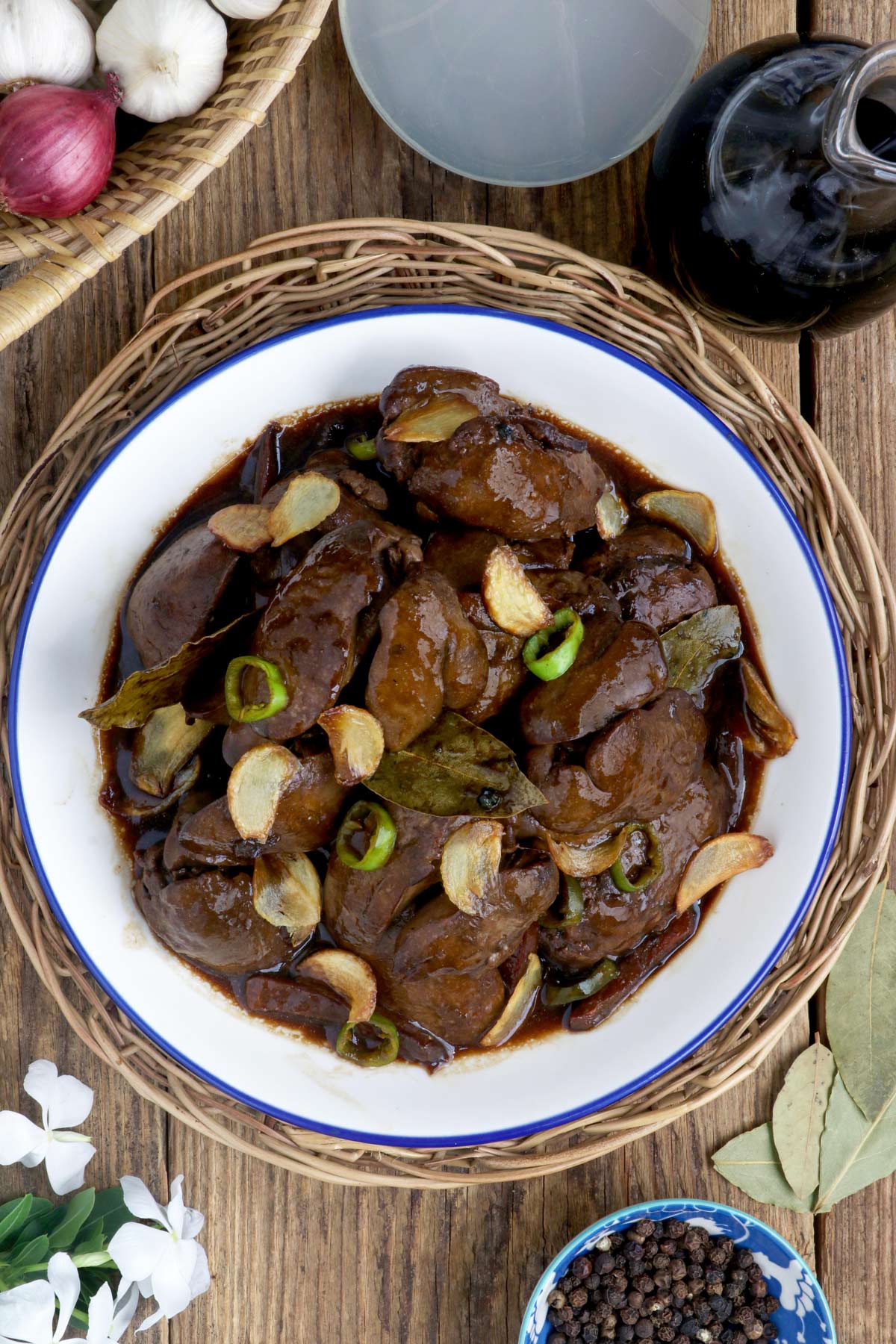 More Dishes with Chicken Liver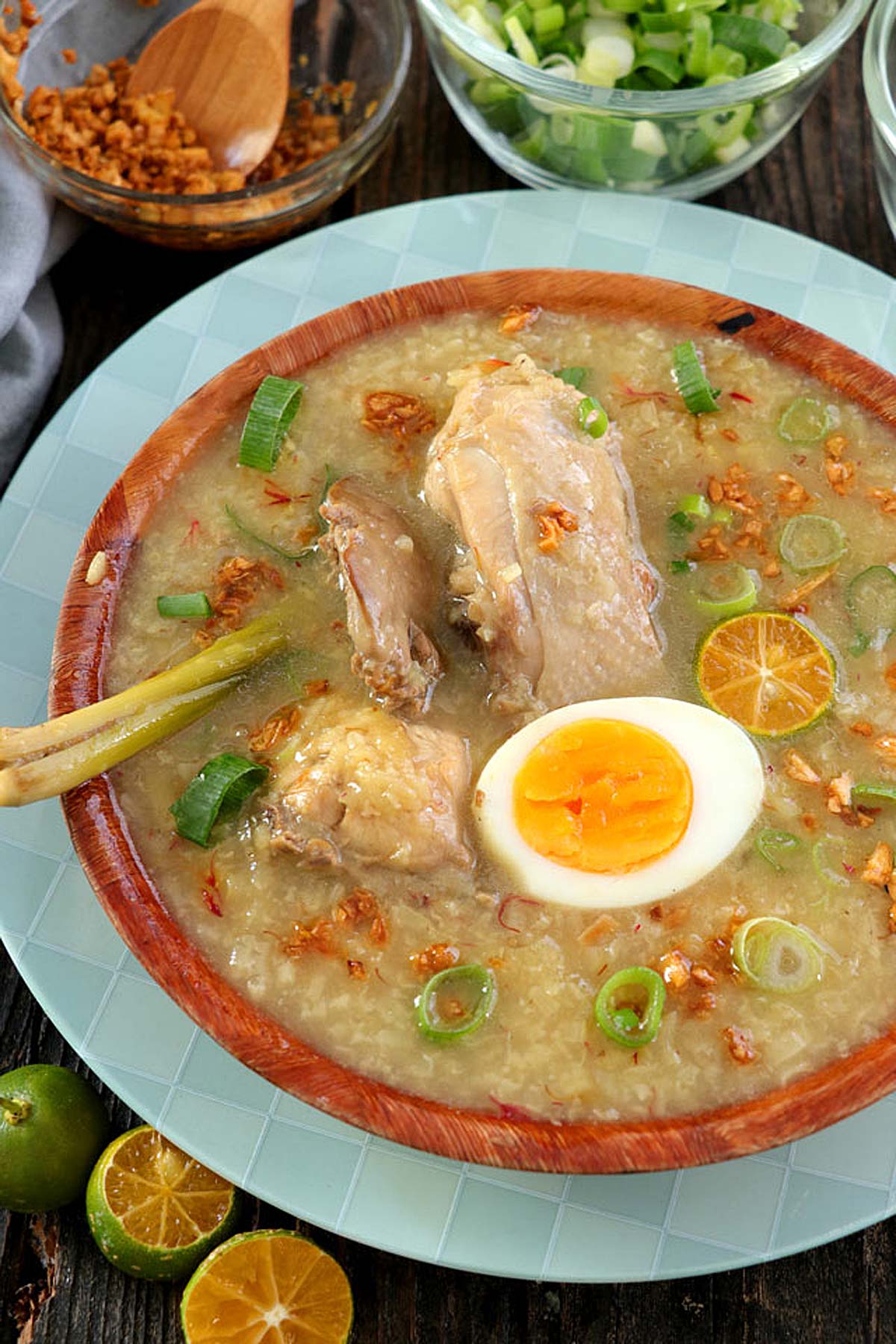 Serving and Storing
Serve simply with hot steamed rice or garlic rice. Chicken liver Adobo can also be enjoyed as an appetizer or as booze food or 'pulutan'.
Store leftovers in a container with a tight-fitting lid and keep them in the fridge for up to 3 days.
You can reheat them in the microwave, but do so in a 30-second interval, or the livers might burst. You can also warm them up using a stovetop instead.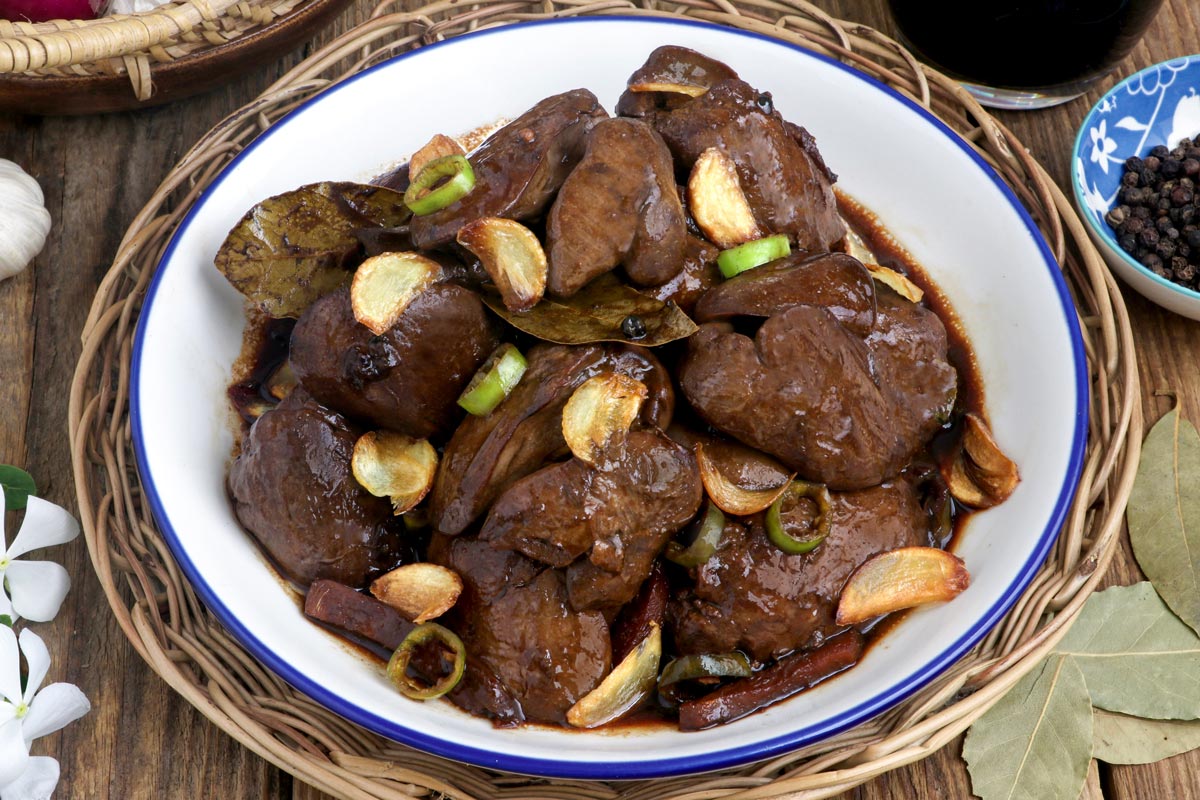 Printable Recipe
Adobong Atay ng Manok Recipe (Chicken Liver Adobo)
If you want a healthier and budget-friendly variation of the famous Adobo, try this Adobong Atay ng Manok recipe. You get all the deliciousness of the iconic Filipino dish, but with the unique flavor and texture of chicken liver.
Ingredients
2

pounds

chicken liver

½

cup

soy sauce

½

cup

vinegar

1

cup

water

3

pieces

bay leaves

1

teaspoon

peppercorns

3

tablespoon

oil

6-8

cloves

garlic

cut into thin slivers

1

thumb

ginger

julienned

1

medium

yellow onion

chopped

2

pieces

long green chilis

chopped
Instructions
Soak the chicken livers in cold water for minutes. (cold but not ice-cold water). Drain water and rinse with cold water. Set aside.

½ cup soy sauce,

½ cup vinegar,

1 cup water,

3 pieces bay leaves,

1 teaspoon peppercorns

In a pot, combine soy sauce, vinegar, water, bay leaves, and peppercorns. Bring to a simmer over medium heat. Let it simmer for 3-5 minutes just to remove the acidity of the vinegar.

Turn heat to low, and add liver one by one. Cook just until the liver turns opaque and no longer pink and becomes firm, about 5 minutes. Fish out the livers from the sauce and continue to simmer until the sauce is reduced.

3 tablespoon oil,

6-8 cloves garlic

In a skillet over medium heat, add oil then the garlic slivers. Start to stir once the oil becomes hot to prevent burning the garlic. Lower heat to low and fry the garlic just until golden and crispy then remove from oil.

1 thumb ginger,

1 medium yellow onion

Next, cook the ginger in the same oil for several seconds until lightly browned. Add the onions and cook until soft.

Add the chicken livers and cook until sides are browned. Pour the reduced sauce and simmer until it thickens. You can also cook it so that the sauce is almost gone.

2 pieces long green chilis

Toss in the green chilis and then turn off the heat.

Transfer to a serving dish and top with the toasted garlic slivers.
Nutrition
Calories:
274
kcal
Carbohydrates:
6
g
Protein:
28
g
Fat:
15
g
Saturated Fat:
3
g
Polyunsaturated Fat:
4
g
Monounsaturated Fat:
6
g
Trans Fat:
0.1
g
Cholesterol:
522
mg
Sodium:
1254
mg
Potassium:
444
mg
Fiber:
1
g
Sugar:
1
g
Vitamin A:
16785
IU
Vitamin C:
30
mg
Calcium:
36
mg
Iron:
14
mg